I don't really even know how to begin this blog post, as the last week has been so amazing.
As readers of my blog will know, Rob and I set off for Norway earlier this week so that we could hike the Trolltunga trail near Odda, along with lots more amazing countryside sightseeing. I'd read so many reviews of the hike, so I knew it would take us around 10 hours and that the first 1km was tough, but neither Rob or I were prepared for how tough the whole hike really was! Here's my Trolltunga hike review…
Setting The Scene
Before I get into the hike itself, I'll just set the scene on the weather front for you. We wanted to do the hike on Wednesday, and had been checking the weather forecast hourly the few days before. On the Tuesday at around 2pm it started raining and I'm talking RAINING, with low grey fog and rapid-like rivers. We'd spoken to the kind people in the local hiking shop, who assured us the forecast for Wednesday was dry, so despite the rain, we were feeling optimistic. We stupidly didn't really think what effect 10 hours of pouring rain would have on the trail, so off we set in the car from Odda at 5:20am, ready to begin the hike at 5:50am.
The first 1km
People aren't lying when they say this is a tough 1km hike to get you started – we had a full on sweat happening and burning quads! The old funicular steps are no longer in use, so the new way up is a few rocky steps and a few ropes to hold onto in places. The problem for us was that it was SO muddy and slippery. We made it to the 1km sign though and felt relieved that the next 10km to the top was meant to be much easier… It wasn't.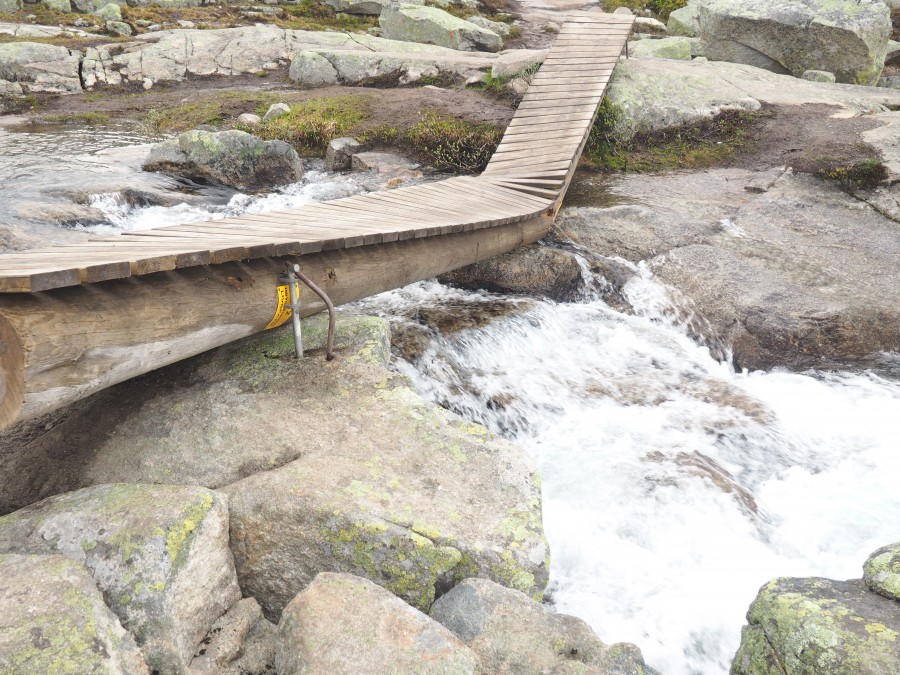 Hikey McHikerson
I can imagine that when the ground is much dryer, there are a couple of parts of the hike that feel like a bit of a rest, but when we weren't trawling through snow or up rocky hills, we were hopping from rock to rock, attempting to stay clear of the swamp-like ground. This meant that the whole 22km was a bit of a battle.
In terms of the views while you're hiking, the whole area is incredible, but of course the main attraction is very much at the 11km point – the troll's tongue.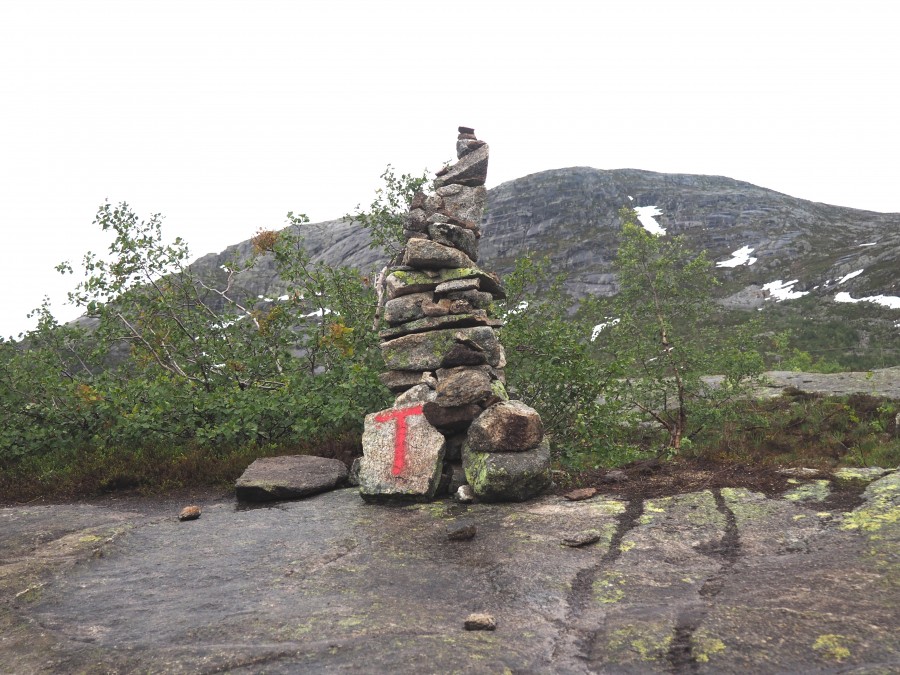 Like I said earlier, we set off at 5:50am. It took us four hours to get up and four hours to get down. I'd read a lot of reviews where going down had been quicker, but due to the amount of mud, steep drops and my dodgy knees, we had to take it easy. When we got to the top it was so amazing and peaceful – just us and a group of four guys. It was pretty chilly up there though, so we only stayed to enjoy the view for a bit, ate a sandwich and headed back down. I would MASSIVELY recommend leaving as early as we did, as when we were on our way back, it felt like there were hundreds of people on their way to the top. We had the beauty of looking for the red 'T' marks on the rocks to figure out the path, but the people coming up later were just plodding along behind each other, which personally for me, would have taken the beauty of it away a little. There's no denying that this is a tourist hike, but even that can't take away how stunning the landscape and view is.
A Few Dos & Don'ts
DO wear hiking boots or decent trail trainers. We wore our Vivobarefoot Trail Freak trainers and were fine, but had we known it would be so muddy, we may have opted for boots. We saw some girls going up in plimsoles – crazy crazy!
DON'T take too much water. The waterfalls provide amazing natural, clean water, so you can fill up. We took two 500ml bottles full at the start and filled up on the way down.
DO leave early in the morning or camp halfway up to beat the crowds.
DO take/wear layers. During the first 1km we were sweating buckets, so were happy to be able to peel off a layer or two, but when it got to the top, it was time for a hat and gloves.
DON'T plan another long hike for the day after, as your ankles, knees and shoulders will be aching! 😉
DO take a good backpack. I used this awesome Osprey rucksack, which was so comfortable and was the perfect size for all of my hiking essentials. Read more about it here.
So there you have it – my round up of one of the most amazing trips I've ever been on. The hike was tough (even more so for Rob, as he had a cold!), but we did it and we couldn't be happier. Norway is by far the most beautiful country I have ever been too and there's still SO much of it I need to explore.
Rob and I are already planning our next hiking adventure abroad, but for this year we've got Snowdon to look forward to.
If you have any other questions about our Trolltunga experience, just pop a comment below! 🙂
Love, Cat x