Recently Aussie yoga brand, Dharma Bums, made it's mark in the UK, now being stocked on my favourite website for cool fitness fashion, Active in Style.
I was pretty excited about it, so got my paws on not one, but four amazing pairs of leggings to test out. You might be thinking why four pairs, sure one is enough… but then I wouldn't have been able to create this awesome photo! When I say 'I', I mean Rob taking the photos and the lovely Jenny at Active in Style doing the photoshopping for me. I'm only good at being upside-down!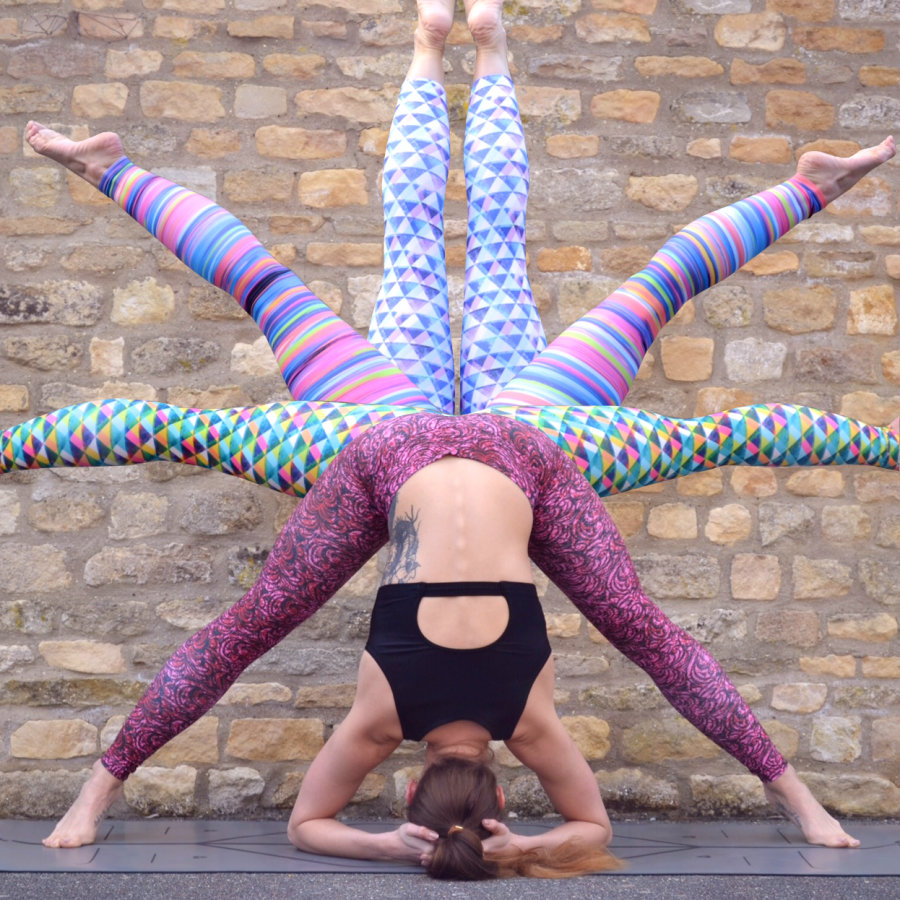 What's in a name?
I love the name Dharma Bums, which they explain perfectly on their website.
Dharma: Acting in concert with one's divine purpose in life. When our intentions, thoughts, words, and actions support our life's purpose, we are in dharma.

Bum: Someone who spends lots of their time doing an activity the love or being in a place they enjoy e.g surf bum, beach bum, yoga bum, you get the idea…..

Dharma Bum:  A person who travels through life living their purpose, doing what they love in peace, happiness and harmony.
Soft, soft, soft
In terms of quality, these mid-rise leggings are a similar feel and thickness to Vie Active (another of my favourite Australian brands), but they're slightly cheaper in price, which is always nice to hear! The super-soft Dharma Bums colourful yoga pants are pretty long too – perfect if you're tall, but equally as perfect to wear over your ankles if you're a little shorter. I love being able to wear my yoga pants over my ankles, so at 5'7″ these are great for me without having too much excess material.
I'm a fan of every print I've seen so far. Yes, they're colourful and bright, possibly too colourful for some, but that's why I love them. I'm all about feeling bold with my yoga and in the UK when the sunshine seems to be pretty rare, it's nice to coat your legs in something fun.
The leggings I'm wearing in the photo above are all stocked on Active in Style and if you want a sneak peek of the new collection (hopefully coming to Active in Style soon), then check out the Dharma Bums website here. I need the Lava ones in my life!
 Have you tried Dharma Bums? What did you think? 🙂 x