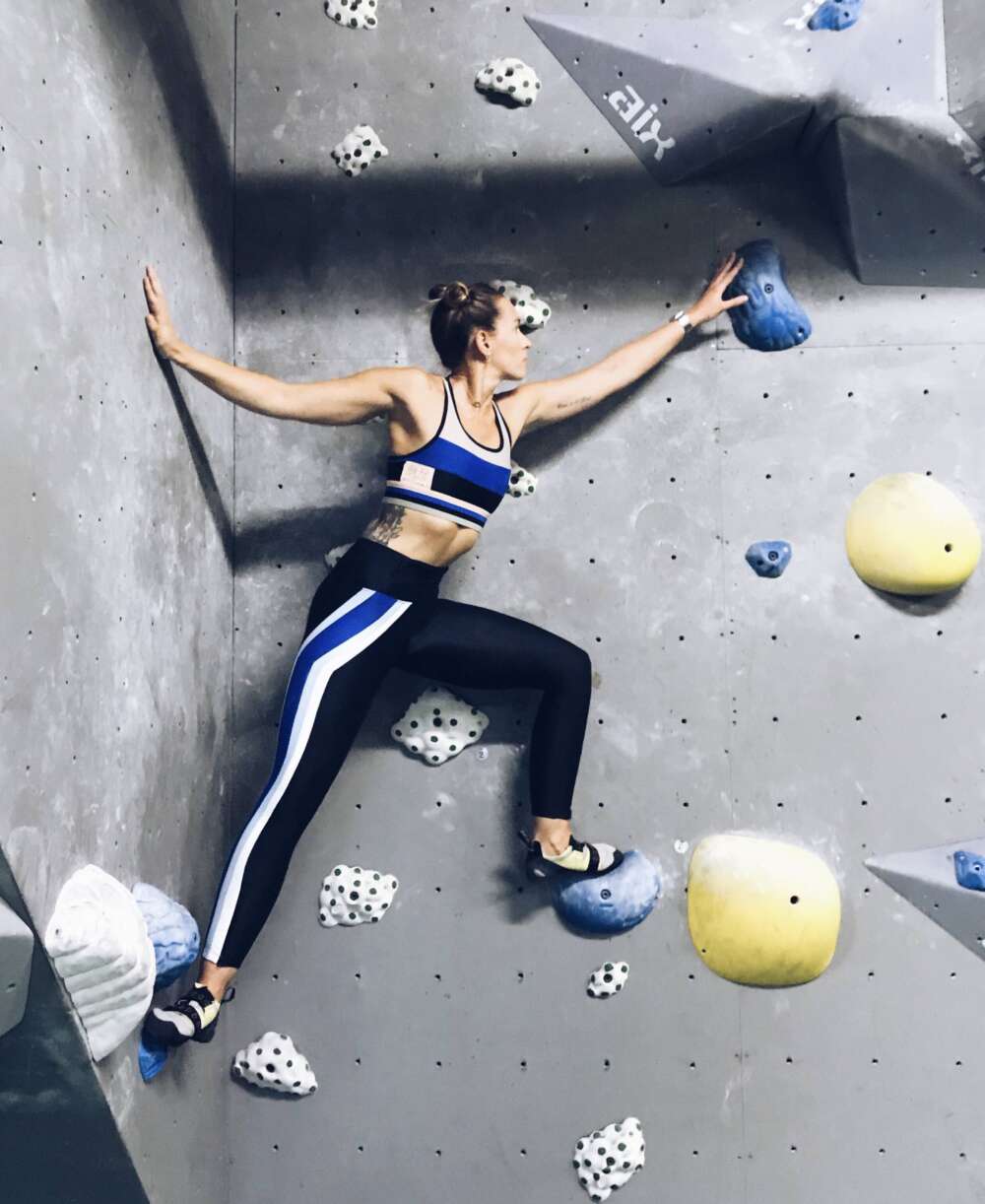 Wearing:
Leggings – P.E. Nation
Sports Bra – P.E. Nation
WHAT IS INDOOR BOULDERING?
It's my new obsession, that's what it is. Bouldering is something that can be done indoors or outdoors, but seeing as a lot of us live in cities and towns, it's not often we're close to a good outdoor bouldering spot. Indoor bouldering is a form of climbing that is done without any ropes or harness, but there's no need to get scared, as it's not too high. You will have to wear climbing shoes, which can be hired from the climbing centre you go to, but if you're hiring, just be sure to wear socks, as you never know what other feet have been in there! Your bouldering shoes should be snug, as this will help you get grip on the holds.
Most climbing centres will offer an introductory session to you can learn the health and safety of being there and pick up some beginner tips for your first climbs. Check out my video below for my top beginner bouldering tips.
WHY IS INDOOR BOULDERING SO GOOD?
Bouldering is a full body strength and cardio workout, not to mention a mental workout. I honestly don't feel like I'm doing a workout until the day after when my body is aching, but I still get a sweat in while I'm in action. Of course there are points where I'm struggling with a route and it can feel like a workout in that moment, but it's a short and sweet feeling. Bouldering is a brilliant functional way of training and by that I mean training in a way that you would use the moves in normal life. Sure, it's not often you need to unleash your inner monkey, but it's an amazing skill to have.
Another physical point to note is the way it'll change your hang and finger strength. If you go regularly, you'll notice improvement in your grip very quickly. Of course you might get a few skin rips on the hands along the way, but that's all part of the fun.
On a mental level, bouldering makes you engage that brain of yours to solves each route as a puzzle. Both before you start climbing and while you're mid-route, you'll have to be quick to figure things out before getting too fatigued.
Bouldering is also an extremely sociable way of getting fit. Sometimes I'll go on my own, other times I'll go with my brother and then I'll always see groups of people there together. Even though only one of you is climbing the route at a time, you'll still be communicating and helping each other out. I also see a lot of couples bouldering, which I love!
WHERE CAN I DO INDOOR BOULDERING?
The great thing about bouldering suddenly becoming trendy is that there are more climbing walls opening up. Sadly for me there isn't one near Stamford yet (shout out to anyone who would like to invest in for for me!), so I go in London. I've been going to The Arch in Burnt Oak, where the staff are super friendly and as it's still newish, it doesn't get too busy. The Arch also has a wall in Bermondsey and will be opening more in 2018. They aren't the only ones though, just give it a google and you'll find a wall near you. Just call ahead first to check about the introductory session and to also check that they do bouldering, not just indoor climbing with harnesses.
Check out my latest vlog, chatting all things bouldering for beginners, with a few tips that will help you get started.
Love, Cat x