I've been seeing the lovely Elizabeth from Six Physio about rehab for my knees. I recently found out that I have a new tear in my left knee meniscus, but as it's not too bad, physio is my best option instead of surgery. In 3-6months I want to be in a position whereby I can go to 2-3 dance classes a week without being in pain. It's a big ask, due to my Ehlers-Danlos, but I don't want to waste the love for dance that I have.
Elizabeth has given me some specific exercises for my particular case, but I wanted to share two of them with you, as you'll never have worked your bum so hard! Ladies, if you want to look like Candice Swanepoel on the beach this Summer, you can start here!
Do The Clam – what a great name!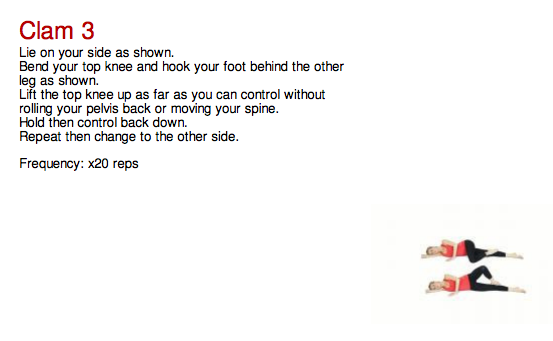 If you're wondering what and where Clam 1 is, then let me explain… It's an easier version of Clam 2, just keeping the feet down instead. I haven't included it, as I want to see you work! Just kidding, it's not included because I don't have an image for it!
Let me know how you get on with these.