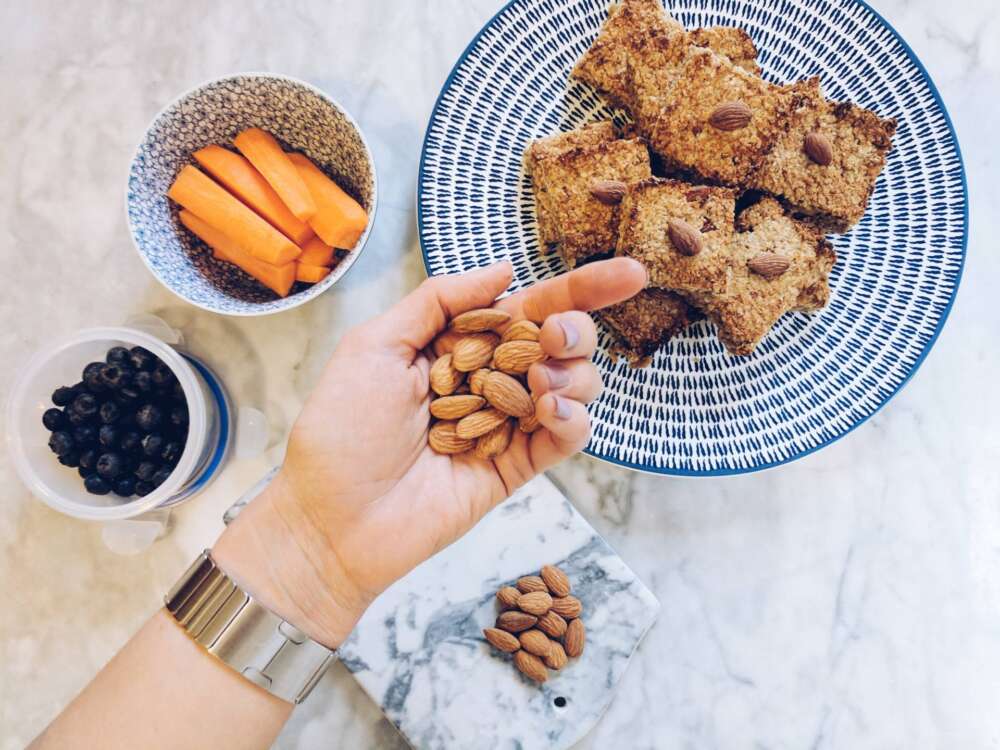 I'm a snacker. There, I've said it. I always have been and always will be. And there's nothing wrong with that. Not since I swapped sugary snacks for healthy snacks a long time ago. I'm sure many of you snack like I do, whether when we're a bit stressed, maybe you're bored at work, or maybe you just 'fancy' something. Whatever the reason, I think it's important to pick nourishing snacks that are good for our insides – please note, I'm not against chocolate, I just live by an "everything in moderation" rule and love healthy foods.
Here are my top four healthy snack choices:
Almonds 
Not only are almonds high in Vitamin E  (aka the beauty vitamin), they are also a good source of fibre, which means they keep me filled up for a little longer than a lot of other snacks. Almonds are my go-to snack, especially when I'm teaching yoga in London and have a day of meetings, as they don't crumble in the pot. When I walk around London from meeting to meeting I need a snack that will still be in one piece and delicious when I need a snack break.
Homemade Almond Healthy Flapjack Recipe
These are one of my favourite snacks to have if I've had time to make them over the weekend. They include almonds too, so have all of the benefits you read about above. Here's how to make them…
INGREDIENTS
3 cups of oats
3/4 cup roughly chopped almonds
2 bananas
4 tbsp coconut oil
6 tbsp maple syrup
6 tbsp almond butter
12 whole almonds
METHOD
– Pre heat oven to 170 degrees
– Mix the oats and chopped almonds in a bowl
– Mash the two bananas and heat them in a pan on the hob with the coconut oil, almond butter and maple syrup.
– When all mixed and melted (it'll be a bit lumpy because of the banana), stir into the oats and almonds. Make sure it's all fully covered. Add a few more oats if a little too wet.
– Grease a baking dish with coconut oil and press the mixture firmly down to make sure it all sticks. Pre slice 12 squares (this makes it easier when they're cooked) and place one almond on each square for decoration.
– Bake for 10-15 minutes
– ENJOY!
Blueberries
Like little healthy sweets, these are full of antioxidants which protect our bodies from damage and disease. Eat them with the almonds for that perfect mix of dry and moist.
Carrot sticks
My final healthy snack choice is carrots. Always delicious and super nourishing. Plus it adds a bit of colour into my life on these rainy English days!
WATCH MY VIDEO ABOUT HEALTHY SNACKING HERE
I hope you love my healthy flapjack recipe as much as I do. Love, Cat x
This blog post is sponsored by The Almond Board of California. All views are my own.