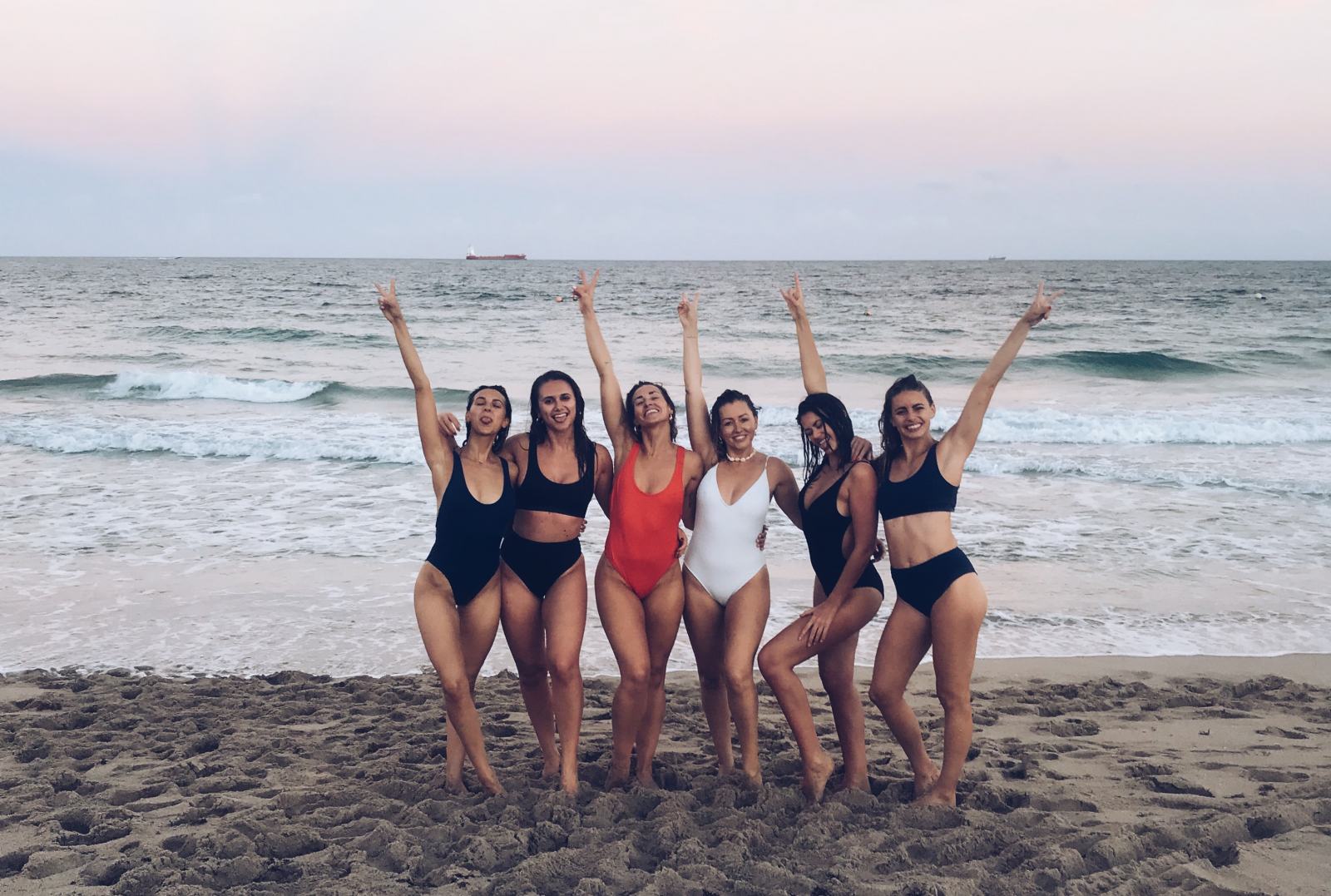 I always thought of Florida as a place that people either went to for retirement or to visit Disney World. Turns out, I was wrong. I was recently very lucky to be taken to Greater Fort Lauderdale in Florida to experience first-hand what this part of the world has to offer. Before I went, I wasn't sure it was a place I'd ever go to, but now I can honestly say that I think I'll be back, even if just for those sunrise ocean swims!
The sunshine state definitely didn't disappoint, so I've rounded up everything we did to help inspire your next trip! I also vlogged the trip, so scroll down to watch the seven of us ladies in action.
WHERE TO STAY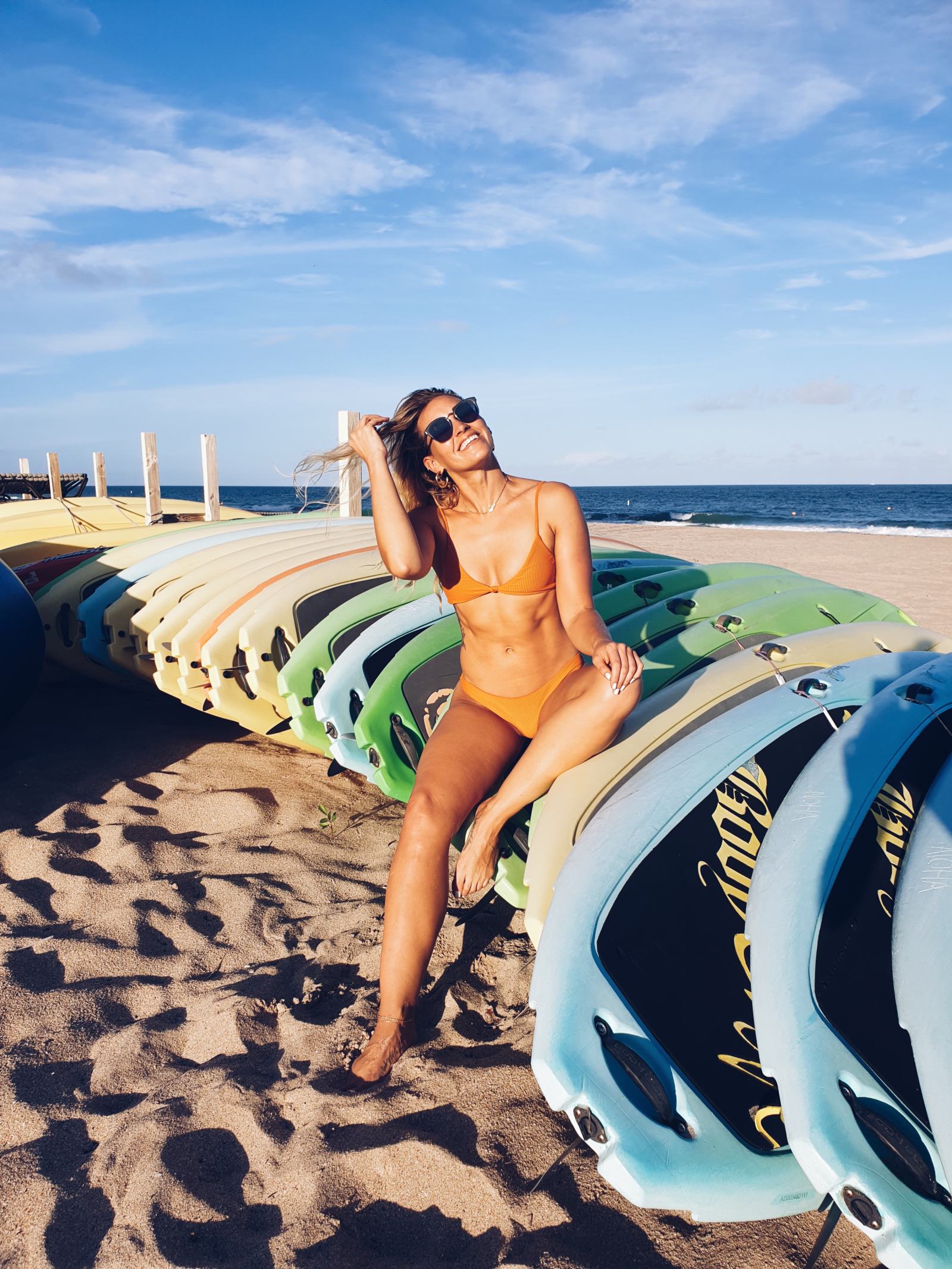 We stayed at Fort Lauderdale Marriott Beach Harbor Resort & Spa, which has everything you need for a relaxing stay. Our rooms overlooked the beach, always filling my heart with so much gratitude and happiness. Just waking up every day to see the sun rise and knowing that within a matter of minutes I can be in the sea, was so dreamy. We ate breakfast at the hotel most mornings and being vegan, I usually get a little anxious around meal times when travelling. The hotel was more that equipped for vegan people and the staff were all knowledgeable and happy to help. As well as having a good size gym with all Technogym equipment, the Fort Lauderdale Marriott Beach Harbor Resort & Spa also offers fitness and yoga classes to guests, just in case you need a little bit of extra motivation to workout while on holiday. If you decide to stay here, I recommend booking in for a spa treatment too, to help you unwind a little bit more. I had the full body massage and felt like I was floating afterwards!
HOW TO EXPORE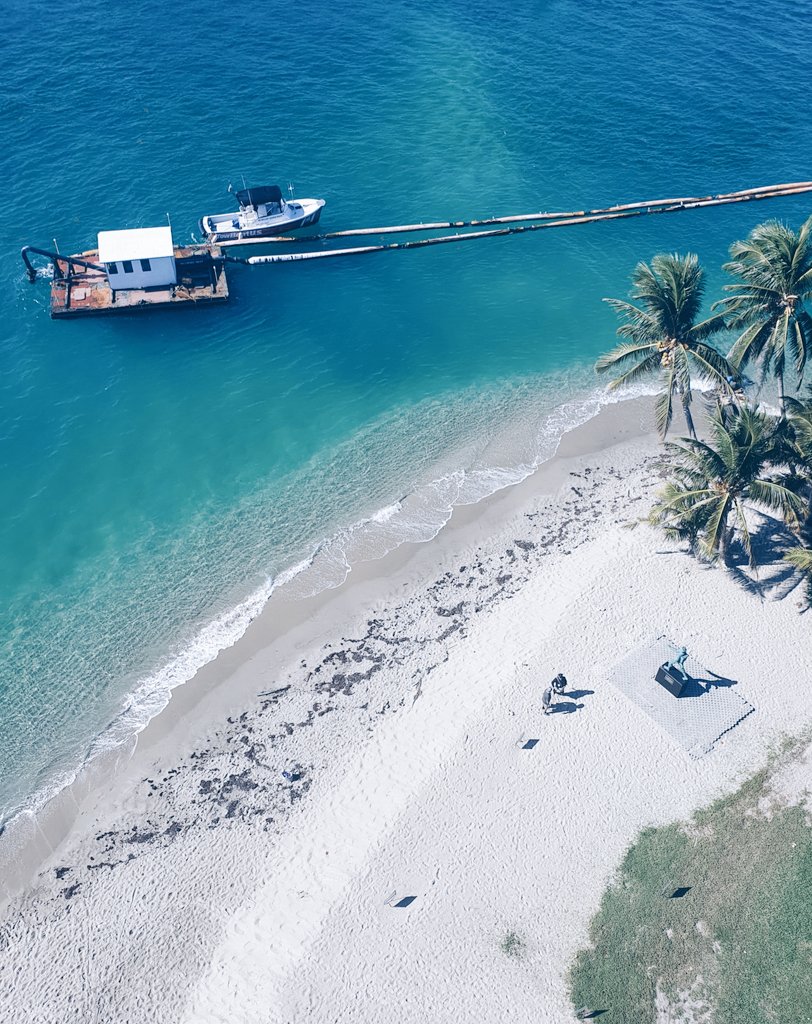 Sawgrass Recreation Park – The Everglades airboat adventure at Sawgrass Recreation Park was my favourite experience of the trip! Seeing Alligators in their natural habitat and being so close to them was something I never thought I'd get to experience and having such a passionate guide take us out there was great, as I feel we really got to learn about the Everglades ecosystem and how it all works. Find out more here.
Hillsboro Lighthouse – Nicknamed the Big Diamond, due to the shape of the lantern, the Hillsboro Lighthouse shows off views of Fort Lauderdale that are so stunning. A quick and narrow climb up the stairs, leads you out onto the viewing platform where you might even spot a few sharks! In 1997 The Hillsboro Lighthouse Preservation Society took charge of the lighthouse to maintain it and bring visitors from far and wide to witness the beautiful views. Find out more here.
South Florida Diving – We didn't have the best conditions for our snorkelling trip with South Florida Diving, but that didn't make the experience any less enjoyable! For me, there's something so liberating being on a boat, getting the speed up as you head out to sea with the wind in your hair. You also have the option of diving if you're looking to go a bit deeper and explore the ocean further. Find out more here.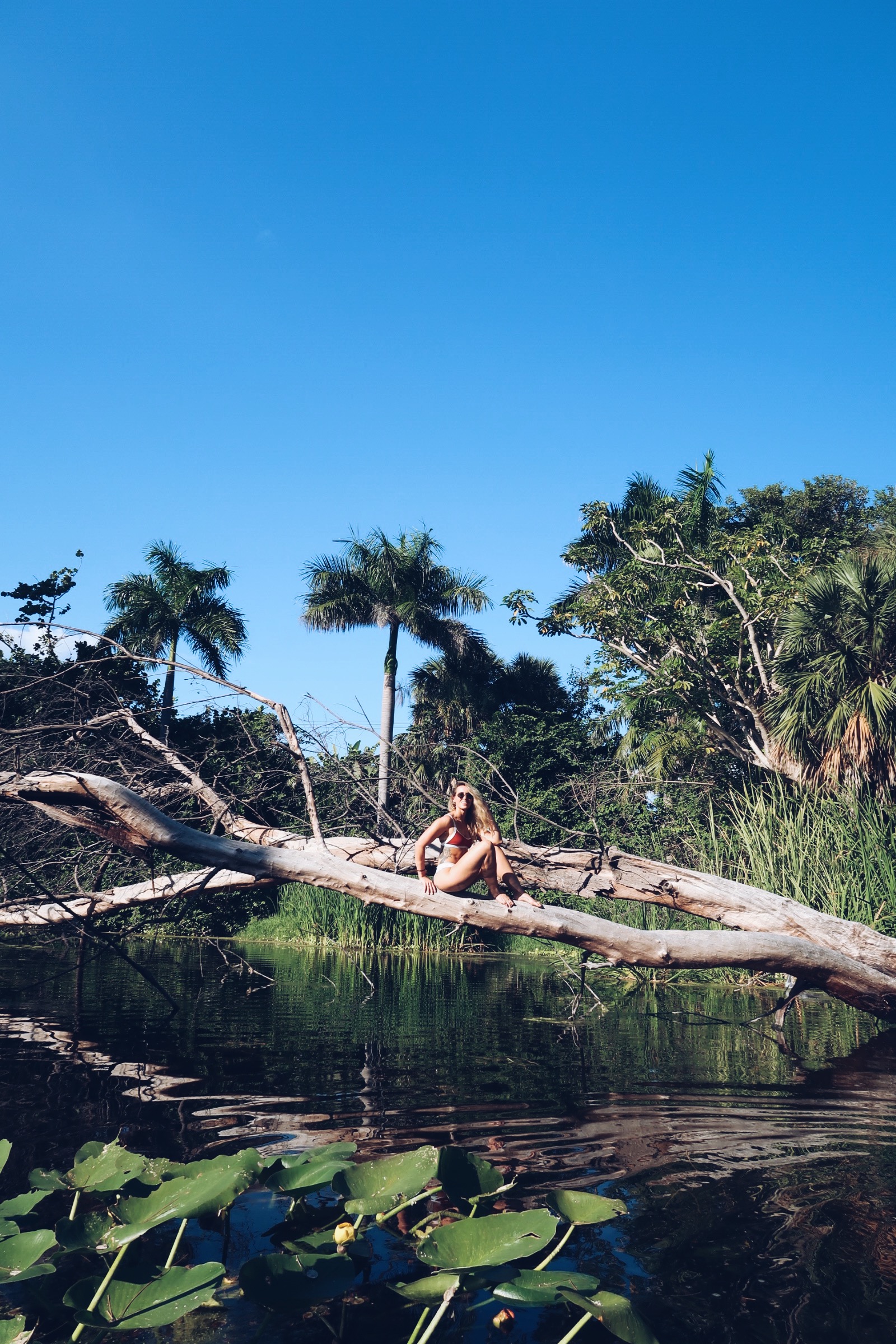 Park & Ocean – Tucked away just behind Fort Lauderdale beach, is the Hugh Taylor Birch State Park, where we hopped into kayaks and paddled our way along the freshwater lagoon, keeping our eyes peeled for the many iguanas hanging out along the way. I, of course, thought it would be a good idea to climb out mid-session and have my photo taken on a tree. I might looks calm, but I assure you I was a little wobbly! Find out more here.
Water Taxi – Taking the Water Taxi is a nice way to get around if you want to see a bit more of Fort Lauderdale, especially if you want to be nosey and check out the incredible houses on the waterways. Find out more here.
Downtown Hollywood – Visiting the Downtown Hollywood Mural Project was such a fun and chilled out morning, full of inspiring artwork and great stories about the area. If you fancy getting away from the beach for a few hours, I really recommend heading to see the beautiful murals, as a photo can't do them justice! Find out more here.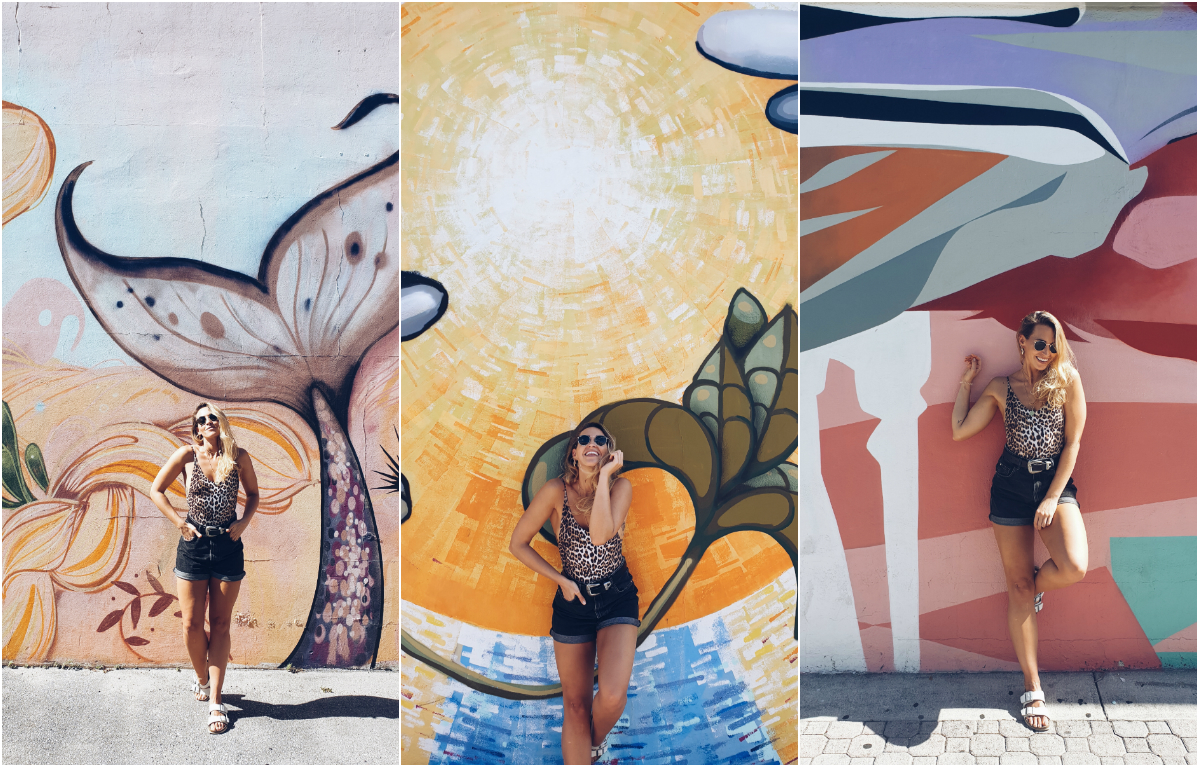 WHERE TO EAT
We ate so much great food whilst in Florida… of course, all vegan for me. The great thing about all of the restaurants below is that they cater to all dietary requirements. We had some meat eaters, some vegan and one gluten free on our trip, so I definitely recommend trying out some of the places below if you have mixed requirements in your group.
Louie Bossi Ristorante – Located in Las Olas, Louie Bossi's is a vibrant and buzzy restaurant, serving Italian food. Though they didn't have vegan cheese, I was more than happy with a veggie pizza without any cheese.
Casa Sensei – Again, located in Las Olas, Casa Sensai is in the middle of a refurbishment and name change, so if you're heading out to Florida very soon, you might find that it's still called Bao. Either way, the food is amazing, especially the crispy tofu soba noddles. It's a big portion, so make sure you're hungry!
3030 – 3030 Ocean is one of the restaurants in The Marriott Beach Harbour Resort & Spa, so great for us after a long day of activities and being a little jet lagged. I was super sleepy the evening we ate here, so just ordered a few side dishes to keep me going. What could sound like a dull meal really wasn't. I'd probably order the same again if I went back!
First Fresh – SO GOOD! First Fresh is a gluten-free dedicated cafe, with so many vegan options. We went here twice, but I wish it was more. I had the scrambled tofu for breakfast one morning and then the sweet potato vegan burger for lunch the second time…. the burger comes in a vegan waffle bun. Yes, a vegan waffle bun!
Etaru Las Olas – Back to Las Olas we went to experience this delicious array of food. Etaru is part of the Rocca chain of restaurants, so if you've been to one, you'll know the kind of service and level of food on offer. Again, lots of vegan options and all delicious.
Kuro @ Seminole Hard Rock Hotel – Walking through the Casino to get to dinner felt a little odd, but Kuro is tucked away in the hotel , so you don't at all feel like you're surrounded by the hustle and bustle. All I'm going to say is brussel sprouts. Whoever you are, where-ever you're from, if you go here, you need to order the brussel sprouts!
Green Bar Kitchen – I actually went here with a friend after the trip, but had to add it into the blog post as I can't recommend it enough, especially if you're vegan. Green Bar is a fully plant based cafe, but it's the kind of vegan food that even meat eaters will want again and again. The loaded fries with vegan cheese and sausage were like heaven.
KEEPING FIT
Keeping fit in Fort Lauderdale for us was all about being outside. From swimming in the ocean every morning, to running across the beach front or laying out my yoga mat on the hotel terrace, we were spoilt with the amazing weather, which meant that our motivation for being active was fully charged.
If those kinds of activities aren't for you, then head to Park & Ocean to hire a kayak, as I guarantee that your arms will work very hard. Or you can hire a paddle board, which is great for your core strength. The Marriott hotel also has it's own selection of kayaks and paddle boards, so you can get your ocean sweat on right outside the hotel!
If you want to see us all in action, have a watch of the vlog here.
Love, Cat x
This trip was courtesy of Greater Fort Lauderdale, but all opinions and images are my own. To find out more about Greater Fort Lauderdale, visit their website here.
#VisitLauderdale
Facebook: @visitlauderdale
Twitter: @visitlauderdale
Instagram: @visitlauderdale