The latest challenge from Sweaty Betty was to style a pair of their 10k Running Leggings for different occasions and you'll be surprised to know that not all of these outfits are for the gym or a yoga session! With sport-luxe still being such a strong trend, it wasn't hard to make these leggings work for a day of meetings in London or even a night out.
Don't be put off by the name just because you don't run 10k every week; after wearing these light, fitted and extremely comfortable leggings, I can confirm that they're perfect for anything from a sweaty HIIT workout to a soothing flow yoga session.
For me, when I'm bending and stretching all over the place doing dance, gymnastics or yoga, I need a pair of high waisted, secure leggings that can stretch with every movement I make. The Sweaty Betty 10k Running leggings most definitely rose to the challenge.
Plus, they have a zip pocket… Hallelujah! We all know how much I love a zip pocket.
Check out my five ways to wear the Sweaty Betty 10k Running Leggings (£55) below:
1. Lazy Sunday
– Teamed with a fluffy jumper and most importantly a mug of green tea!
2. Yoga Session
– Teamed with a green sports bra and light, cotton floral blouse to keep the sun off my shoulders.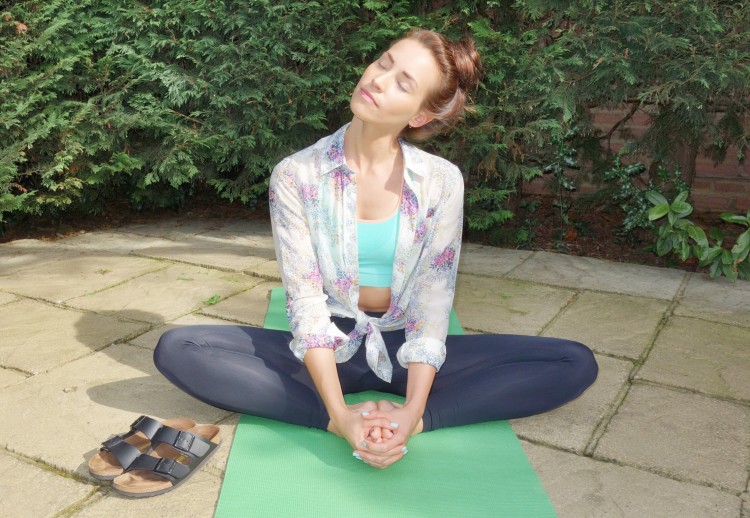 3. Meetings
– Giving the leggings a break from slouchy & sporty by teaming them with a casual shirt dress and vintage pumps.
4. Night Out
– Sticking with the sporty feel, I opted for a strappy backed sports bra with a sheer printed dress over the top.
5. Gym Session
– This is my favourite look because I spend so much of my life in outfits like this! Teamed with a fun leopard crop, black hoodie and my trusty Nike trainers.
Sweaty Betty is offering 25% off on selected trousers for a limited time. Shop the selection here.
Find me on Twitter (@CatMeffan) & tell me how would you style yours? x