Last week I spent the morning being well & truly pampered by the amazing team at Neville Hair & Beauty Salon in Knightsbridge. Not only did I walk out with fresh golden locks, but I now have knowledge of a fitness hairstyle or three that I wanted to share with you all.
After the lovely Despina was finished with my new colour (check it out here), I was taken upstairs by Nelson and had my hair played around with for a few hours. My brief was to create "easy (ish!), cool styles that will stay in while you workout in the gym or in a fitness class and then still look awesome when you meet friends for lunch after or go to that all important work meeting. I know these styles look a little complicated, but I assure you that with a little patience you'll be able to create the same looks.
The Yoga Buns
Part hair into four equal sections (I'd actually do it with two to make it easier and quicker).
Pin hair behind ears and run a row of bobby pins the full way around to the other ear.
Split each section into two and twist both sections to the left whilst crossing the sections over each other to the right. Tie at the end.
Take a teenie tiny bit of hair the very bottom of the twisted and tied section and as you pull it down, push the rest of the hair around it up. This will create a short, messy blob of hair! Do this with all sections.
Roll each section up into buns and pin in place or use a small hair band for extra security.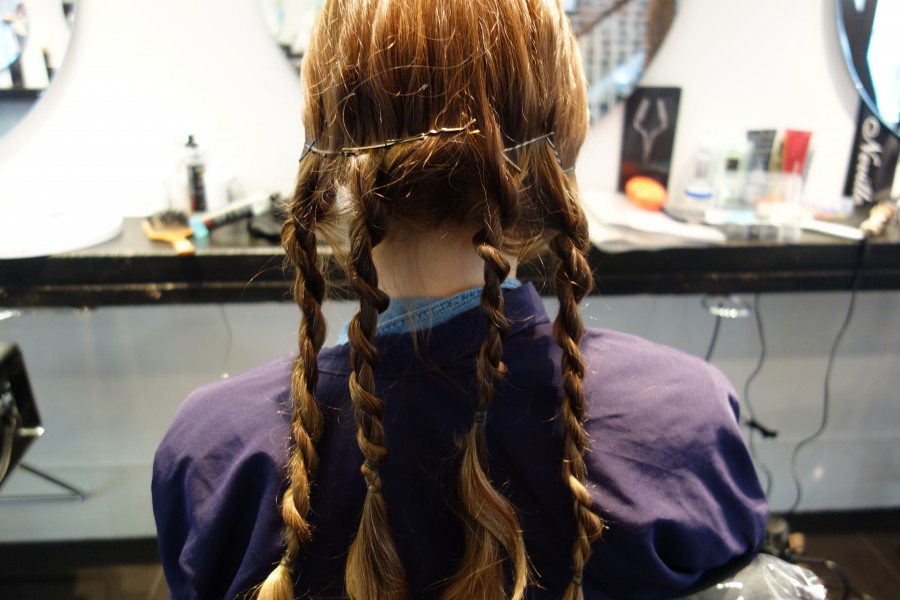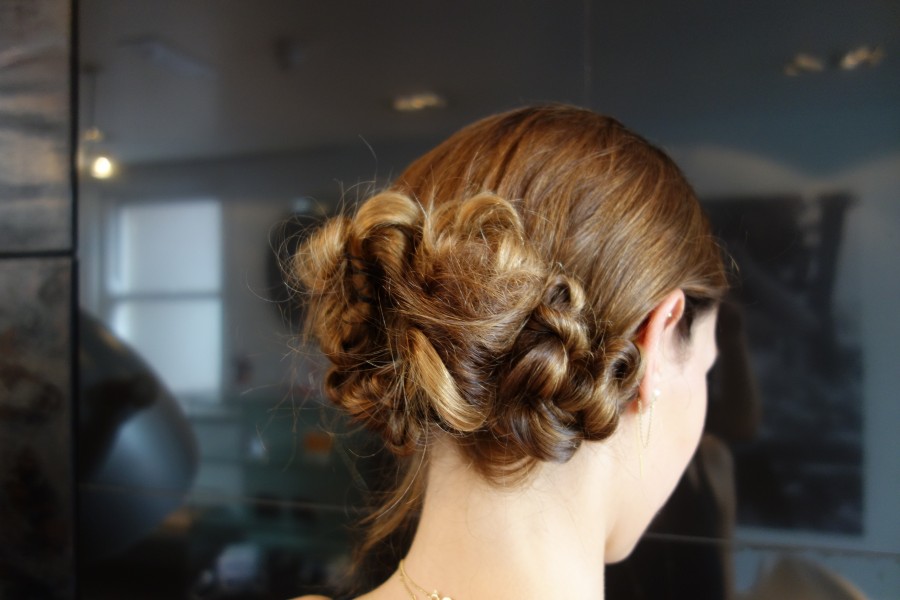 The High Intensity Twist
Take the top section of hair and separate it from the rest, clipping it out of the way. We'll come back to this bit at the end.
Take a small section from one side and twist it whilst pulling it around to your hairline on the other side. When you get there, pick up a new section of hair and add it to twist and make your way back to the first side. The photos might help explain this a little better than I am! 😉
Continue this method until all the hair is used – you can start adding larger sections the further down you get. This will make it easier and quicker. It doesn't matter if it's messy – it all adds to the style!
Try and keep the tension throughout and when you get to the bottom tie it and twist it up to your head, pinning it in place as you go.
Brush out the top section, gently twist it backwards and push forwards into a quiff.
Twist and pin the excess hair to meet the rest and voila!
All Wrapped Up
Split your hair into three sections – two sides and back.
Tie the back section into a tight ponytail (mid-height) and plait it. Tie it at the end and then pull bits out to give it a messy look. Wrap the plait into a bun and secure with a hairband or pins.
With the two sides you can either french plait them both and join the plait to the bun on both sides or do a 'fold-over' where you flatten the front with your hand and then pull the hair over your hand, bring it back to be wrapped around the bun.
Use a hairband or pin everything in place.
If you're pretty good at french plaits then I'd recommend doing those instead of the fold-over, as they'll be more secure for a workout.
Thank you to Elena, Despina, Nelson and the brilliant team at Neville Hair & Beauty Salon for making me feel like a pampered princess for the morning. I love my new golden colour and have already been practicing my Yoga Buns!
For more information about Neville Salon, head over to the website.
Let me know how you get on with the styles! x