Epic Sana Algarve Review
The last few days for me have been spent at the luxury Epic Sana Algarve Hotel in Portugal with my lovely fellow blogger and yoga teacher Phoebe from Wood & Luxe. After flying into Faro airport and getting a transfer over to the hotel I was excited to see just what was so epic about this place. It's a bold name, so surely there must be something pretty special to wow the guests.
As we arrived before our room was ready we took a stroll around the hotel and the grounds and within the first 15 minutes of being there we had discovered the 'epicness' in all of it's red and orange landscape glory. I've been to the algarve a couple of times before but never do I remember seeing cliff edges quite like this – seriously breathtaking stuff. I'm not sure if this is what the 'epic' in Epic Sana refers to, but for me it definitely should be. We didn't stay at the beach for long, as we needed to head back to get our room and prepare ourselves for a day of shooting on the beach, but we made sure we checked out the pool area on the way back. Epic Sana has three pools close together: the top pool is for adults only, the next one down is slightly larger and anyone can jump in and there is one tucked off to the side, which is a children's pool. A nice little set up, keeping everyone happy. And great news, there are lots of sun beds, so no stressing about getting a space.
A Place To Rest Your Head
Located at the back of the hotel on the third floor our room had a beautiful view over the greenery and the ocean in the far distance. I might have sneaked over the balcony wall to get a closer look! As for the room, other than the questionable lime green toilet roll, it was perfect. A great size for the two of us with a large bathroom and lots of wardrobe hanging space for us ladies. If you read my review of the ME Hotel in Mallorca you'll know there was a randomly situated bath over by the balcony, so in true modern hotel fashion the Epic Sana also had a large free-standing bath with a big sliding door so that you could bath as part of the bedroom and nearly see the view outside.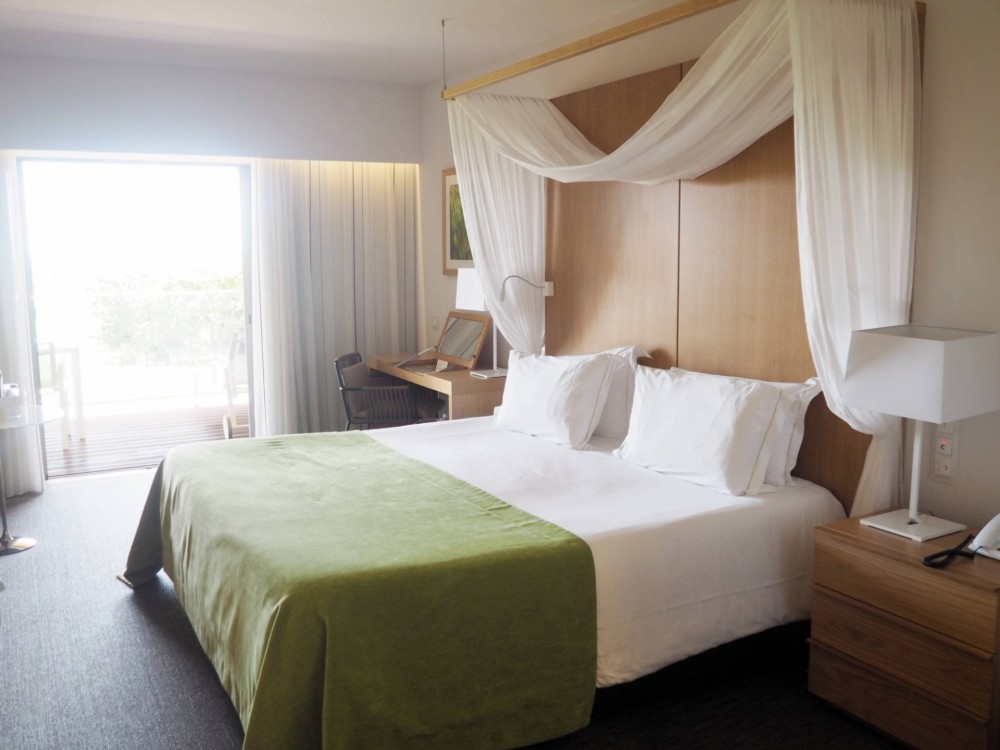 Sayanna Wellness At Epic Sana
The Epic Sana Hotel classes itself as a wellness resort, which I do agree with, but maybe not for those hardcore yogis and fitness lovers amongst us – although we always need a week to take it easy, so this would be the perfect place to stay. The spa area has a peaceful vibe with dim lighting, which instantly calms you as you walk in, greeted by lovely staff and fresh herbal teas.
It would be great to see a larger gym in the future, as there wasn't any floor space to do weights and only about 10 different pieces of equipment. A total dream if there's only two of you in the gym, but I saw about 8 people in there at once, which was a bit of a squeeze. There is a studio next door where the classes take place, but this is locked when classes aren't on. Phoebe and I joined in with an evening 90-minute yoga class on our first day, featuring lots of long held stretches and slow balance postures. From what I understand, access to the gym and all classes are included as part of your stay, but if you do the 90-minute yoga class rather than 45-minute, then be prepared to pay €15 extra. Other classes on offer are spin, bootcamp (which I would guess is a HIIT style of workout) and a tabata class. As for spa treatments we sadly didn't have one, but Sayanna Wellness had lots on offer and I imagine the treatments were wonderful.
The yoga class was nice, but both Phoebe and I love being outside, so for the next two mornings we took our mats to the pool area and did our own practice. It's usually unheard of for me to boycott the gym whilst away, but the great outdoors was calling my name and we'd be told the walk from Epic Sana to Vilamoura up on the cliff top was pretty spectacular. It didn't disappoint. At every turn we wanted to stop and take photos! If you plan on going for a hike, definitely wear a good pair of trainers, as there are a few inclines and the terrain is quite uneven.
Fuelling The Activities 
The only meal we experienced at Epic Sana was the breakfast and like the majority of 5* hotels there was a large offering in buffet format. We were lucky to get a table outside everyday, which was so lovely as we sat in the morning sunshine and enjoyed some food. The highlight of the breakfast for me was making my own little bircher muesli pot with nutty and fruity toppings, although Phoebe's omelette did look pretty delicious… maybe if it hadn't been surround by mushrooms (I have a phobia of them!) The dinner looked to be another buffet set up with fish, meat and vegetarian options, but there is also an À la carte restaurant on site along with a Sushi restaurant and a couple of bars, so enough to suit everyones wants and needs. On our last day when all of the work was complete we had lunch around the pool from the Open Deck pool bar, which was so delicious. I went for the tuna Nicoise salad… followed by an ice cream for pudding of course!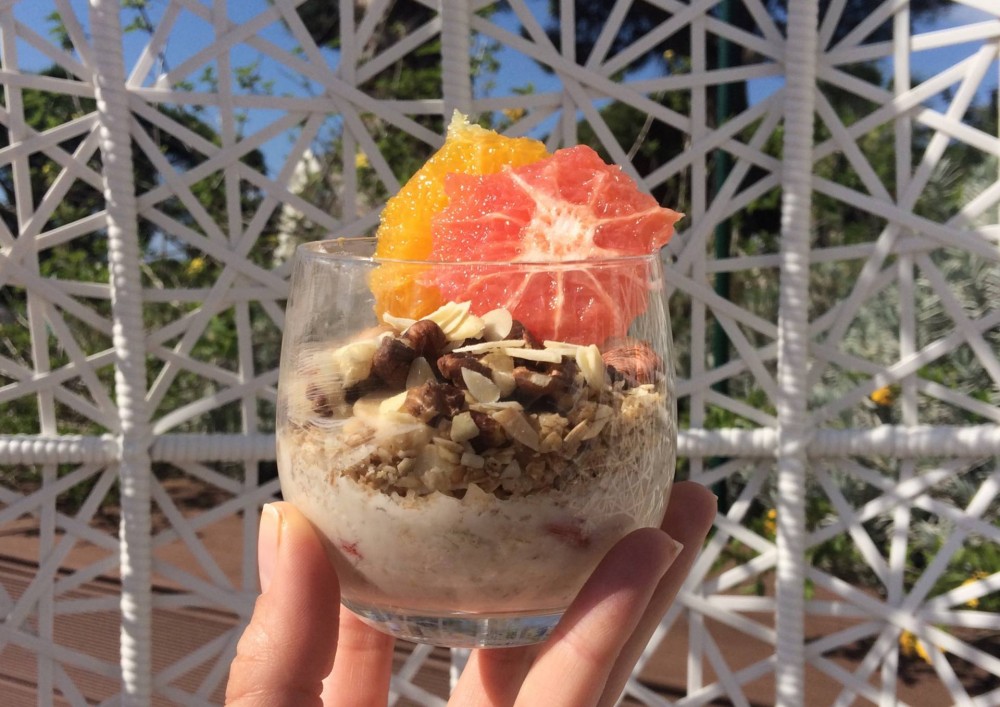 If you fancy getting out and about for your meals, Vilamoura is an hours walk along the beach/coastal path or a 20-minute drive, where there's a pretty little marina with lots of restaurants. We lunched twice in little beach bars we found along our hiking route, both of which were super cute with a great view of the beach.
—
If it's a relaxing holiday with beautiful scenery and the beach on your doorstep, with the option of keeping fit and healthy whilst away then Epic Sana is definitely the hotel for you. I hope this Epic Sana Algarve review has been helpful. Rooms start at €231 for a deluxe double room, with a resort view  and B&B. I flew from London Luton to Faro for around £140 return and a taxi from the airport to the hotel cost €35. Head over to the Epic Sana website to find out more and to book.
Love, Cat x
SHOP MY OUTFITS IN THIS POST:
Sweaty Betty Palm Tree Leggings