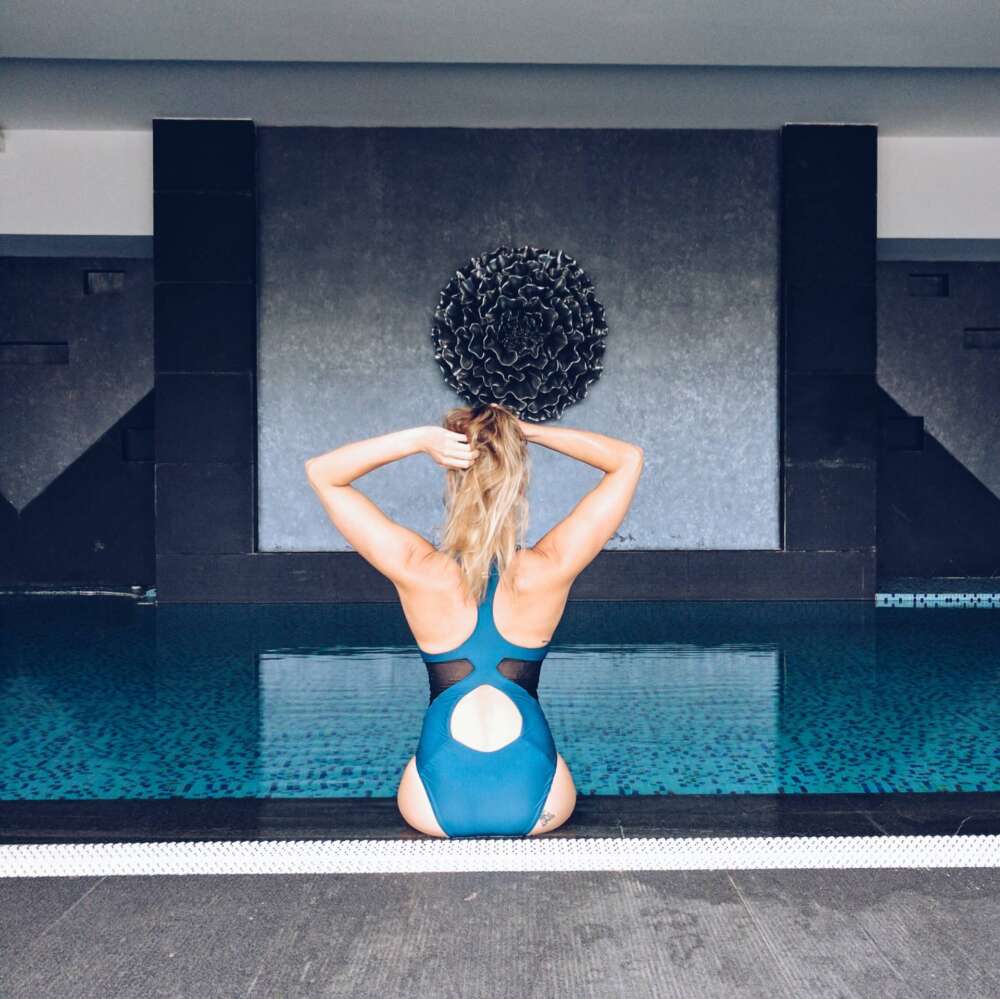 My latest luxury travel adventure was to the new Atmantan wellness resort in India. Having only been open for one year, the resort is in near perfect condition with amazing facilities, BUT… yes, there's a but. Rob and I both went to India with the view that we'd spend lots of time training, doing yoga, eating amazing food and relaxing under the sunshine by the pool… unfortunately not all of those things happened. Don't get me wrong, Atmantan Wellness Resort is in a beautiful location, has friendly and very knowledgeable staff and has lots on the schedule for those of us wanting to keep in shape, but I do feel that there is room for improvement,
Upon arrival both Rob and I had a body composition analysis (I'm always a little dubious about how accurate those things are) and we each had a consultation with one of the onsite doctors to discuss what we wanted to get out of our stay. I went for the Journey into Yoga programme and Rob opted for the Fitness Challenge. Both of us were also told to do extra activities on top of the private sessions that came as part of the programme… and then Rob was told that he should be eating around 800-1000 calories per day (he's 6'3" and in good shape), which is where things went a little downhill for the two of us. We're not into calorie counting, but we are into making sure our bodies are fuelled well and we have enough energy to do the things we love…. hiking, gym sessions, swimming and yoga.
We did seek advice from one of the doctors who said that we'd get used to the small portions in a few days, but we couldn't help but be concerned with the little amount of food, especially doing activities in the Indian heat. There was the option to ask for seconds, but for Rob to eat his normal diet, he'd have needed to ask for fifths at least! I really struggled with it too. I'm very happy to have a slight cleanse in terms of eating a bit less and I do know that my portion control is too big, but this was rather drastic and something that wouldn't be sustainable in life after the trip. We were eating the same meals as someone who was there to lose weight. I unfortunately got a tummy bug which didn't help my situation, as everything that went in, came straight back out again! Sorry if that was too much info!
In terms of detoxing and cleansing the digestive system, Atmantan Wellness Resort have everything in place for a successful stay, especially if guests are looking to lose weight. We weren't looking to lose weight, but ended up leaving lighter in body weight and a little spaced out. I have of course fed this all back to the hotel, so hopefully they'll take our feedback into account for those guests who are looking to stay at the same weight, or even build muscle mass. The biggest frustration was that the curry served was amazing, like the best I've ever eaten, so it left us wanting lots more.
Other than the food issue, we did have a lovely relaxing stay with many many massages and one of the toughest hikes I've ever done. I'm not used to hiking in the heat and even leaving at 6am didn't give us much coolness. Sweaty doesn't even begin to cover it, but the views over the Mulshi Lake were well worth the effort.
I haven't a bad word to say about the staff who were extremely attentive, friendly and helpful. Hopefully Atmantan Wellness Resort will be installing an outdoor pool for all guests to use (currently only residents of the private villa have use of a pool), as there were quite a few times I really wanted to jump into a cool pool after reading my book.
In summary, Atmantan very nearly has luxury wellness nailed. I hope that over the next few months or year they are able to offer a different meal plan to those who don't want to lose weight, but who do want to make the most of the awesome facilities.
I vlogged the whole trip, so you can see what we got up to each day.
If you think Atmantan is for you or you'd like more information, head to their website.
Love, Cat x