I'd never worn Alo Yoga before this weekend and now I feel like I might never wear anything else to practice yoga in again! Those that read my activewear reviews know that I don't just blindly praise everything I'm sent, so you know that when I say I love this brand, I really mean it.
I LOVE THIS BRAND!
Have a scroll through the photos and find out why…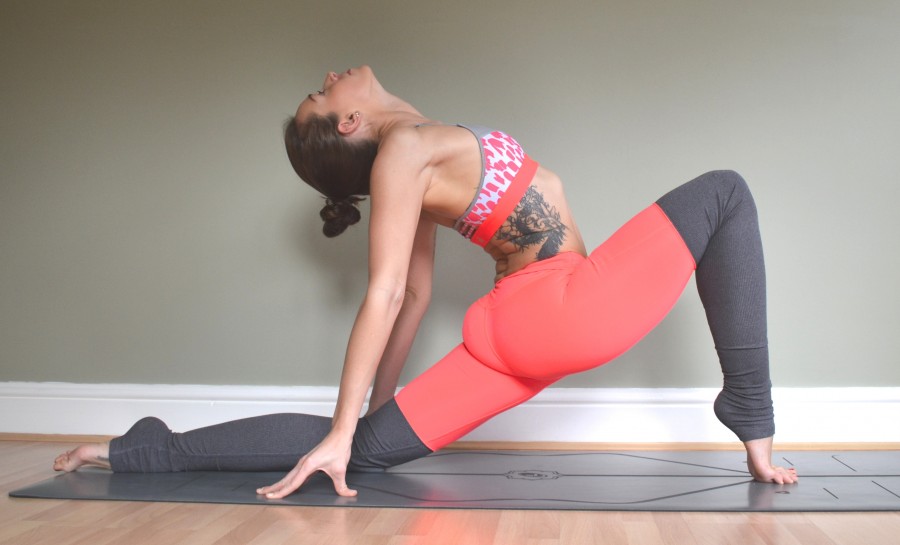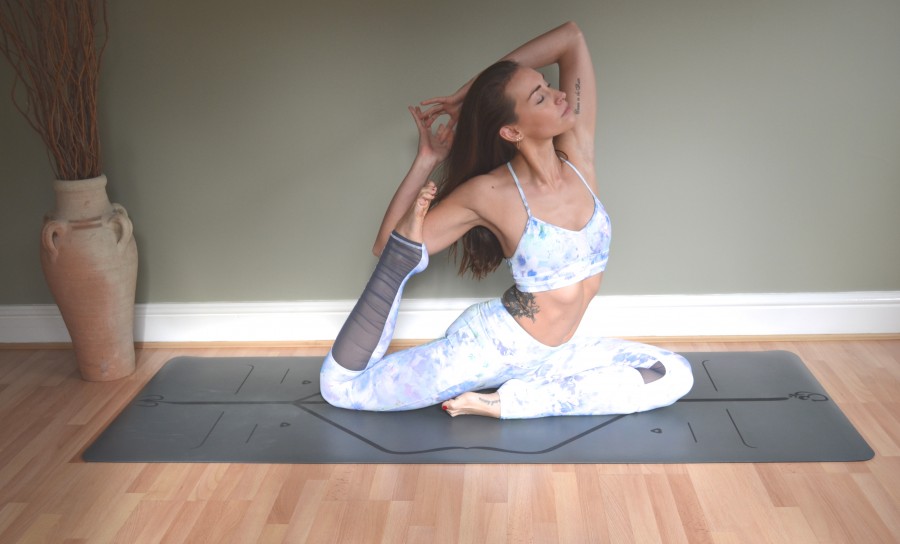 I always see my favourite yoga inspirations on Instagram bending their bodies in these beautiful clothes and have wanted to get my paws on some for a while. The goddess leggings (the bright coral and grey ones) have caught my attention most – they remind me of being at school wearing over-the-knee socks – yep, don't judge, my school uniform was questionable!
The only slight problem I had with this colour of Goddess Leggings was that they were a little see-through around the bum area – which was odd, as they're such a lovely thick material.
Peek-a-boo! 😉 I'm still working on getting my hands/arms touching in the above image, then you won't have to look at my up-side-down concentrating face!
When I first looked at the Floral Runway Leggings and saw the grey mesh section, I thought "no way are they going to stretch around my chunky calf muscles!", but as you can see they did. They fit like a dream – the perfect amount of compression and support, whilst still being soft and so comfortable. I was also a little worried about how the light summery print would look on me, but with these leggings fitting so well, I felt so confident, even in something brighter than I would normally choose to wear.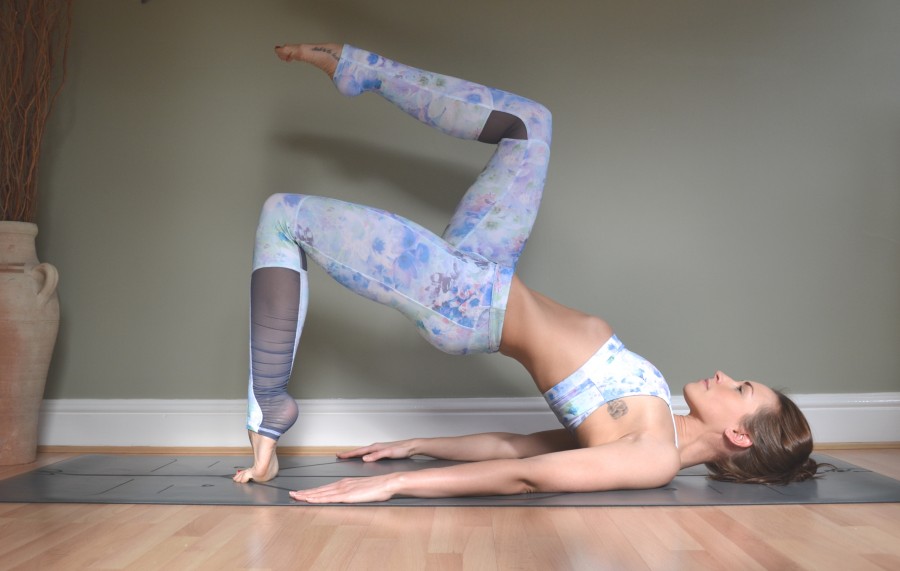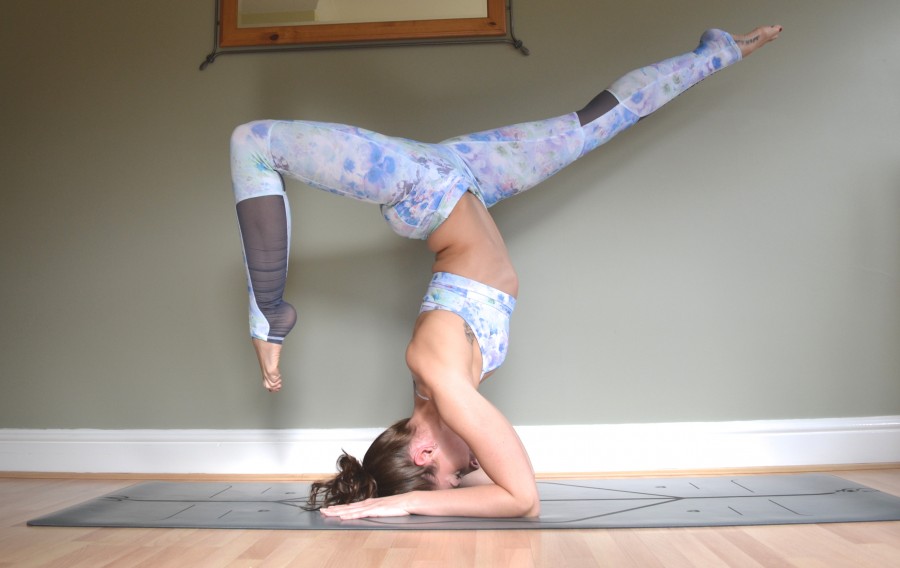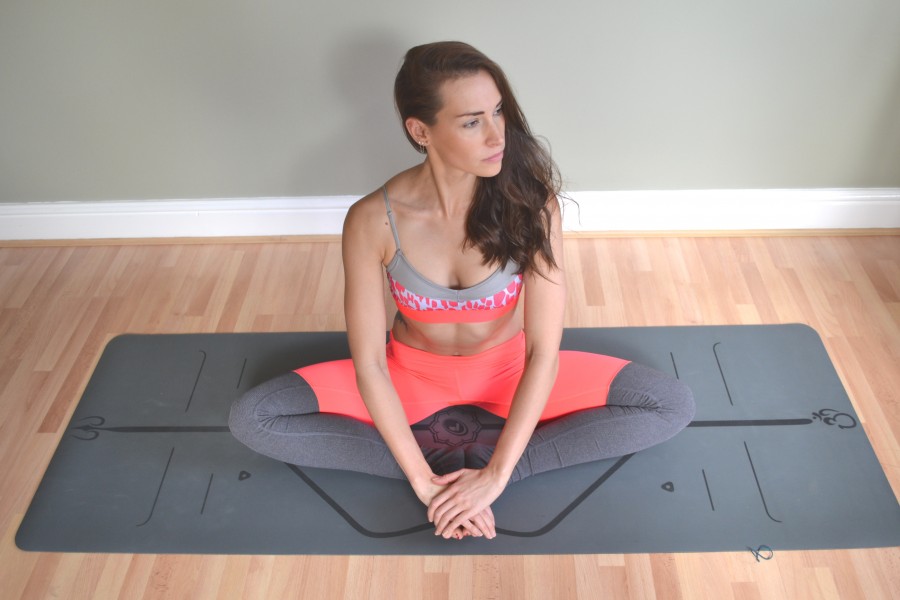 The great news is that this beautiful LA-founded brand is stocked in the UK – let's hear a little "woop woop" for that! You can shop the amazing collection over at Hip & Healthy – although I'd be quick if I were you, I can't imagine that activewear as good as this will be in stock for long.
Oh and the even better news is that you can get 15% off your order using the code 'imperfectmatter'. Happy shopping!
Shop my outfits:
Goddess Leggings – £79.95
Tidal Flow Bra – £38
Runway Floral Glow Leggings – £86
Spectra Bra – £38
Let me know if you buy anything! 🙂 Love, Cat x