This blog post contains an advertorial for Triple Dry. 
Whether it's a sweaty gym session, a run, a yoga session or a pilates workout, there are a few workout tips that I'd like to share to make sure you get the most out of it. Of course not all of these apply if you're going to a group session, but they most definitely do if you're like me and love being a lone ranger in the gym or on your yoga mat at home!
Here are my top workout tips: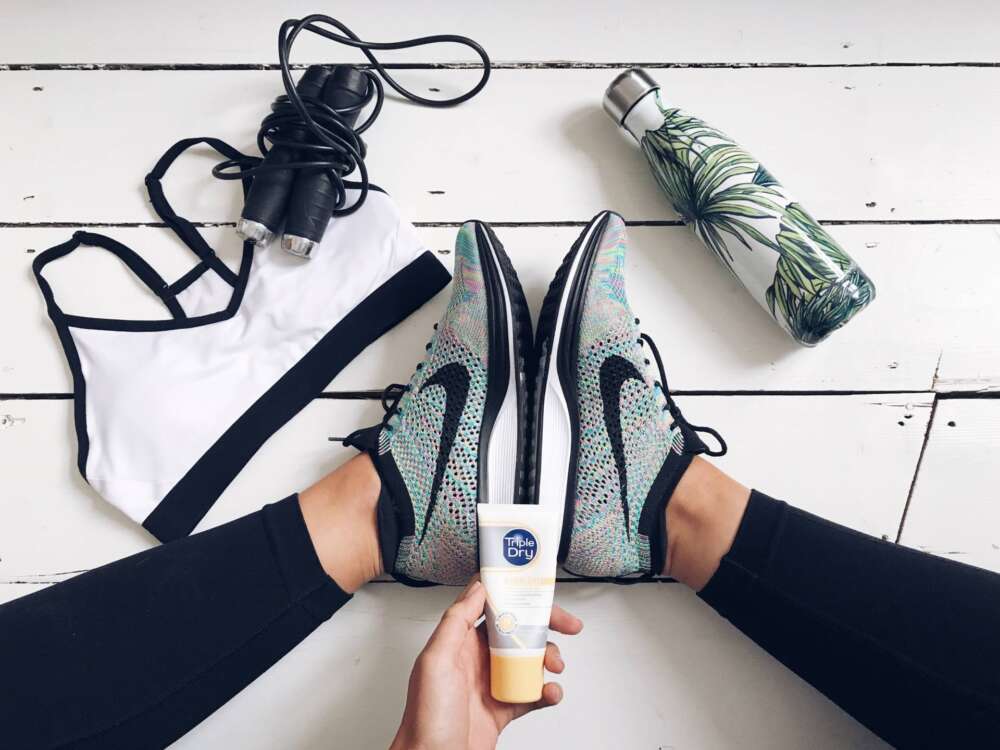 WEAR IT RIGHT
If you follow me on Instagram, you'll know that I'm a shopaholic when it comes to activewear. I love so much of it and in recent years the offering has just got better and better. It's not all about looks though. Depending on the workout I'm doing I'll pick my activewear outfit accordingly. With so many brands out there, it's easy to find something to suit every budget. Subscribe to my YouTube for lots of activewear hauls, both high street, mid-range and high end activewear.
For yoga I usually opt for high waisted leggings, so I don't have to think about any underwear being on show as I bend my body around. I can also pick a less supportive sports bra for yoga, as I'm not jumping around too much. When I go to the gym I'm mostly looking for leggings that stay in place as well as a good material that doesn't show sweat… you know what I mean ladies, that annoying crotch area sweat! Sexy, right! 😉 When I run I always want to have a zip pocket in my leggings for my door key and I'll wear a more supportive sports bra to protect my small, but mighty lady lumps from the bounce.
EXTRA CONFIDENCE
I just mentioned the crotch sweat, which sadly there's nothing we can do about apart from wear a good pair of leggings, but the other important one for me is underarm sweat. Most of the time I have my underarms free of any clothing while I workout, but that doesn't mean I don't need a good anti-perspirant to put my mind at ease and keep my underarms dry.
Triple Dry is my go-to anti-perspirant these days, first using it when I went hiking in Switzerland. Yes, it's great for workouts, but it proved to be the real deal for me when I did a 7-hour hike and finished feeling fresh as a daisy! The jojoba oil in Triple Dry Nourish helps to do exactly that, nourish the skin whilst making it feel soft rather than drying it out. And just a little shout out to the roll on tube design (the first of it's kind for an anti-perspirant) – I love how discreet it looks.
Keep reading to find out how you can win a new Fitbit Flex 2 Fitness Wristband alongside the new Triple Dry Nourish anti-perspirant.
Triple Dry is great for the gym, but it has totally saved me on my hectic days in London when I have to go from meeting to meeting and teach yoga classes in between. With up to 72-hour wetness protection, it's pretty safe to say that you'll be covered for a manic day on the go and then some!
ENTER TO WIN A FITBIT AND TRIPLE DRY BELOW!
HEY DJ, PLAY THAT SONG
It's amazing how much a song can change your mood. There have honestly been days where I haven't planned to train, but I just hear one song that gets me motivated and I feel the urge to lace up my trainers and head to the gym.
Part of me thinks having the playlist tip in hear is an obvious one, but after speaking to some friends and family recently about their playlist choice, it dawn on me that many people haven't really thought about it. We all have different music tastes, so it's unlikely that the generic music your gym plays is really going to get you feeling motivated. I also have different music that I like for different activities. When I do yoga my playlist is much more chilled out that when I run or go to the gym.
Set yourself up with a free Spotify account (or a similar platform) and start dragging and dropping your favourite songs into a playlist that you can then use when you next get a sweat on.
WHAT'S THE PLAN, STAN?
Without a doubt, my best workouts are the ones where I have a plan of what I'm going to do. If I don't, I end up getting a little sidetracked with handstand playtime and I forget to train the body part I had in mind.
I'll either design my own workout, use a guide or look to my PT friends on Instagram and find exercise inspiration in their feeds. Just make sure that if you do the latter, you are going to someone who is a certified PT with good knowledge and experience. My favourites are Carly Rowena, Shona Vertue, Tally Rye, Alice Liveing and Bret Contreras.
IN IT TO WIN IT! 
As I mentioned, Triple Dry is very kindly giving one lucky winner a new Fitbit Flex 2 Fitness Wristband alongside the new Triple Dry Nourish anti-perspirant. To enter, you just need to comment on this blog post with your top tip for gym confidence in the gym. We will then pick a winner at random.
Competition closes on Wednesday 6th September at 11:59pm. COMPETITION NOW CLOSED
Good luck and happy working out! 
Love, Cat x