I've been doing yoga on and off for about five years now, but lately it's been slightly more off than on, as I've been more focused on training to get a lean body. When Zoe Sharp of Jive Yoga got in touch and asked if I'd like to join one of her classes I thought it would be the perfect opportunity to get back into the swing of things.
Walking down Commercial Road in East London, I was slightly concerned that the class would be taking place in a dodgy looking clothes shop, but after climbing the four flights of stairs at building number 255-259, we entered a New York style loft room, with vintage furniture, open wooden floor space and nicely dimmed lights – a great location for a yoga class in my opinion. Zoe is quite new to the yoga teaching circuit (qualified in December 2012), which is evident in her slightly shy way of teaching; however Zoe still controlled the flow and atmosphere of the class and it seemed everyone went away relaxed and stretched. Even though I'm used to (and enjoy) the more traditional Indian style of yoga music, I actually found myself relaxing even more to songs I knew by the Yeah Yeah Yeahs and The XX.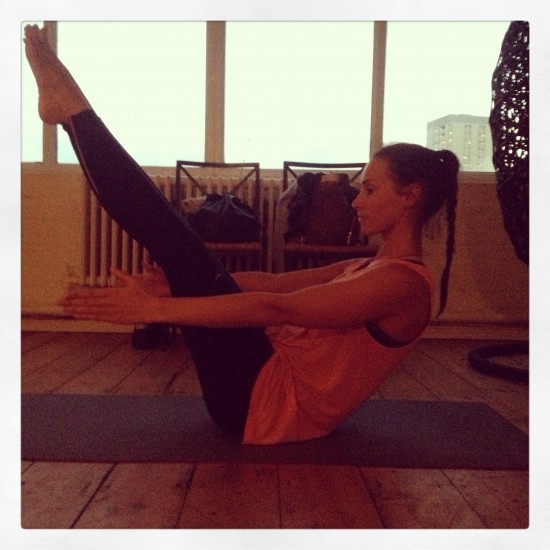 Some of Zoe's first words, and a sentence that she repeated throughout the class was "work with your body, not against it", which really hit home for me. I've had injuries (not from yoga) in the past and I think it's so important to make sure you listen to your body and any pains you may get. This doesn't just go for yoga, it's about all exercise. Only you know when you're working at your max, so don't let anyone else push you that bit too far and risk getting injured.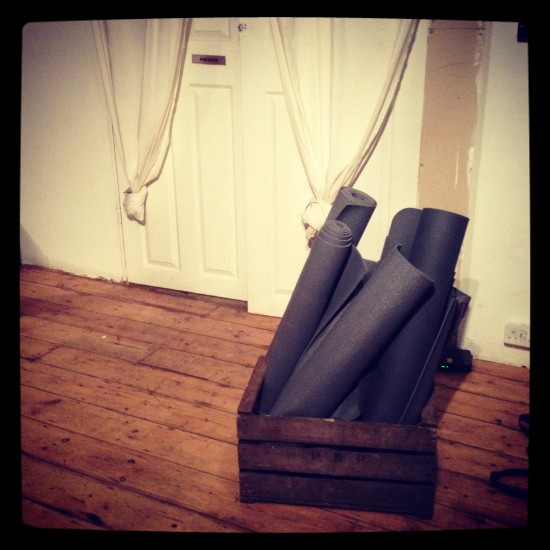 If you're thinking of getting into yoga, you really do need to look carefully into the different types as they can all work differently for people and their abilities. Zoe teaches Vinyasa, which is a fast flowing yoga – perfect for those who already have some knowledge of yoga like me and enjoy quite a fast paced class moving through postures, but stopping to hold each one to correct technique and feel the muscles working and relaxing.
Thanks to MindBodyGreen, I have outlined the different types, or at least the most popular ones…
Bikram Yoga – Get ready to practice yoga in 105 degree heat and in 40% humidity — hot! Though Bikram only has 26 poses and there's lots of alignment work so it might be a good fit for beginners.
Hatha Yoga –  Class is also likely to be focused on slow and gentle movements so it's a great type of yoga to wind down with at night.
Vinyasa Yoga – Commonly called "Vinyasa flow" or just "flow", you'll definitely be moving, flowing from one pose to the next. Other than starting with a sun salutation, no two classes will be alike. It's the most popular style of yoga in America.
Kundalini Yoga – "Kundalini" refers to the energy of the Root Chakra, which surrounds the area around your lower spine. Expect lots of work in your "core" area and classes are known to be pretty intense.
Ashtanga Yoga – Commonly called Power yoga, Ashtanga is definitely physically demanding. It's probably best suited for an ex-athlete or someone looking to really push their body.
Iyengar Yoga – Expect lots of props with this type of yoga such as blocks, harnesses, straps, and even cushions. There's also a lot of focus on alignment so Iyengar can be great for physical therapy.
Anusara Yoga – Founded in 1997 by John Friend, Anusara is epitomized by "the celebration of the heart". Expect many "heart-opening" poses like backbends and more talking by the instructor in class.
Restorative Yoga – Looking to wind down after a long day of work? Or perhaps you want to quiet your mind? Restorative yoga might be the answer as it's focused on relaxation.
Jivamukti Yoga – Jivamukti is mostly practiced in NYC as it was founded there in 1984 by Sharon Gannon and David Life. It's a mix of vinyasa flow sequencing infused with chanting and a vegetarian twist.
Prenatal Yoga – If you're an expectant mother then Prenatal yoga is probably for you. (Sorry, guys!) Some say that Prenatal is one of the best types of exercise for moms-to-be as there's a lot of core work and a focus on breathing.
If you think Vinyasa is the one for you, then get in touch with Zoe via her website and book in for her group class, or a private session. The group class takes place on a Monday evening at 6:45pm in East London, and Zoe is hoping to add more locations and classes soon.
Namaste x