Ever wondered what to do in Finland? I've got you covered…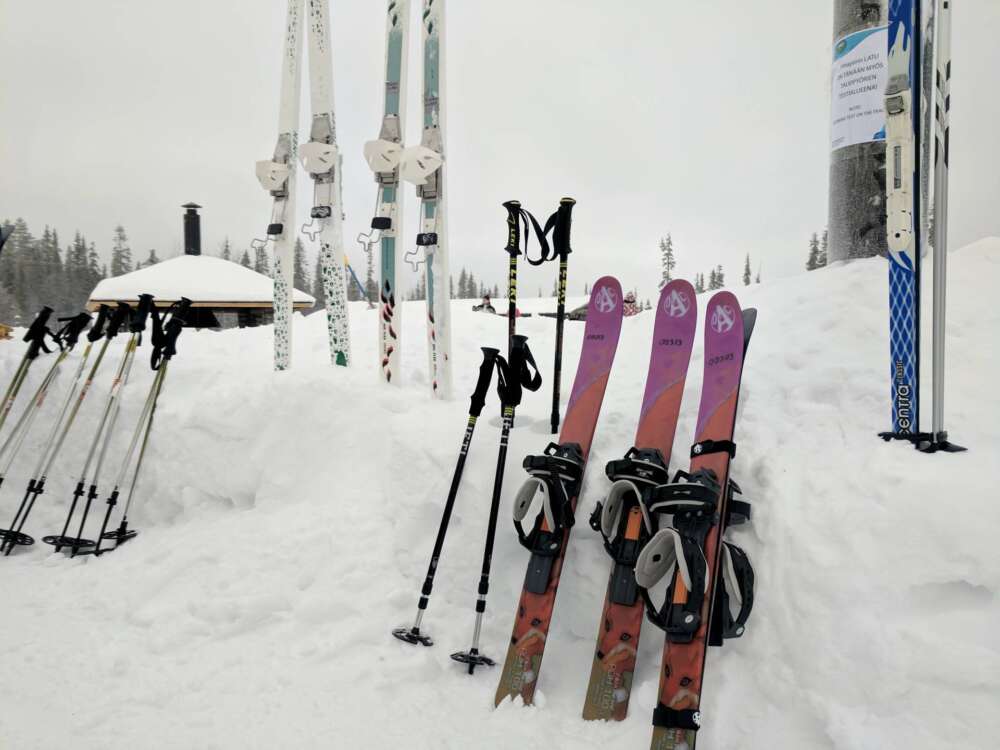 Before you ask, no, you didn't read that title wrong. Areas of Finnish Lapland have been recorded to have the freshest and cleanest air in the world – where there is a population of people living. Of course, places in which there are no humans will be fresher, but the Pallas-Yllästunturi National Park is nearly as fresh as you'll get on an active holiday.
My vlog of what to do in Finland, which you can watch below is the best way to see what we got up to and how much fun we had, so I thought it might be useful to actually share a rough outline of our schedule with you, as it'll be helpful when planning your own trip to Finland. I'll of course let you know my favourite bits of what to do in Finland are along the way!
DAY ONE
Not really much excitement, as I travelled all day. I was lucky enough to get to fly in the new Finnair A350 plane, in business class, which was a great experience. I then had five hours to kill at Helsinki airport, so made the most of the food in the Finnair lounge and found a quiet spot in the corner to roll out my mat and do yoga.
We didn't arrive in Kittilä, Lapland until around 10:30/11pm and then had to head to dinner in Ylläsjärvi village. The delicious home-cooked food made us all feel so much better. Our accommodation was the Yllästar Apartments – basic, but clean. Sadly the bed is only big enough for a small grown up, so I think a tall man might struggle, but we were only there for two nights, so not too bad. Every apartment does have it's own sauna though, which is definitely a bonus!
DAY TWO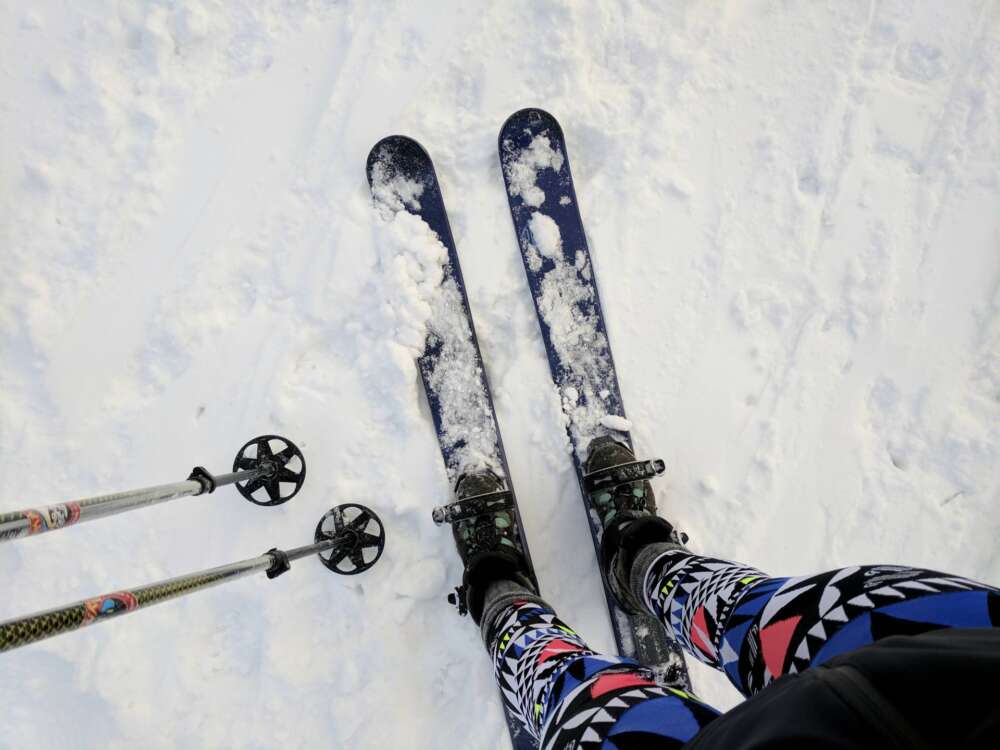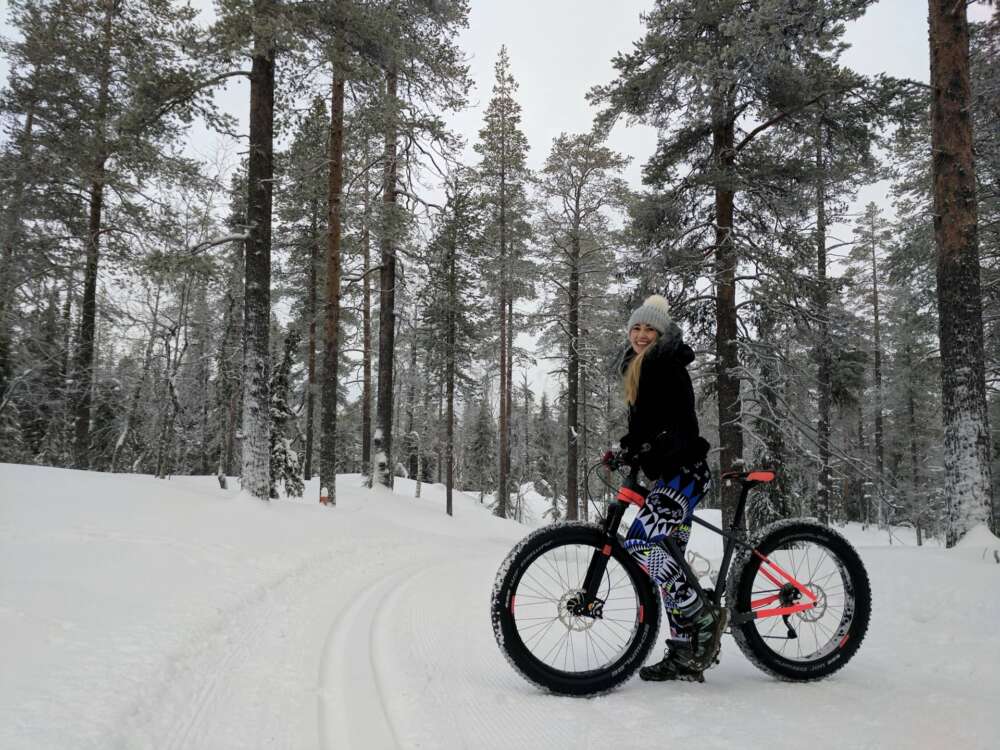 Out of bed early and headed to breakfast for 8am at Kellokas Nature Day at Pallas-Ylläs National Park (the first and oldest national park in Finland). The day included trying out lots of the activities on offer including fat biking (a tough workout on the legs, but super fun way to get around the National Park), snowshoeing and cross country skiing. You can hire the skis and bikes by the hour and just enjoy the scenery as you make your way around the park.
After lunch at the National park (a warming veggie soup and salad), we headed off to meet the huskies – check out the vlog to see how excited I was and how cute the all are! Definitely one of my favourite experiences of the trip. It's not cheap, but so worth it. Check out Lapland Safaris here for husky safari information and more information about what to do in Finland and Lapland.
You might think that's a lot to do in one day, but it didn't stop there! Of course we were trying to see as much as possible in a short space of time, so I would recommend taking more time on the skis and fatbikes and maybe staying an extra day. The evening consisted of a sauna and dip in the frozen lake (yes, you read that correctly!) and dinner at The Aurora Estate. Great food in a beautiful setting. Still not time for bed, we hopped back in the minibus to go snowmobiling through the forest. Ideally we were on the hunt for the Northern Lights, but sadly due to a lot of cloud, we didn't get to see anything. The night time driving is quite cool, but having done it I think I'd recommend going in daylight when you can actually see your beautiful surroundings.
In terms of clothing for Lapland, we were all ready equipped with hiking boots, base layers (some had ski pants) and warm coats, but do not fear too much as when you go on the husky safari and snowmobiles they give you a padded bodysuit… note, it might make you look like a giant toddler, but just embrace it!
DAY THREE
After not much sleep we ate breakfast in the minibus on our way to the next stop. This time it was ice fishing at Lake Jerisjärvi where we met Jari Rossi, fisherman, hunter, guide and all round nice Finnish guy! He made us tea and coffee in the Kota (hut) to help us warm and wake up before heading out onto the frozen lake.
This was followed by a super fun snowshoeing hike, which I absolutely loved! This and the huskies were my highlights. Definitely a tough workout getting through the deep snow, but then so fun trying to get down the fell! We finished our last day in Lapland with a visit to the reindeers and a ride on a sleigh with them – another amusing experience, which you'll see in the video – WATCH HERE.
All of these activities were arranged by Harriniva – book activities and their amazing Aurora domes here.
DAY FOUR
Finally a lie in! My mind and body needed the sleep so badly. We stayed in the Klaus K hotel, which had a decent gym, nice clean rooms and a very yummy breakfast, including homemade coconut granola and green juice shots amongst many other things.
Nuuksio National Park is only a 30-minute drive out of the city centre, perfect if you're looking to see a bit of nature whilst on a city break. We hiked through the forest, ate lunch at the Haltia nature centre (all nature centre food should be this good!) and heard all about the activities on offer throughout winter and summer in Nuuksio. Check them out here. The nature centre will also be hosting the comedy wildlife exhibition from March 4th until October.
In my free time I did a workout in the Klaus K Hotel gym, followed by a cup of tea in bed while I caught up on work. I so wanted to stay there, but a cocktail bar was calling our names! I don't drink alcohol (find out more about that here), but A21 Decades bar still made a delicious 'mocktail' for me. Dinner at Passio was nice, although I filled myself up on bread and oil, so didn't manage to eat much else. Ooops! The bread in Finland is just so good.
DAY FIVE
We checked out the Design District and the Iittala and Arabia Design Centre, where they host different workshops. This weekend's workshop is all about dreams and how the are connected to creativity, something I'd definitely be going to if I were still there. It's worth checking out their website to see what else to do in Finland and what they have going on.
Lunch was my favourite part of day five (it seems food usually is!). We ate at a pretty hip restaurant called Sandro, which served a buffet of North African and Middle Eastern inspired foods. It was really chilled out in there, definitely somewhere I'd recommend to anyone travelling to Helsinki. I'm hoping Richard (the owner) opens one in London someday!
We followed lunch with an absolutely freezing, but beautiful stroll over to one of the little islands that makes up Helsinki – I had know idea it was made up of around 33o islands! If you can bear the cold weather and have the right trainers, then I'd definitely recommend going for a run down by the waterfront and crossing over the bridges to these islands. For me that bought the trip to an end, as the tiredness and cold really got to me, so I took an early night to bed, as I had to be up at 5am for my flight home with Finnair. The group headed on to a sauna at Löyly and then dinner at Finnjävel.
As you can see, it's pretty easy to make Lapland and Finland an active escape, full of fresh air, winter activities and good food. I'm hoping to go back in the summer for some serious hiking routes, warmer weather and more good food! If you were ever wondering what to do in Finland, hopefully you now know! Watch the vlog here.
THE CLOTHES THAT KEPT ME WARM
Bobble hat (only available in navy)
Thank you to Visit Finland for having me. Love, Cat x