On Sunday I stumbled upon the most amazing shop on Earth – no, that's not an exaggeration. Hirst Antiques on the corner of Portobello Road and Pembridge Road is full of vintage amazingness (lame word, I know!) from Christian Dior, YSL, Ciner, Alex Kirk, Chloe, Prada and many more. The beautiful blue and gold Christian Dior necklace was £165, as was my favourite piece, the gold, cream & red YSL necklace – not bad for a piece of vintage couture in your wardrobe.
Check out all the treats in my photos below: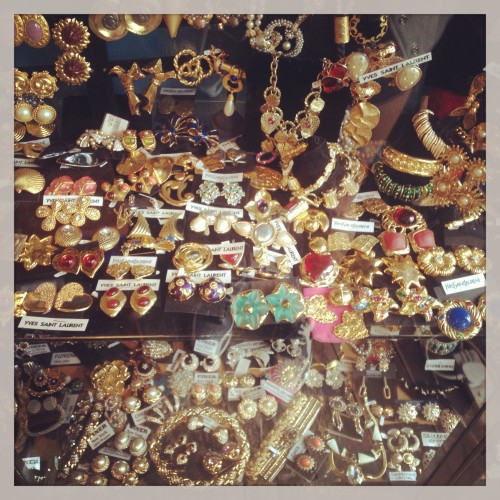 Don't just take my word for it – go down there (when you have a spare 3 hours) and try things on. Might be better to do it on a weekday, as Sunday was absolutely crammed. The lady serving seemed to be on her own at that point, but did a great job of getting around to every customer and was more than happy for people to ask to see items.
Also, best not to take a boyfriend (unless he's paying!), as he'll be in for a long wait!