I was recently extremely lucky to be sent off on my travels with Rob to Portugal by Thomson Holidays to check out the Robinson Quinta da Ria Club. When we were on our way home we got talking to an older couple, who without knowing I was a blogger were talking about journalists getting holidays for free and then "obviously" writing good things about the destination. SO, before going into detail about our trip, I just want to make it clear that these are MY genuine views…
When we first arrived at the Robinson Club we were rather surprised to find a German hotel – all German staff and 99% German guests. Not that this was a problem, it was just a bit of a shock, as we had no idea. I was here to sample the fitness and healthy eating offering, so it didn't matter to me what language everyone spoke, especially as all of the staff could speak good English and were very helpful.
THAT BED, THAT BATH!
First things first, our room. If you follow me on Snapchat you'd have had the guided tour, but for those of you who don't (do it now 'catmeffan'!) let me try and do it justice. We were in a Junior Suite, which was basically like a luxurious mini apartment, minus the kitchen. Our bed was huge with lots of soft pillows and opposite the bed was an amazing bath jacuzzi, which I most definitely made sure I had time to enjoy. I'm not actually too fussy when it comes to hotel rooms, as long as they're clean, but now I'm thinking my expectations may have gone up after staying here. The pleasure of being able to put our suitcases and Rob's golf clubs out of the way without having to trip over them was delightful!
SHOP MY LOOK – Sports Bra & Leggings: Laain @ Net-a-Porter
LET'S GET SWEATY
The thing I enjoyed most about the Robinson club was that it was so easy to eat healthily (with a bit of willpower!) and to stay fit, without it being imposing on those guests who were maybe just there for the golf or a relaxing holiday by the pool or on the beach. Each morning at breakfast we got the daily fitness schedule, which included everything from tennis, football, TRX classes to yoga. And if you didn't fancy a class there was a small but perfectly formed gym with all Technogym equipment for you to use all day. The only issue with being in a sunny country is that everyone wants to use the gym at the same time, but we found a way around it and I used the decked rooftop area for my workouts, which was just lovely with the early evening breeze.
SHOP MY LOOK – Sports Bra: Nike | Leggings: Nike | Trainers: Nike
The fact that everyone speaks German wouldn't put me off from going again, but I did find it a little awkward having yoga taught to me in a language I didn't understand. There was a note in our room that said if we wanted to do any classes to request them be taught in English, but when I walked into a room of 30 women about to get down on their yoga mats, I didn't think it was fair as the token English girl to have them not teach in German. Apart from the relaxation at the start of the class, where I had to keep one eye open to see when everyone else moved, it was actually fine. I put myself at the back of the class and got by just fine watching everyone else move. Even though the class was basic, I actually really enjoyed it – sometimes it's easy to get caught up in yoga flow and trying to work on advanced yoga poses.
The other yoga class I did was a 30-minute sun salutation class, which was scheduled to be on the rooftop, but sadly wasn't. I'm not too sure why, as the overcast morning would have been perfect for it and not too hot. I wasn't too sad though, as I took my mat up there afterward to work on some breathing techniques and balances.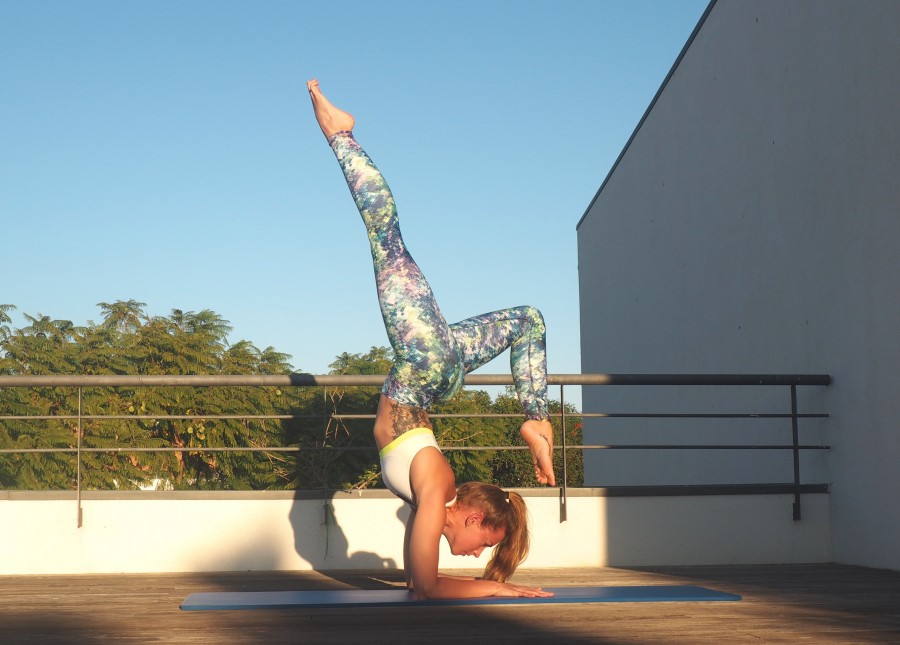 SHOP MY LOOK – Leggings: Dharmabums | Sports Bra: Nike
As well as the gym, fitness studio and beautiful golf courses to walk around, guests were also able to book in for PT sessions and use the indoor & outdoor pools. I'm a bit of a wuss when it comes to getting in the water, and as the indoor pool wasn't heated, I didn't actually get in once… I'm regretting that slightly now that I'm home longing for sunshine and water!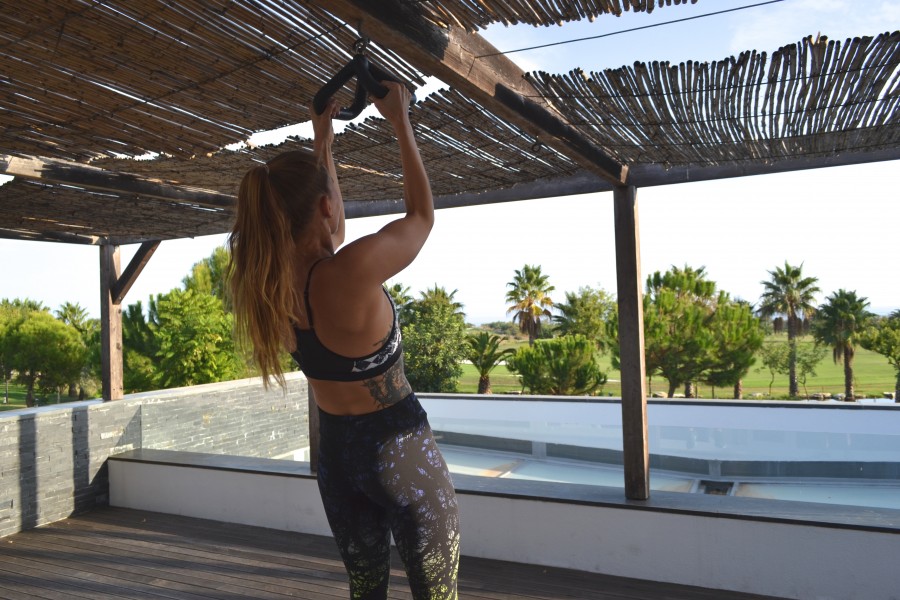 FEED ME
Normally even if Rob and I have an all-inclusive holiday we end up having a few meals out, as buffets can get a little boring and same-y. BUT The Robinson Club buffet must have been good as we didn't venture out for food once.
As soon as you walk into the buffet, you are greeted by the organic/healthy option, which was perfect placing before you have a chance to see the other food and it obviously helped that the healthy option looked so delicious.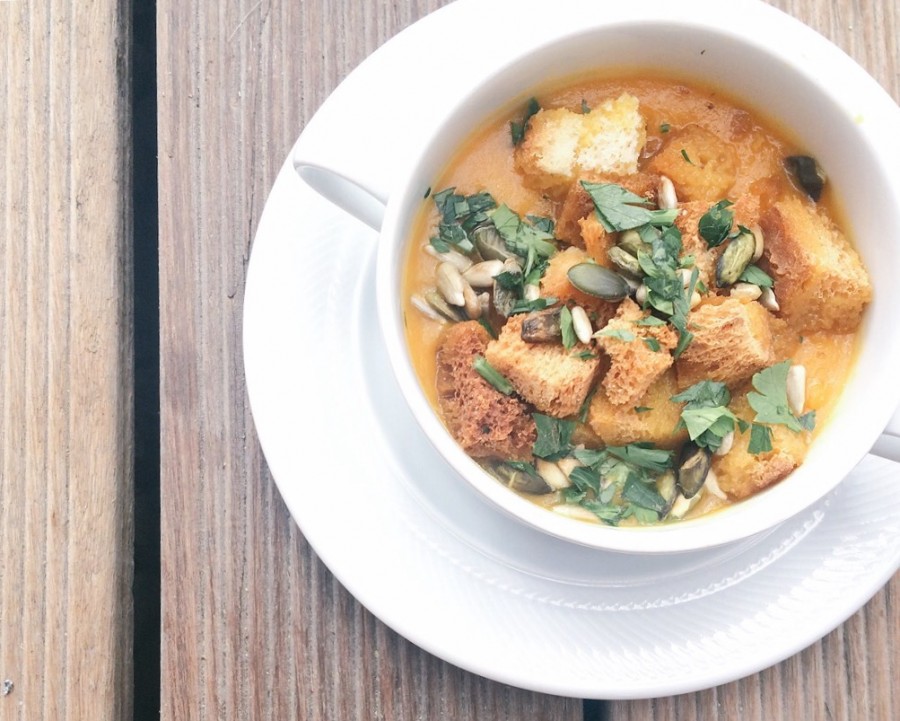 At breakfast the warm cinnamon porridge, which I added lots of nutty toppings to was laid out with a different fresh juice or smoothie and at lunch and dinner there was always something nourishing on offer, with all the ingredient details on a little board next to it. As with all buffets you do need a lot of willpower if you plan on getting through your holiday without having lunch pudding AND dinner pudding! I think I only managed one day without.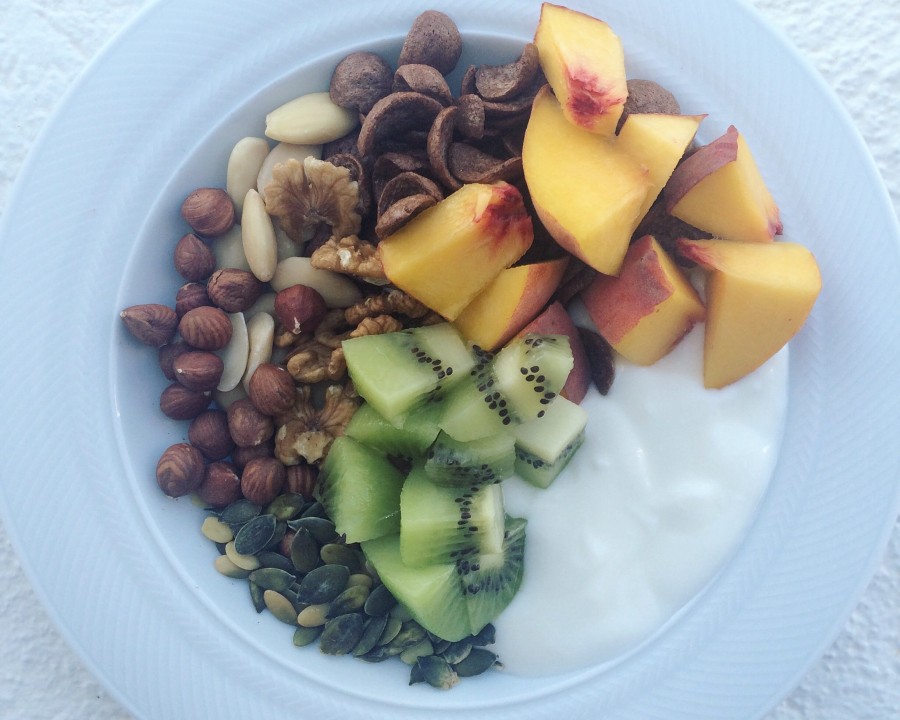 BEACH LIFE
The Robinson Quinta da Ria is located on the Algarve coast, but what makes it extra special is the amazing beach lagoon that you can walk through to get to the bigger slice of beach. Not that people plan their fitness holidays based on the feel of the sand, but both Rob and I agreed that the firmness of the beach made it the perfect located for beach running or a nice gentle yoga flow down by the sea. I can't say I managed to give the running a go due to the heat, but I did indeed do my own beach yoga session, which was amazing, especially as there were barely any people around.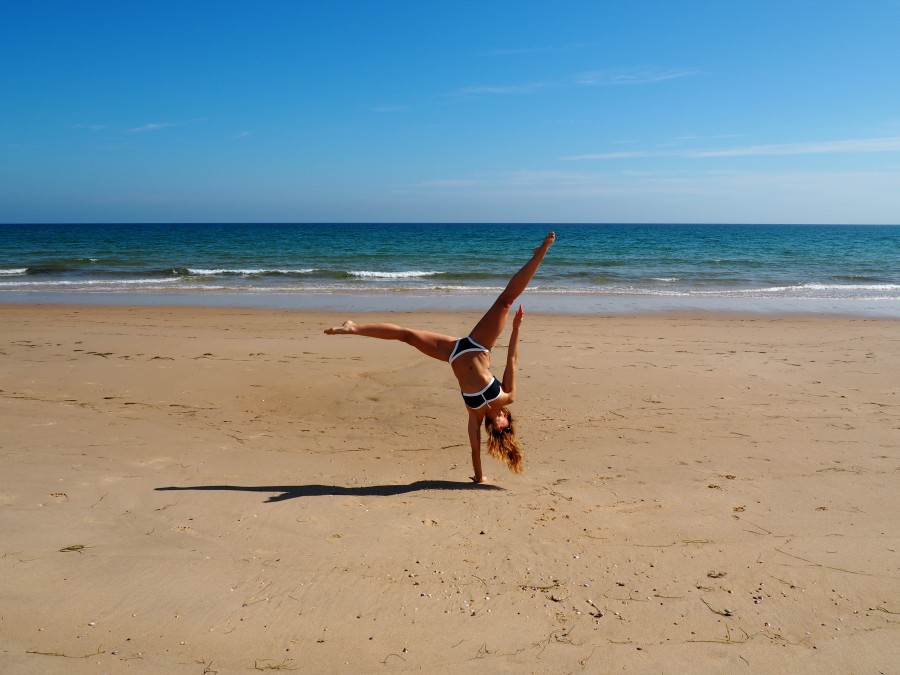 SHOP MY LOOK – Bikini: Seafolly @ Simply Beach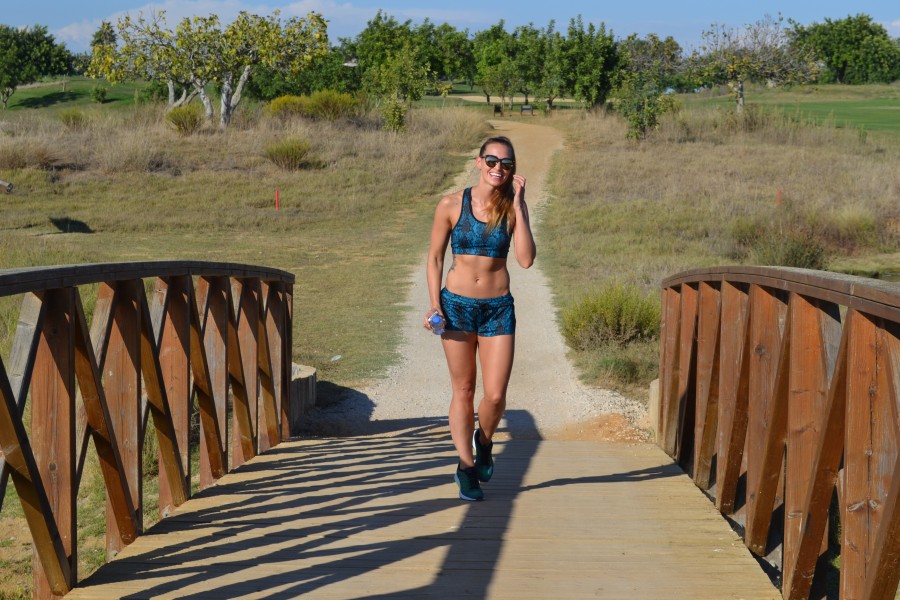 AND THEN I FELL IN LOVE
As if our trip wasn't amazing already, on our penultimate day we took a short taxi trip to the nearest town, Tavira, where I well and truly fell in love with many views, buildings and tiles! I honestly can't recommend Tavira enough and we were only there for a couple of hours! We did a little loop of the town, walking up to the castle ruins and through the cobbled streets.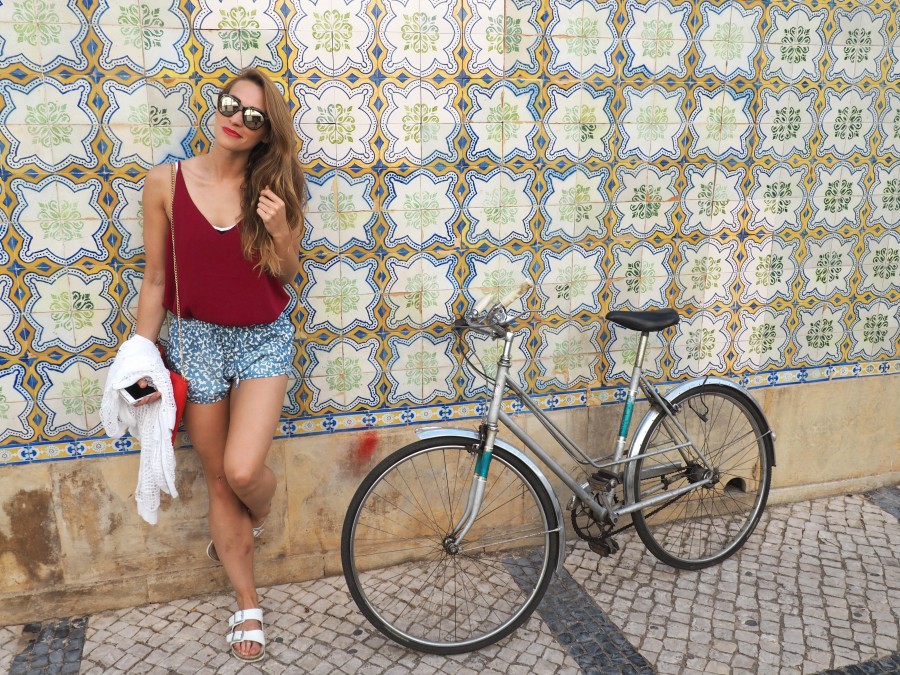 SHOP MY LOOK – Shorts: Seafolly Simply Beach | White Jacket: Seafolly Simply Beach | Red Top: Topshop | Shoes: Birkenstock ASOS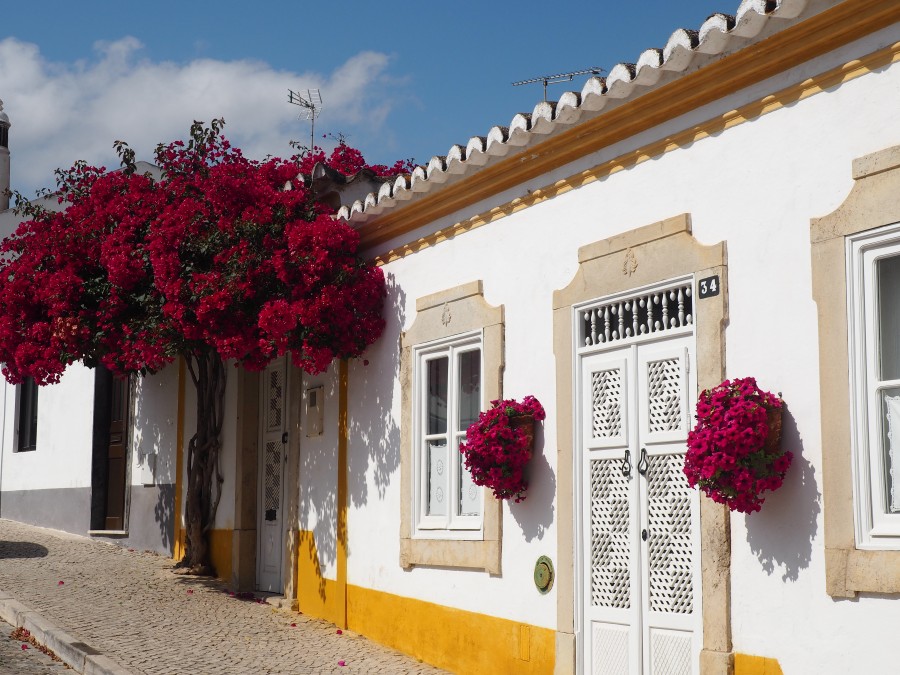 If you really want to get in the swing of things, the resort has two golf resort courses and a driving range for guests to use. Rob played both courses, but I kept it to the driving range – I think it was safer for everyone that way!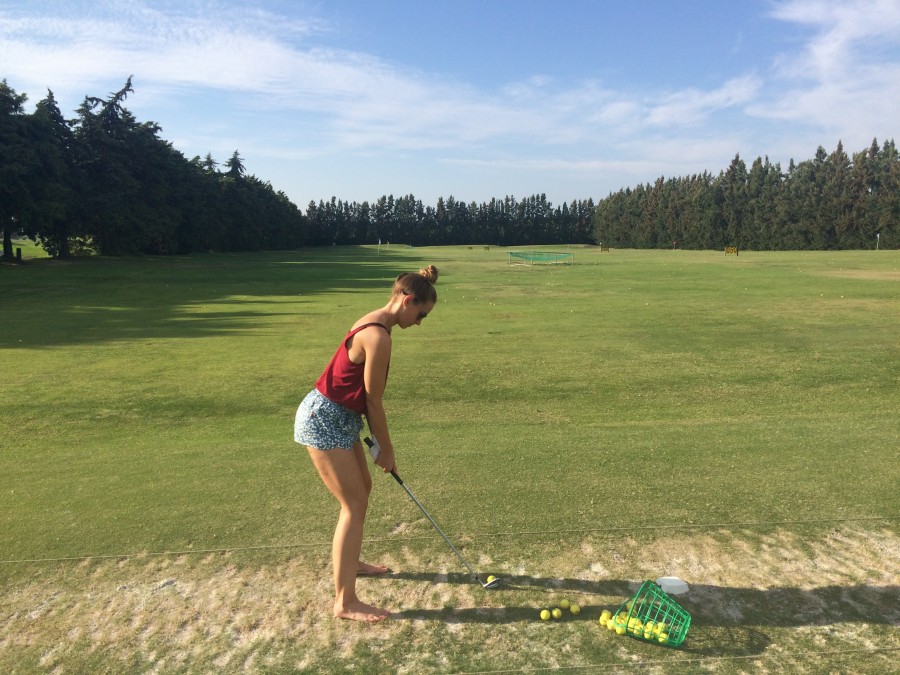 If you have any questions about the hotel or our experience, just comment below. Even though this resort is mainly German at the moment, with Thomson Holidays taking the reigns, I imagine there will be few more fellow Englishmen there in the near future. BUT that being said, we don't go on holiday to see 'Bob & Barbara from down the road',  so actually the German feel in sunny Portugal is rather refreshing! Thank you again to Thomson Holidays for a wonderful trip! I'll be heading back to Tavira to take more photos of tiles very soon!
Love, Cat x
*A 7 night stay at Quinta da Ria in September 2016 (based on a couple sharing a double room) starts at £768 pp. Find out more about this Portugal fitness holiday on the Thomson Holidays website.