When fitness is a big part of your weekly routine, the thought of leaving it behind whilst you go on holiday can be tough for some. Note that I said "for some", as a lot of people see holiday as a time to rest up and relax their healthy eating and fitness regime. That's no bad thing at all, but as I've been travelling a little more lately I needed to explore ways of keeping up with my workouts whilst feeling a bit all over the place!
On my most recent trip to Portugal I put a few of the best travel fitness apps to the test and have picked my favourites to share with you. Some may be obvious, but hopefully there are a few in the list that are new to you.
1. Freeletics
One evening in Portugal we were pushed for time between and impromptu trip to the driving range and dinner, so even though I wanted to get a sweat on, I knew there wasn't time for much. Freeletics was a little lifesaver in this situation, as I did two of the workouts, which took me around 20 minutes in total and felt like a boss! 😉 Making Freeletics even better is that all of the workouts use ONLY bodyweight, which is why it's such a great app for travelling as you don't even need to have a gym – just a bit of floor space will do the trick.
Download Freeletics for iOS here
2. Nike+ Training Club
It's an oldie, but a goodie… with new workouts being added regularly. I've always been a fan of the NTC workouts after doing them at numerous events, but in all honestly I hadn't actually used the app much until now. I love the variety of workouts on offer and that you can focus on different fitness aspects like getting lean, toned or strong. The only thing I would say is that NTC is better if you have 3G or wifi, as if you're not entirely sure what a move is, photos will load showing you the exercise in steps, or you can watch a video.
3. Yoogaia
This is such a great yoga app for those of us on the go. I did my first Yoogaia live class in my hotel room in Portugal and loved it. Every class has a live instructor who you see on your screen and who can see you. That way, even though the instructor isn't by you side, he/she can still correct you and give you pointers. Yoogaia is free to download and you get a 7-day free trial of the classes, but once that's over you will have to decide whether or not to pay the 19.99 EUR monthly membership fee. After making the most of my trial,  I didn't go straight for the membership, but I've now decided to give it a go. I think this could be just what I need whilst being all over the place with my yoga teacher training course in the coming months.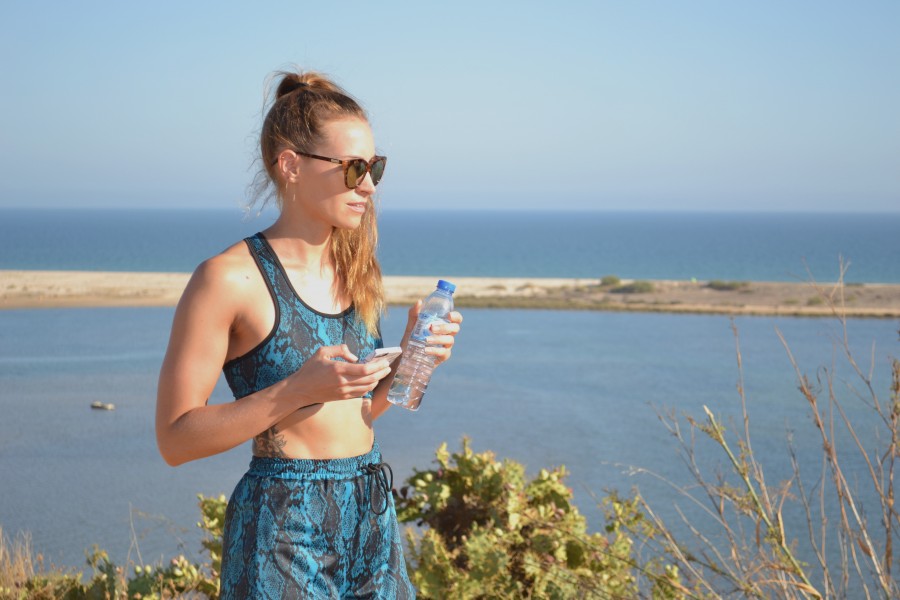 4. Headspace
I've used Headspace on and off for a while now. I know a lot of travelling is done when we're jetting off on a relaxing holiday, so hopefully the whole week ahead will give you a lot of headspace. If you travel a lot for work this can be a VERY different situation and actually rather stressful. Forget the work aspect, I find the whole flying experience a bit of a hoo-haa! Headspace brings mindfulness meditation to the masses and I love it because you can do anything from 2 minutes to an hour. Even those of us pressed for time can find a little moment of zen.
Download Headspace for iOS here
5. Seven
For this fitness app, all you need is seven minutes per day, a wall, a chair and your own bodyweight. Those things alone make it the perfect travel partner, as seven minutes of fitness = many more minutes of holiday! My recent trip was spent more on fitness than sunshine, but this app is great for anyone with a small about of time and space. Oh and be prepared to get sweaty, as these mini workouts are HIIT focused!
Just think, now you can earn all of those holiday ice creams or get a moment of peace in between flights and meetings! If you have any more recommendations of the best travel fitness apps, then do comment below, as I'm always on the hunt for more apps to try.
Love, Cat x