I wear a ridiculous amount of rings, it's a fact. I get comments and questions asking how can I be bothered to put them all on – especially when I take them off each time I wash my hands. It's effort, but I've been bought up in the jewellery industry, so I'm careful with every single piece of jewellery I own. Just so you get the idea, here's a couple of photos:
My rings are a selection of family heirlooms, rings, handmade by my Dad, the awesome jewellery designer Laura Gravestock, Topshop, Catbird NYC, Pema NYC, Daisy Knights and Kate Baxter. Kate has a great jewellery website called The Cut London – check it out here. I wanted to share with you, my favourite rings around at the moment, perfect to be worn on their own or to added to a stack.
1. Catbird – ok, they're in NY, but they do ship internationally. I'm off to New York in March have already schedule a trip to Catbird – can't wait!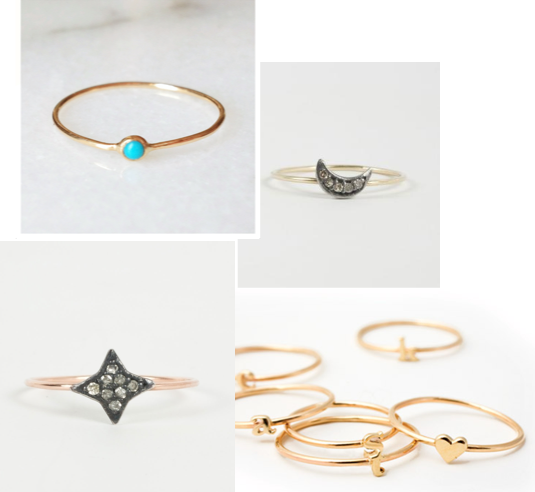 Shop Catbird here
2. Topshop – cheap and cheerful with some great designs!
Shop Topshop here
3. Laura Gravestock – I've had my Written heart ring for about 18months now and wear it everyday. Laura's designs are simple, but so effective. The lightening bolt and the Talon rings are on my wish-list… it's nearly pay day!
Shop Laura Gravestock here
4. Finn – Again, another US designer, but will ship internationally. These are a higher price point that the previous designers, due to the metal and stones used. Also, if you're on the website, check out their initial pendants – they're amazing. My wish-list is growing by the second!
Shop Finn here
5. IOSSELLIANI – I love these rings! The set of three stacking ones are amazing value at around £200 and the panther ring is so cool. They're stocked in Liberty's, but the selection isn't huge. Best to head to the website, as they do ship to the UK.
Shop Iosselliani here
That's all for tonight, but if you'd like some more suggestions, just let me know! Happy shopping.