Yoga and pilates in London are very often thrown into the same category of fitness, and it's true that there are a few similarities in certain practices, but on the whole, these two methods of exercise are very different.
I'm a yoga girl through and through; I love how powerful it can be on the mind, body and soul. Having said that though, I've recently tried my hand at pilates and for those who think it's a walk in the park are very wrong…
First up, I tried a reformer class late last year with my lovely friend and talented pilates instructor, Lottie Murphy. More recently Lottie invited some blogger friends to the launch of her new class, The Body, to celebrate her new teaching locations. We all rocked up to the amazing 639 PT in Covent Garden, ready to feel the burn. This class was totally new to me – such small movements, but with such a big impact on the body. Lottie is a brilliant, knowledgeable teacher with a confidence that really carries the class.
I grabbed Lottie to find out why she loves Pilates so much and what her favourite move is:
"What I love about Pilates is that it not only tones, strengthens, stretches and improves your posture like no other form of exercise, it also gives you incredible body awareness and an enhanced sense of wellbeing. One of my favourite moves to actively stretch your hamstrings, lengthen your legs and work your core is the scissor legs where you lay on your back and curl your head neck and chest forwards into a sit up position, whilst maintaining that position you stretch one leg up to sky and one leg out to 45 degrees and then continue to scissor the legs whilst breathing and working your abs- I love it!"
Now that Lottie has branched out and is teaching in a few more locations, I'll definitely be going back for more! Check out Lottie's class schedule here.
Next up on my Pilates-in-London mission was BePilates – possibly the most blogger-friendly and most intagramable space ever (featured in the first photo)! Located on the top floor of a building in Chiltern Street, the huge loft style studio is light, bright and white… oh and it just happens to have some amazing Pilates machines/contraptions/structures?! Not really sure what to call them.
We did a class with Dawne, the lovely founder of BePilates and she put us through our paces on the reformers. One amusing moment was seeing myself in the mirror trying to get into a swimmer exercise, lying on my front. I always thought I was quite a graceful human-being, but not any more. I looked like a walrus flopping onto the beach! Despite my ugly attempt at the swimmer, I got to grips with the rest of the class pretty well and thoroughly enjoyed it. After the class Dawne let us play around on the many structures she had to offer – I think I could have stayed there all day trying to pull out moves like Victoria's Secret model, Izabel Goulart.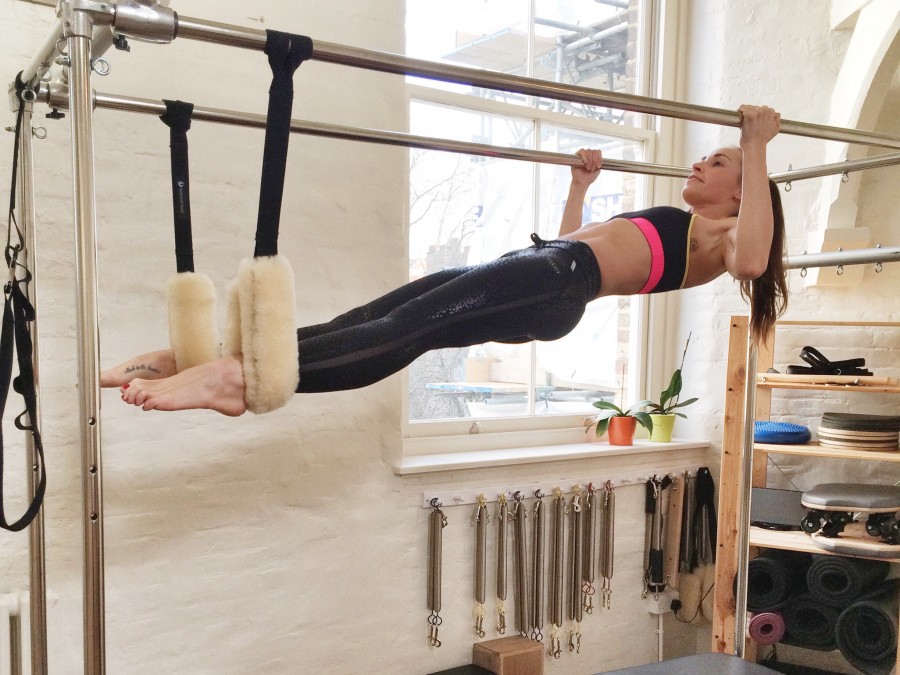 So there you have it – two amazing places in London to practice your Pilates skills and maybe I'll see you in a class soon. Head over to my Instagram to see some cool little videos of me doing my Pilates thaaaang! 😉
And as if I'd forget a bit of outfit information…
For Lottie's class I wore Vie Active leggings from Active in Style and for BePilates I wore Pilot Athletic Leggings from Active in Style with a crop from Every Second Counts.
Love, Cat x