Fortunately I didn't spend my weekend knee deep in mud at Glastonbury, instead I spent it basking in the sunshine at Glastonbury – how backwards is that! We were worried on Thursday evening, as it had rained the whole journey down there and after trekking from the car park to the tent with our bags in the mud we were well and truly shattered and deflated. Friday's weather however had new plans for us and what an amazing weekend it turned out to be!
As a bit of a health nut, I was a bit concerned about the food that would be on offer, but much to my surprise I was able to have fresh juices everyday and freshly grilled chicken with salad for lunches. There's no doubt that the food was great, but my true saviours were my Organic Burst supplements!
Organic Burst was set up by the lovely Ekaterina Igumentseva and her partner with their aim being to make superfoods household products. The essence of the brand is its high quality, which includes  the products being manufactured in the UK to pharmaceutical standards.
My selection for my Glastonbury survival kit was Wheatgrass, Acai berry and Baobab. I mixed the wheatgrass with water and drunk it as a shot and did the same for the baobab. I then took three acai tablets each day and it was a simple as that. Fuss free supplements – perfect for camping!
Ekaterina was kind enough to give me some tips, which I have shared with you below.
"Organic Burst Acai is great to protect the skin, organs and DNA from effects of oxidative stress and premature ageing, to aid recovery and muscle soreness after exercise  – it has 10x more antioxidants than blueberries and 3x more than goji (I take 3caps a day with breakfast or after workout).

Wheatgrass is detoxifying and cleansing – start with 1 tsp and increase your water intake while taking it, I mix it in a glass of water and have it before meals, especially heavy ones as it helps speed up the metabolism and its fibres line up the digestive tract, great before partying too as it helps protect the liver.

Baobab is high in enzymes, prebiotics and soluble fibre so good to beat the bloat, for any digestive discomfort and to maintain healthy skin and flora. You can mix it in a glass of still water making it a national energy drink from Benin called KoBaYu!"
I've only been using the supplements for a couple of weeks, but already love them and will definitely be going back. Check out their range here: www.organicburst.com/
Now, as this post is all about Glastonbury, I thought I might as well share some of my snaps of me and my friends with you. Enjoy!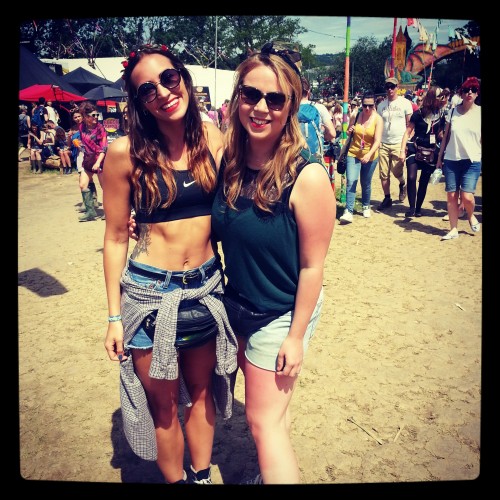 See you there next year with your bottles of Organic Burst at the ready! x