As you'll probably know I've now started my yoga teacher training with Yoga London, so for anyone else thinking about embarking on this journey or even if it's not something you're planning to do, but fancy knowing a bit more about it, I hope Imperfect Matter will become a little hub for you over the next few months.
One thing I wasn't sure of when I went to my very first evening with Yoga London, was what should I take with me in my bag. Turns out I nearly had it spot on, minus the big scarf/blanket, which now comes with me every week!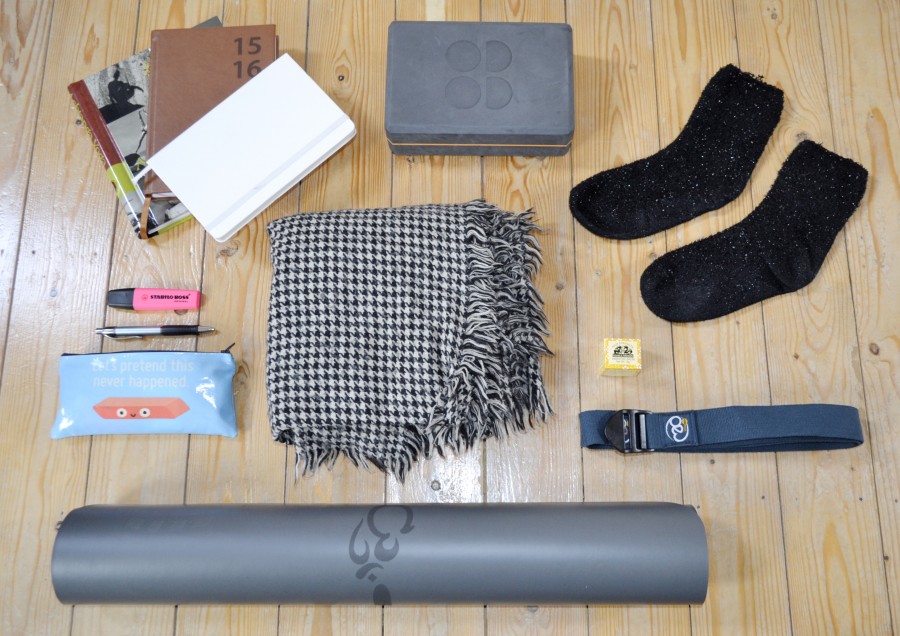 1. Books, notepad & journal
Obviously on your course you'll have set texts that you need to read and hopefully your course leader will let you know which ones to bring each day/week. Along with those books, you'll also need a notebook and I would advise getting a journal too. I use my notebook for all lectures and revision, but I have my journal for my daily practice, noting down how I felt, what I enjoyed, maybe didn't enjoy and just how I'm generally feeling about the course.
My mid-year journal is from WH Smith and my white notebook is from Moleskine.
2. Yoga bricks
Since starting my course and learning so much already, I've actually stripped back my practice quite a lot, taking modifications in class, trying to focus on my alignment over flexibility, so the bricks really come in handy. I can't speak for other courses, but lectures on my course are spent sat on the floor, possibly for a couple of hours at a time, so it's really important to find a comfortable sitting position. I always thought I was the master of cross-legged sitting… until I had to do it for longer than 10 minutes! Sitting on bricks is my saviour.
My yoga bricks are from Sweaty Betty.
3. Warm socks
After our practice we get straight into lectures, which like I mentioned above are all spent sitting down. I massively recommend taking some warm, fluffy socks with you to pop on so your toes are warm. I was so tempted to take slippers, but I think that might be taking it a bit too far! 😉
I'll be honest, I haven't a clue where these black sparkly ones are from!
4. Stationery
Sounds obvious, right? Apparently it's not, as on our first day someone asked if they could borrow at pen from me. My friend Jess bought me this pencil case last year, which I was pretty excited to finally take out and use properly. I'm a bit of a stationery geek, so have highlighters, coloured pencils, fine-tipped coloured pens and normal writing pens, but it's paid off, as I can easily colour code my lecture notes.
My pencil case is from ASOS and all pens/pencils are from WH Smith
5. Blanket/Scarf
A blanket is handy to have for Savasana in any yoga class, but it's also great to have to make the lectures even more comfortable. If like me you have a bony bottom and ankles, then pad them up with your blanket.
Mine is actually a big scarf from Zara
6. Double Dragon Balm or Tiger Balm 
I imagine for most people when they embark on this course, it ends up being the most amount of yoga practice they've ever done. Yoga London recommend we schedule yoga practice six day a week, three classes of which are done on the course. After the amount of sun salutes and balances we did in the first weekend, my muscles were definitely in need of a little soothing.
I got a little pot of Double Dragon balm from Holland & Barrett
7. Yoga strap
Even if you don't use a strap for your practice, this is good to have especially when trying posture modifications and doing adjustments.
My yoga strap is from Yoga Mad
8. Yoga mat
For your course, you'll either need a mat that you don't mind drawing on with permanent marker, or a Liforme mat that already has alignment on it. I'd only recommend the latter if you already have one, as even though I'm obsessed with my Liforme mat, they are expensive, so you can always save for one at a later date. I've been using my Liforme travel mat, as it's lighter than the standard one, which is great when I'm taking it in & out of London each weekend.
Shop for my Liforme yoga mat here or get yourself a cheap one to draw on from Yoga Mad
9. A good bag!
With all of this stuff having to fit into your bag, make sure you get yourself a good one! Mine is from Sweaty Betty and has straps on the bottom of it to hold my yoga mat. What a dream!
Now that I've finished this post I wish I had thought it through and had 10 things, rather than 9! Just seems odd to finish there. 😉
Namaste x