If you didn't see my photos on Instagram, then you won't know that I've just returned from a little trip to Iceland. Rob and I flew last Wednesday night, as I had some work to do there on Thursday & Friday and then we spent the weekend exploring. Here's how we decided to explore Iceland in two days…
Whilst in Reykjavik working we stayed in the cutest B&B called The Treasure B&B, which was right in the centre of town, but tucked away in little side road, so we still felt slightly hidden. We called our room 'The Cave' as it really did feel like we were in one – in a good way! The room was all white and rustic with an en-suite, and even though it was small we loved it. The B&B doesn't have a gym, but we went over to the Radisson Blu Hotel (just a 2-minute walk away) and used their gym for a small fee. It was very small, but fortunately we were the only people in there, so it worked perfectly for us. Had we have had a car at this point, we'd have trained at the Reebok Crossfit centre on the other side of town.
WEARING: Calvin Klein Bikini Top & Dharmabums DBX Leggings
Food wise, we had some good and bad meals, as you usually do when you're exploring a new city. The highlights for me were the peanut vegetarian steak at GrillMarket, my raw burger and colourful veggies at Gló and the most delicious homemade dinner at The Nepalese Kitchen… so good that we went there twice.
On the Saturday morning we picked up a rental car and hit the road, heading towards Skógafoss, one of the waterfalls we'd heard so much about. On the way there we realised that although extremely beautiful, Iceland is kind of eerie, as it's so empty. I'd definitely say to plan food, toilet & petrol stops in advance, as you could be driving for quite a while without any of these options.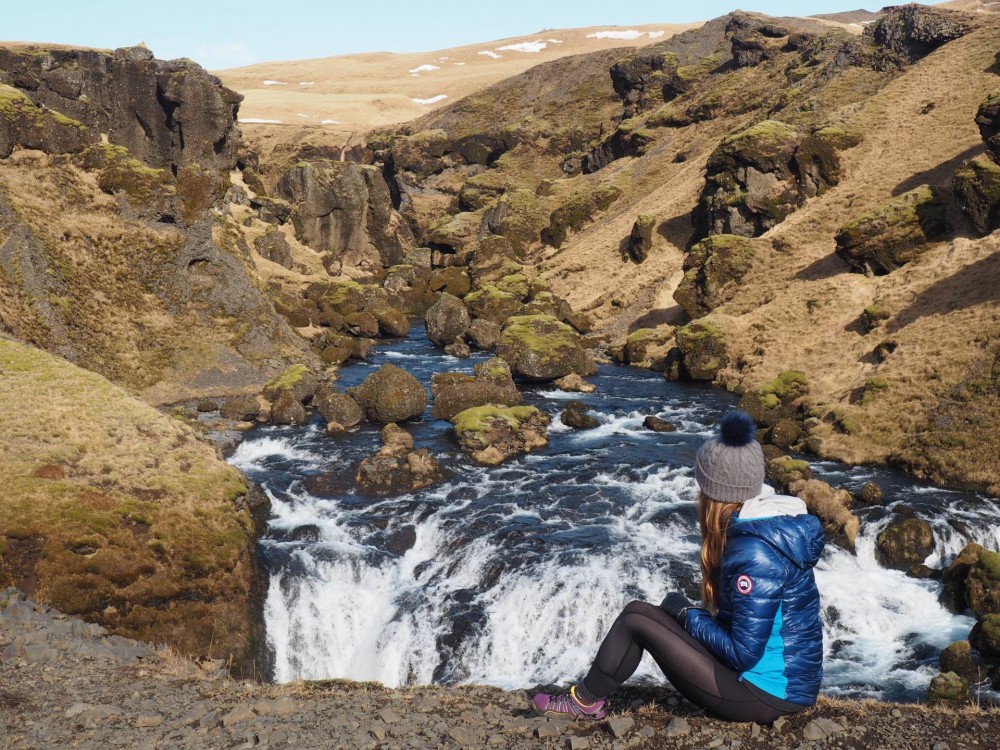 WEARING: Canada Goose Jacket
WEARING: Dharmabums DBX Leggings and Dharmabums Prana Flow Crop
Skógafoss didn't disappoint, in fact it was the main highlight of the two days for me. While we were standing at the bottom of the waterfall, taking a moment to breathe it all in, the sun showed it's face and created the most magical rainbow I've ever seen in my life. It was one of those moments that totally blew my mind – I still can't stop thinking about it. Naturally I had to do some yoga in front of it for a photo, which you can see on my Instagram page. I wish we'd planned more for a hike here, as we walked up to the top and it was so beautiful, it would have been nice to keep going for hours, but annoyingly we weren't prepared. That's my one regret about our trip – not planning a hike like we did in Norway. I did feel like we were bound to the car quite a bit, moving from one placed to the next, but each stop was extremely pretty, including Seljalandsfoss too, which was where we headed next.
On Sunday we got up pretty early after a night at a guesthouse in the middle of nowhere and headed to the Geysir. Another pretty cool experience – our planet is truly incredible! It was seriously pouring with rain, so we didn't stay out there for ages, instead opting for a yummy hot chocolate in the cafe. Shock horror, a hot chocolate for breakfast, shoot me! 😉
After the Geysir, we got back in the car and headed about 10 minutes North to the Gullfoss waterfall. We got absolutely drenched at Gullfoss so decided to take a drive south and unwind at the Laugarvatn Fontana Geothermal Baths for a few hours, which was the perfect break in our day. Laugarvatn Fontana is on the Golden Circle route, so you can't miss it and with five different thermal pools and the open water as an option, there's room for everyone.
We sat down and enjoyed a warming bowl of soup with homemade rye bread after our dip in the water, which was so delicious. I later looked at the recipe for the rye bread – which they bake in the Laugarvatn Fontana hot springs for 24 hours – and the sugar content definitely explained its yummy, cake-like taste!
From Laugarvatn Fontana, we headed towards the Thingvellir National Park to do some more exploring, but in all honesty I think we were both pretty shattered by this point, which is always frustrating when you don't really feel like you've been particularly active. Within the National Park there are numerous things to see from waterfalls, snowy mountain tops, beautiful lakes and more. Had we not have been so tired and it been so late in the day, I think we'd have put on our trail trainers and gone for a run… hindsight is a wonderful thing! 😉
Iceland wasn't a fitness holiday as such, but definitely a nature-loving holiday, on which we managed to stay as active as possible and find a couple of tasty and healthy restaurants. I think we both preferred Norway in terms of sheer beauty and the 'wow factor', but the rainbow at Skógafoss is a moment that I'll treasure forever, so Iceland has a special place in my heart. Oh and if anyone is ever heading to Reykjavik and in need of a place to stay, check out our little white cave at The Treasure B&B.
Love, Cat x