Once again the news is full of stories about cutting sugar for a healthier, balanced lifestyle. This is something I'm totally on board with and one of my biggest bugbears is cereal and how some of the big brands can get away with advertising health, when in actual fact the products are full of sugar. I'm going to share with you a few healthy breakfast ideas.
I was the same as any other child; my parents bought Coco Pops, Special K, Crunchy Nut Cornflakes because, well, we wanted it and back then they were non-the-wiser about the sugar content. Plus, when you're feeding a whole family, it's one of the cheaper options. People can't be blamed when the boxes and adverts are reeling off the low calorie count etc.  BUT these addictive boxes of the white stuff eaten first thing in the morning aren't the best option for our bodies. Per 100g Kellogs Crunchy Nut Cornflakes has 35g of sugar and that's not even the worse offender!
I totally appreciate that we all lead busy lives and the majority of people would rather an extra 15 minutes in bed, rather than feed their body something more nutritious. You don't need to be making a green smoothie that looks like baby poo every morning, maybe try one of the less-daunting following options to lower the sugar levels in your diet.
Delicious Berry Smoothie 
1 x small banana
1 x cusp of blueberries
1 x cusp of mixed frozen berries
2 x handfuls of fresh spinach (You won't even know it's there, trust me!)
1/2 cup x porridge oats
Almond milk (If you're not ready to make the nutty milk jump, then use skimmed milk)
Blend it all together, using enough milk to get the consistency you require. I like quite a think smoothie.
P.S. Blenders are pretty cheap these days, so no excuses! 😉 Mine is a Russell Hobbs one for £25, but a friend of mine got one on Amazon for £14.99.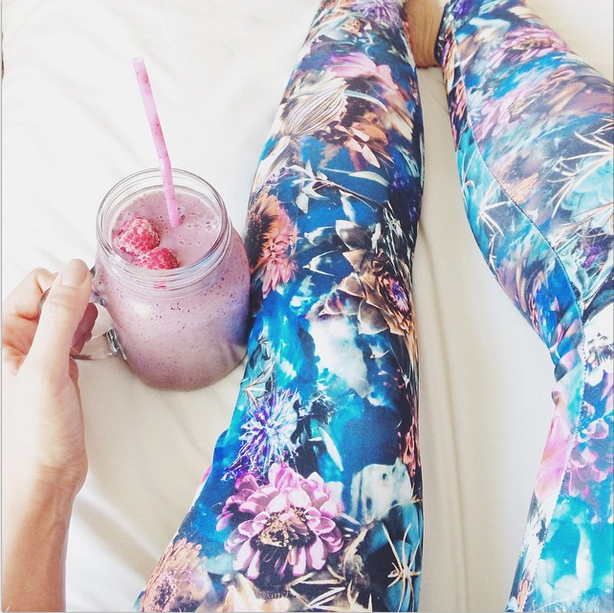 Toasted Rye Bread 
This is the next step up from normal bread, and when toasted with some delicious Meridian peanut butter it tastes so good. Rye bread is widely available now in most large supermarkets, although sometimes it's hard to find, so just ask. If you're feeling a little more adventurous, why not mash some avocado and have that on your toasted rye bread instead – it's my favourite!
If you've got more time, then eggs fried in coconut oil on toasted rye bread is an absolute winner. I could go on, but I won't bore you!
Berry Porridge with Nut Milk
Porridge is such a nice winter warmer and is cheap, quick and easy to make. I've put nut milk in the title, as it's the best option, but like I said before if you're not ready to make the jump to the nutty side just yet then use skimmed milk. I use 1/3 mug of oats, with one full mug of milk.
You can simmer your porridge on the hob (approx 10 mins – using a heat diffuser to stop burning) while you continue getting ready for work, just be sure to stir it every so often. Add frozen berries a couple of minutes before the end and they'll be perfectly soft and gooey, ready for you to enjoy. Obviously you can add fresh berries if you prefer, I just say to use frozen as it's a cheaper way of doing it.
Nakd Bars
Friends of mine struggle to eat very early in the morning, so prefer something very small. If that's the case, try the Nakd Bars, available in numerous yummy flavours. I won't lie, the texture takes time to get used to, but your body will thank you for turning down the bowl of Special K.
…And if after these ideas you're still not ready to give up the cereal, then try something slightly less sugary. If I'm feeling lazy, then I might have a bowl of Dorset Cereals Nutty Muesli with almond milk and if I'm feeling like a bit of a health hero I'll make my own healthy granola – recipe here.


This is only a very teeny-tiny bundle of healthier breakfast choices, there are many more out there, you just need to do a bit of research. Some you'll like, some you won't, but that goes for any food (even the sugary ones), just give it a try and you'll be surprised how much better you feel for making the less sugary choice.
Love, Cat x