Today I hopped out of bed with a spring in my step, as I had plans to meet one of my best friends for breakfast and see one of our Australian pals. Rather than give either of them the option of where to eat, I took it upon myself to make an executive decision and book us a table at Bumpkin in Chelsea, as I've been wanting to go there for ages. Bumpkin definitely didn't disappoint  – the food was brilliant and the garden was so cute, I could have stayed there all day. The sun even came out for us.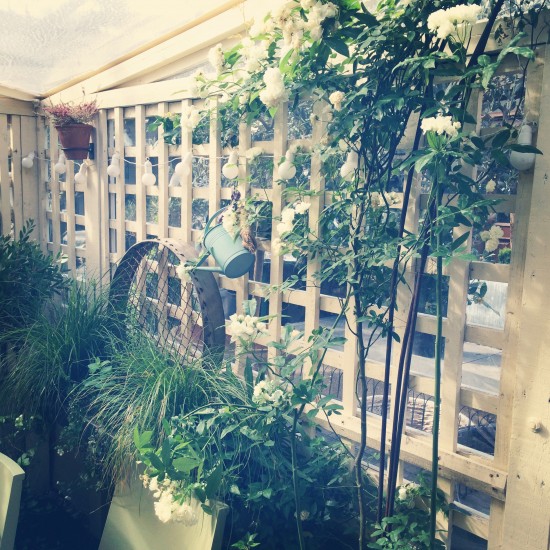 Bumpkin do a 'Super Healthy Menu' created by nutrition and yoga expert, Julie Montagu, so as you can imagine I was instantly drawn to it, especially after seeing photos of the the Eggs Montagu on Instagram – a healthy version of Eggs Florentine. Obviously that was what I ordered along with a green juice (and two cheeky glasses of champagne). WELLLL, if you can't have a 10am glass of champagne with an Australian friend you haven't seen for four years, then when can you?!
The main event arrived looking as good as I'd hoped. I couldn't wait to get stuck in…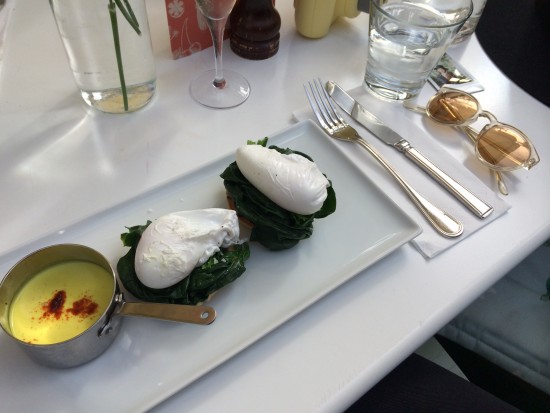 The Eggs Montagu consists of a toasted gluten free-flour muffin, spinach, two soft poached eggs, and a lemon and nut sauce. The perfect healthy way to start my Saturday.
Hamish opted for the porridge, which looked good enough, but it didn't excite me enough to warrant a photo. Kat's breakfast, however, looked amazing and I just had to try it. The green smoothie bowl is made up of almond milk, banana, pear, apple, spinach, kale, watercress, spirulina, blended with chia seeds, topped with gluten-free granola and coconut flakes. What a dream!
Like I said, after eating we decided upon a little Saturday morning treat… bloody mary and champagne!
It was such a brilliant morning and even though we're gutted that Hamish had to head off to Paris, Kat and I are already planning our trip to see him one weekend this Summer and of course we'll hunt down all of the healthy places to eat there.
There we are: breakfast of champions or champions of breakfast. Both I reckon…
Bumpkin have a few restaurants dotted around London, but not all of them have the Super Healthy Menu on offer, so definitely check their website before you book a table. I can't recommend the Chelsea one enough, sitting out in the garden in the sunshine made me so happy.
On a separate note, I walked past this road today looking so pretty and colourful!
After all that I get to hang out with Rob for a nice relaxing afternoon/evening… although he's just fallen asleep, which is why I've put this post up already… typical bloke! 😉
Hope your Saturday has been as delightful as mine! x