It's Friday, it's nearly the weekend and it's time to shop! Rumour has it the sun is due to make his first appearance this weeked, so I'm dedicating this Fashion Fix to the beginning of Summer… Wishful thinking maybe?!
1. Acne Lila Nude Boots – £450
I'm not sure how I missed these when they were on the runway last year, but fortunately the lovely Charli Cohen (fitness and fashion blogger) put a photo up on Intsagram of the black version, making me fall in love and keep the photo open on my computer all day. I absolutely LOVE these nude ones with their glittery rubber heel. They'd look so cute in the sunshine with some denim cut offs and a simple loose tee. These are the boots of my Summer dreams – PLEASE can I have them! … not really too sure who I'm asking.
Available to buy here 
2. Zara layered printed shorts – £19.99
I really am cutting down on my shopping habits… BUT I might have accidentally bought these cute little aztec print Zara shorts last week in preparation for my holiday to Ibiza. I should probably point out that my holiday isn't until June, but it's good to be prepared, right?!
Available to buy here
3. Moshulu Kingfisher desert boots in pistachio – £69.99
We have a little family flat down in St David's in Pembrokeshire and other than an old fashion style sweet shop, it doesn't really have much to offer in the way of shopping. Well, that's what I thought… until my Mum was flicking through Moshulu's brochure and my eyes were drawn to these amazing pistachio desert boots. I thought Moshulu only catered for women over the age of 50 (no offence)… either they got it wrong with these boots or I'm dressing like a 60 year old these days! I mentioned liking them and then the next thing I know my Dad bought me a pair. So so kind of him, especially as he hates anything to do with shops/clothes/shoes.
Available to buy here
4. & Other Stories Clutch with gold sides – £95
This is the chic black clutch that dreams are made of… kind of! I love everything about this bag – the cylindrical shape, the top gold bar, the gold chain and the popper fastening. Use it with the strop to glam up a daytime outfit, and as a clutch for your evening out.
Available to buy here
5. & Other Stories open back dress – £55
I'm having a bit of a & Other Stories Appreciation Week, this week. Love this 60's style sleeveless dress with it's open buttoned back. I can imagine Alexa Chung wearing this with a pair of loafers to complete the look. I also love how they've style the model with her hair in a bun. Very cute!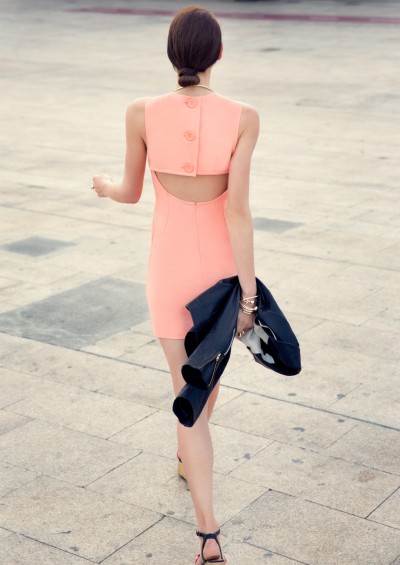 Available to buy here
HAPPY SHOPPING! x