Another week, another round up of good stuff I've seen. This week has been a manic one, but I still haven't failed to peruse the online shops. One day I'll stop shopping. Maybe.
Definitely not.
1. Catbird You are My Moon & Stars stackable necklace – from $48
Catbird's new necklace addition is as cute as ever. Building on the trend of ring stacking, Catbird are now taking on pendant stacking, with these sweet moon and star charms. I've already put my order in for a gold moon and star and will be picking it up in New York next Friday. No doubt my bank card will accidentally slip into the card machine, so I can buy a few more bits too! When can we have a Catbird in London?! Soon please.
Available to buy here
2. Zara leather embroidered skirt – £59.99
This is about as chic as a white leather skirt can get. No trashy white leather here. I absolutely love it. no matter how you wear it, smart or casual, it'll look awesome. Personally, I'd wear this skirt with a loose grey V-neck t-shirt, a pair of grungy ankle boots and of course my Catbird necklace and rings!
Available to buy here
3. Whistles Luna Tie Dye Sweatshirt – £65
There's a lot of tie dye being thrown around the shops at the moment. When I say 'thrown' I really just mean that I've seen a few tie dye tops hanging in a store! This Whistles number is a beauty because of the bright blues in it. I'm not as keen on the wishy-washy pastel tie dye bits that I've seen. Trust Whistles to ALWAYS get it right. It would look awesome with the Zara skirt above.
Available to buy here
4. Net-a-Porter Carven Safari Print cutout shirt – £270
I'm normally sold on anything that has some kind of animal print on it and this is no exception. Carven's cutout cotton shirt was teamed with a matching asymmetric skirt on the Spring runway and looked blimin' great. I, however, would complete the look with a pair of ankle-grazing jeans and either loafers or brogues for a more preppy and boyish look.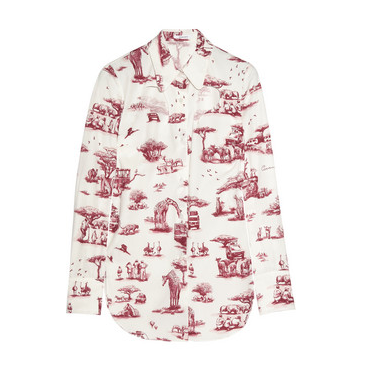 Available to buy here
5. H&M sporty bikini – Top: £12.99, Bottoms: £7.99
I've been thinking about summer so much this week. The sun has been tempting us through the office windows and then we step outside and realise it's still as freezing as ever. I'm off to Ibiza in June and really can't wait for some sunshine. I think my body is in desperate need of a little bronzing! This H&M bikini is such a good price and is the perfect combination of chic and shorty – I love the hint of neon green! The Outnet had their clearance sale this week, and I was lucky enough to grab a couple of bikini bargains from Seventh Wonderland & JETS by Jessika Allen. I'm all ready for the beach without a beach in sight. Sad times!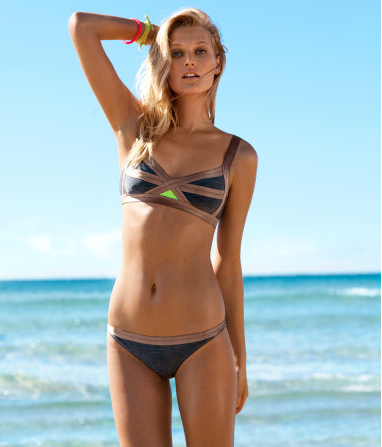 Available to buy here