I hope you're all looking forward to a fun weekend – let's hope the sun miraculously makes a return! I'm mixing it up a bit this week, so it won't ALL be clothes and accessories.
1. Oh Deer Artemis Phone Case from Culture Label – £25
This guy is just too cool. You all think that these head-dresses are only wearable at a festival, but this tiger knows different. I've always struggled a bit with the realisation that I must have a phone case (too clumsy to not have one), as I think they make my phone look clunky and ugly. At the moment my phone is living the dream as an orange fox and has actual fox ears, but I reckon by next week he'll be known as Artemis the tiger phone. Oh Deer are awesome for anything from birthday cards and cushions to phone cases and pictures – check out their collection on the ever cool, Culture Label.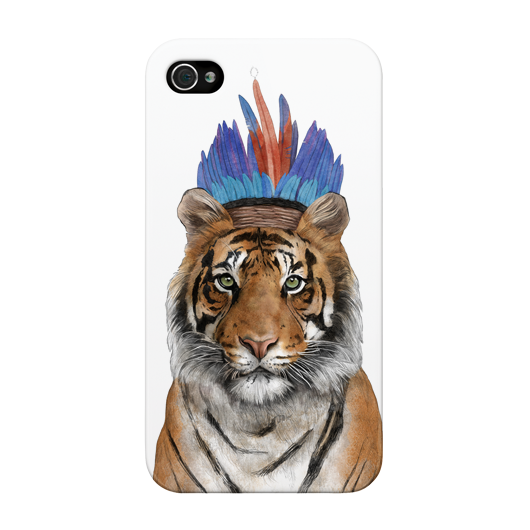 Available to buy here
2. Bloom.fm music app – free – £10
Sticking with the phone theme, I've decided to mix it up a bit and throw in an app. And it's not just any app (it's not an M&S app either), but it IS the perfect music streaming app for anyone who… actually, just anyone. Bloom combines free radio stations, on-demand streaming, music discovery with unique 'borrow, enjoy, return' subscriptions and most importantly, a blimin' cute bee who flies around your screen helping you borrow tracks. It probably the most beautiful app to look at and is so simple to use. The first album I borrowed was The Milk – if you haven't heard of them, then as soon as your done here, download Bloom.fm and give them a listen!
Available to download here
3. Nike Flyknit trainers – £140
I've been thinking about these since I saw them about a month ago, so decided they deserve a place on this list. Long gone are the days when trainers were only worn for sport or running – I constantly see girls around London wearing their jeans with trainers… mainly when I look down at my own feet! I love the colour variations that Nike offer and how vibrant they are. Just think how awesome these would look with your black skinny jeans.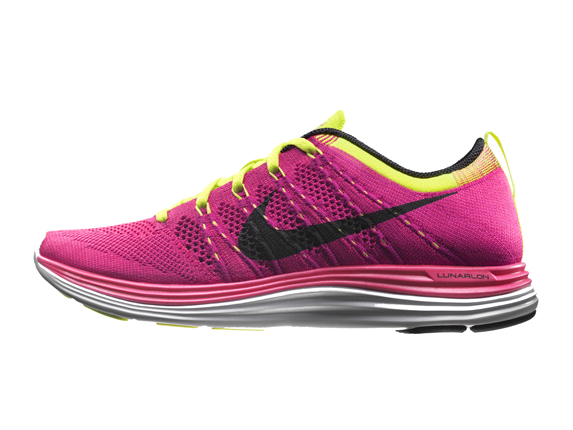 Available to buy here
4. Nasty Gal quilted stud sweatshirt – £51.66
Wear this with those black skinny jeans and flyknits and you'll have a dream of an outfit… at least my dream! Nasty Gal is one of those websites you get addicted to – checking it everyday for new items. I ordered some bits recently, but had them shipped to a friend in New York. Can't wait to get my paws on them. Fingers crossed it all fits. Nasty Gal do ship internationally, but just be careful of the extra customs charges.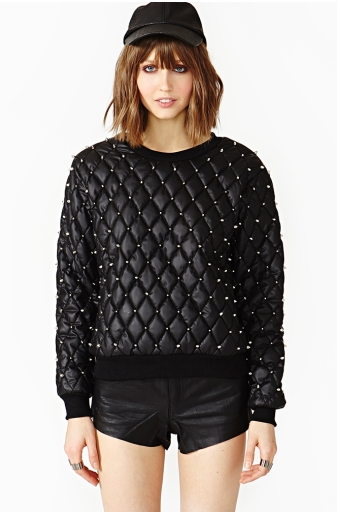 Available to buy here
5. Clarks white sandals – £44.99
When I saw these this week, I could believe they were from Clarks! Perfect for this Summer's white trend, but also very classic, so will last season after season. These would look so cute with sparkly ankle socks!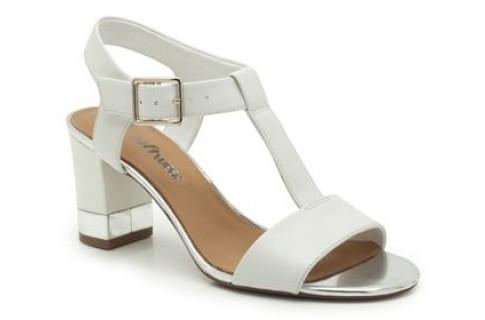 Available to buy here