Last week I honestly felt like one of the luckiest girls ever, as I got to experience something very special with some extremely incredible people.
Nike invited myself and a few other bloggers to their Nike Escape on the Island of Sark and I want to share the experience with you – apologies in advance for the amount of photos, we all got pretty snappy happy!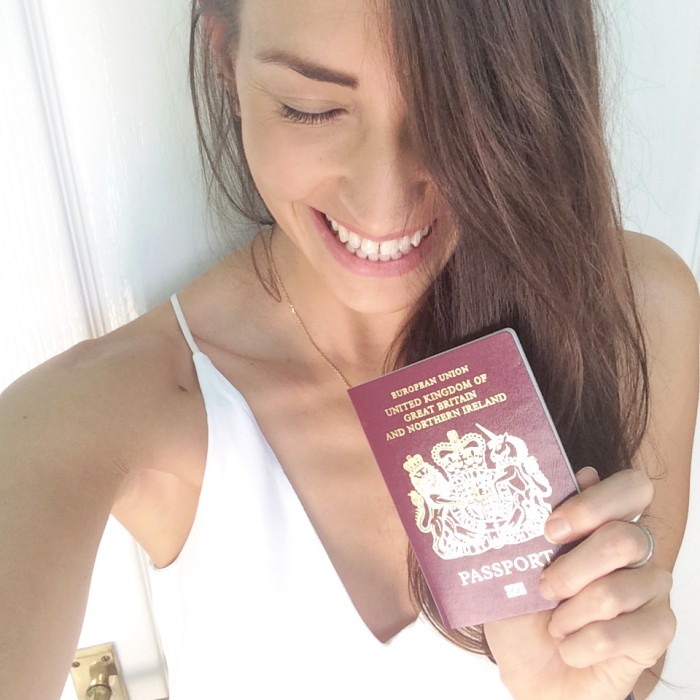 As well as bloggers & influencers, there were two groups of friends who had won the experience in a Nike+ competition – BEST PRIZE EVER I'd say!
There was no expense spared and Nike had everything planned to a tee. From the beautiful invite box full of treats to the healthy and very yummy menu choices, the escape was perfect. Not to mention the amazing kit we were given for every activity. Nike really knows how to treat a girl! I'll be doing a post about the outfits soon.
After a beautiful three course meal at the top of The Ace Hotel in Shoreditch, where we learned which 'crew' we'd be in, we all headed off to bed to get some beauty sleep before the early start. Me being the total morning-geek that I am got up extra early (4:30am!) just so I could relax with a cup of tea! It was worth it though. I can't be doing with rushing around, I just know I'll forget things.
The journey to Sark was sleepy, but fun, as we all got to know each other. I was lucky enough to already know Reem, from Five Five Fabulous and Faya from Fitness on Toast in my crew, so I spent a bit of time getting to know the other three 'Fit Fashionistas', as we'd been dubbed.
We didn't waste any time with regards to keeping fit – straight off the boat we did a mini trail run to the hotel… although our crew couldn't help stopping for berries on the way! There's something so wonderful about eating berries directly from the bush, you find yourself feeling all 'at one with nature'.
Once we were settled into our room and had eaten a delicious lunch, we had some downtime before the sweat session (aka Nike+ x Barry's Bootcamp) begun. Reem and I were quick to catch some rays as it was such a beautiful day!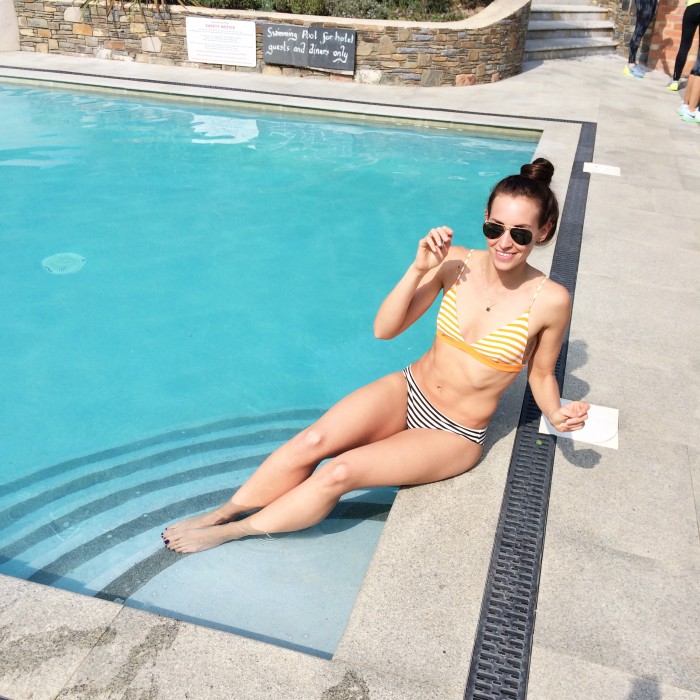 Aaaaand then it was time to get sweaty. If you don't have the NTC app, I definitely recommend getting it – the workouts are awesome. We had the fabulous Joslyn Thompson Rule leading the show with Nike Master Trainers Sonja Moses and Anya Lahiri helping whip us into shape. Needless to say that there were a lot of red, sweaty faces afterwards!
Three of us were then whisked off to a field of hay bales for an impromptu photoshoot with the Nike photographers. It was so fun spending time with Qnola's, Danielle Copperman, and Tash from House of Scarlet. What mega babes they are! Check out our posing below.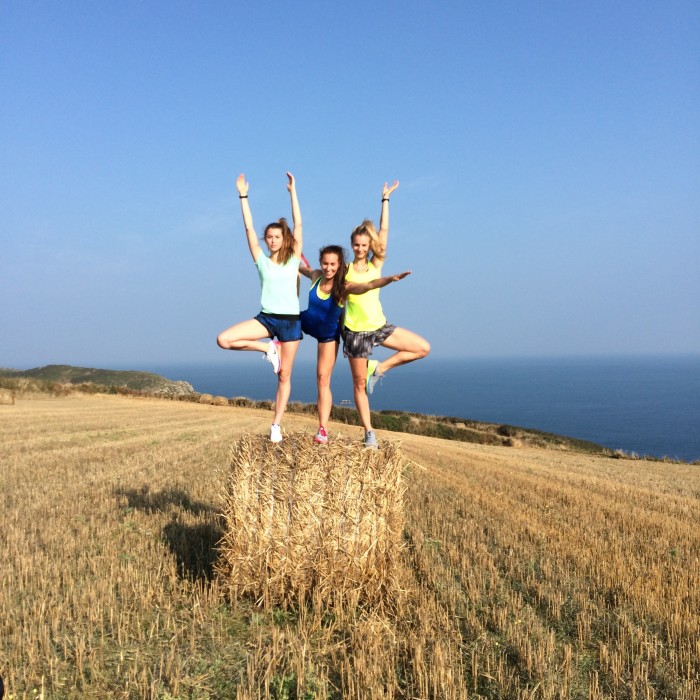 Due to the photographers getting a bit carried away SLASH us getting carried away with posing, we had to hop on their bikes and cycle at the speed of light back to the hotel to get ready for the Nike ID session with artist Hattie Stewart, followed by dinner.
Imagine six women trying to agree on a single trainer design…. yep, it was a fun one! We actually did pretty well and incorporated a little of what everyone wanted. Can't wait to see the finished product in a few weeks! We opted for a simple white leather Air Max with a light blue suede swoosh with a few flashes of grey.
What a handsome bunch!! Left to right: Carrie from Wish Wish Wish, Reem from Five Five Fabulous, meeeee, Ngoni from NRC, the best team leader ever Jay Clarke and Faya from Fitness on Toast. Check out their blogs below:
Dinner was delicious! Stocks Hotel on Sark Island is definitely the one to head to if you're after a little touch of luxury in peaceful surroundings.
We all headed to bed for an early night, excited for a 7:30am vinyasa flow yoga session with Jess from Fat Buddha Yoga. Or at least I was excited, VERY excited! I've done one of Jess' classes before at an event and I'll definitely be going back. Find out more about FBY by clicking here.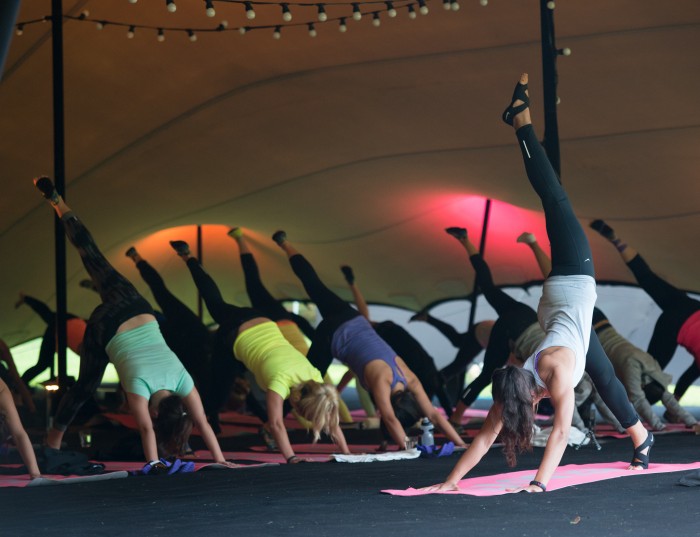 Over breakfast we listened to a Q&A with four athletes, which really got me thinking about how hard you have to work for your dreams. I love the health and fitness lifestyle as you know, but those who don't know me, won't know that I'm actually due to launch my own jewellery collection soon and it's been such a roller coaster to even get this far. Never, ever, ever, ever give up on what you love. It'll be worth all the stress, sweat and tears! 😉
Feeling relaxed post-yoga and full of yummy breakfast fuel, we all hopped on our bikes, ready for the three challenges that Nike were about to throw our way. It helped that we had the most amazing weather on both days, so riding a bicycle around the island with no cars in sight was such a happy feeling. I had a grin ear to ear – probably looked a bit crazy to some, but I was in my element!
Challenge one saw us hike down 300 steep & rocky steps to the beach and then back up again. Tougher than it sounds, trust me! After the training session the day before we were all a bit achy, so had to really push ourselves to get back up, but as you can see we were loving every second of it.
Back on our bikes we headed for challenge two…. the cart pull & push race. It was rather hilarious; we couldn't quite get to grips with the pushing, as it kept going off course. The lovely ladies in the Train Insane crew beat us by a fair bit, but as always, it's the taking part that counts!
Feeling puffed and sweaty, we had a race against the clock to get to the opposite end of the island for our final challenge – the cave rock climb! We were right on the water's edge, climbing down into a beautiful cave and then back up again. Some parts were actually a bit scary, especially when you put a foot wrong and the rubble starts falling away! Ha. The adrenalin pushes you on though.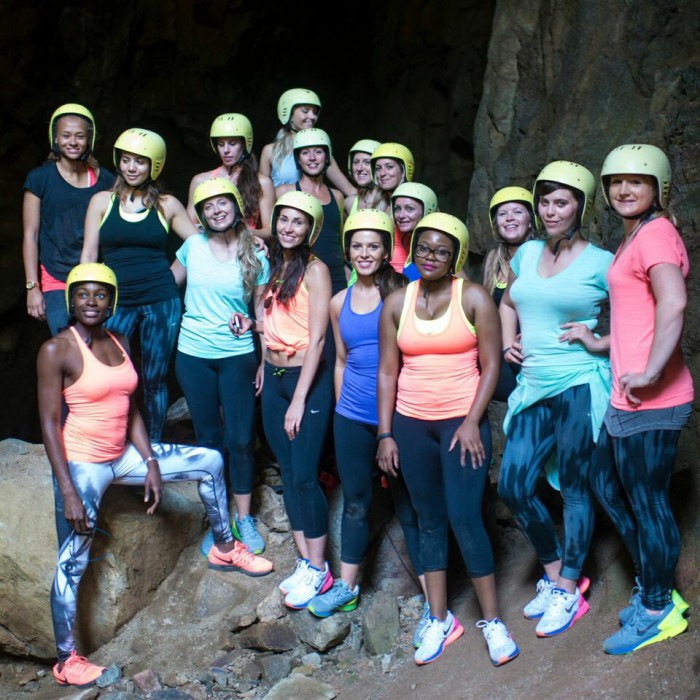 Hard Hat Cat!! I think it's rather sexy…. you agree, right?!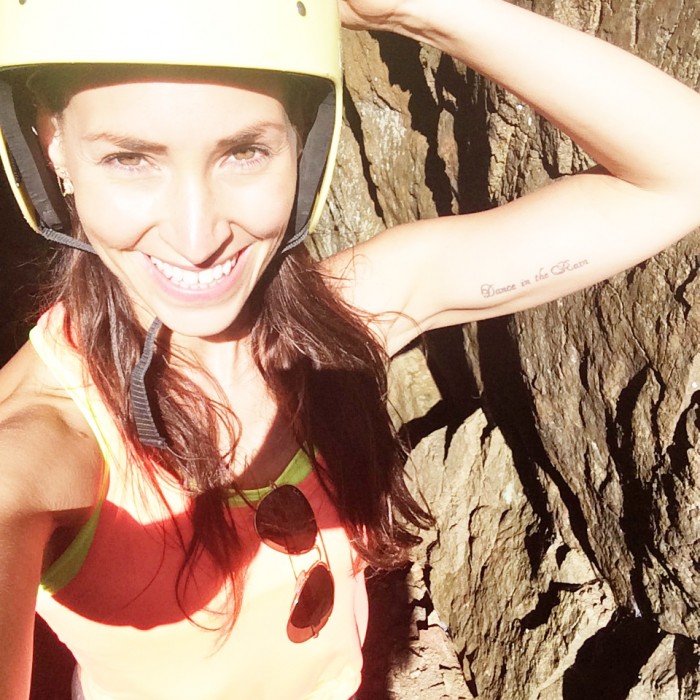 We did it! Completed all three challenges and had a lot of laughs on the way. Nike treated us to champagne and canapes, followed by another tasty lunch before we walked back to the boat and set off on our way home.
I can't believe it's all over! I keep looking at the photos and wishing I was back there. Nike certainly know how to make you feel amazing. I met some incredible people, who I'll be working with on a few projects soon, so keep your eyes peeled!
If you ever fancy a beautiful and relaxing break, Sark Island is definitely the one, and if you do happen to go there, head to the library and see if you can find my copy of I Am Pilgrim! I left it in the hotel, so they donated it to the library with my name in. Cute, huh!
Remember, never, ever, ever, ever quit! 🙂 x