This week I took my new Fabletics kit out for a spin (not literally) to see what the hype was all about. The new sportswear brand, co-founded by the amazing Kate Hudson, looks so vibrant and fun online, but I wanted to see how good the quality could really be when they're offering three items for just £22 on your first purchase.
Before you get too carried away, the reason the first outfit is £22 is because you then have to sign up to be a VIP member, whereby you will spend £44 per month on a whole outfit. Don't worry though, you can cancel at any time and if there's nothing you fancy one month, you can just skip it. All sounds good right?! Let's see how it faired in a pretty epic and very sweaty workout… obviously the images aren't from said workout!
Annoyingly the outfit I chose doesn't seem to be showing as a set on the website, so I can't link you to it, but it came with a grey vest (not pictured here), which I instantly took a disliking to. Don't get me wrong, the shape and fit was fine, but the material was similar to that of a blanket handed out on a budget airline – you know the ones that make everything instantly static?! Anyway, I put that to one side and bounced around in my running-style shorts and crop top.
The crop is amazing! I absolutely LOVE the style with the v-neck and cut out back. It's slightly padded to give you a bit more oomph (!!) and it's a snug fit, making sure I was firmly locked in place whilst jumping around the garden.
Fabletics crop & shorts styled with Lorna Jane hoodie from ActiveInStyle
The matching shorts are also a nice fit, but I wish I'd gone for a size smaller. There is a drawstring on the waistband, but as it's so elasticated, it doesn't really do much to help. Still, they stayed up and were comfortable, so that's the main thing!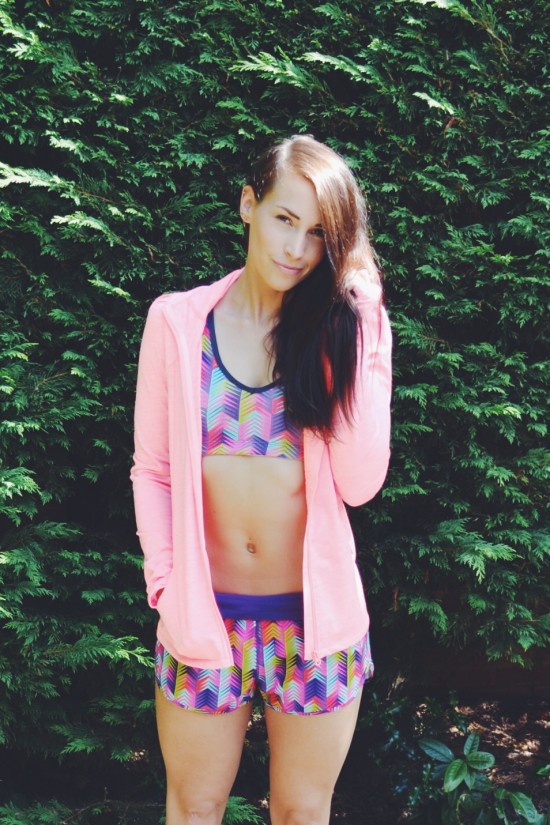 The material of both items is light and breathable, but more importantly it's moisture wicking, which means it's draws sweat from the skin to the outside of the fabric. For me, this is really important in activewear, as I sweat buckets! I know, so sexy!
As you can tell, new kit makes me happy!
Excuse me while I just pretend I'm in a photoshoot for a catalogue! 😉
And here's an extra shot of the Lorna Jane hoodie I styled my Fabletics outift with just because I love it so much! You can find it here.
So, will I be keeping my VIP membership and ordering again? I honestly haven't decided yet. This was the nicest outfit I saw on there, so I'm really hoping they bring out some more prints and styles soon.
Shop Fabletics here! x