I've always loved the idea of going on a fitness holiday and follow the likes of Active Escapes and 38 Degrees North on Instagram just dreaming of the day I can afford to go on a trip like that!
Not all is lost though, as I have just returned from the most amazing active weekend with Rob in Wales… yep, you read that correctly, Wales. I know it's not Ibiza or Bali, but we were so lucky with the weather that it felt like it could have been. We didn't do it with an organised group or anything like that, it was just us planning some fun fitness adventures with the beautiful countryside as our playground.
My family has been going to Pembrokeshire in Wales since my father was a boy, so these places I'm about to share with you are so special to me. Part of me just wants to keep them all for myself, but that would be mean, they deserved to be appreciated by as many people as possible.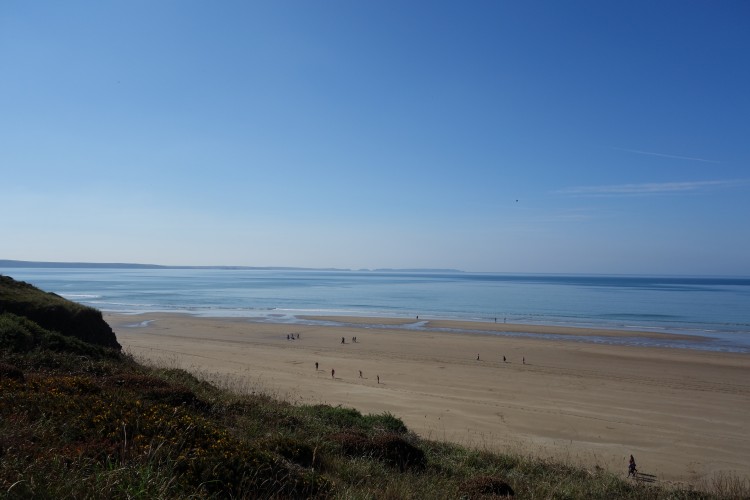 First on our fitness agenda was a hike from Newgale Beach to Druidstone Haven along the coastal path. Hiking is one of my favourite ways to work up a sweat, especially when the view is this amazing. I was like a child at Christmas, as it was the first time I was getting to try out my new Salomon walking boots.
My Dad had describe the hike as "a bit up and downy", but I'd have gone with "VERY…"! Fortunately the boots were a dream – so light on my feet and comfortable. Possibly even more importantly the grip was brilliant, allowing me to get up and down the dusty rubble & rocky sections of the path with ease… sadly the same couldn't be said for Rob in his slippery trainers!
Hiking is a form of LISS (low intensity steady state) cardio, which is a great addition to my HIIT and resistance training routine, as it gives me time to loosen up my muscles and work up a sweat without getting DOMS (delayed onset muscle soreness) the following day. I personally prefer HIIT for fat loss, but I do think this slower form for of cardio is still very beneficial alongside it and it's such a pleasant way to keep active.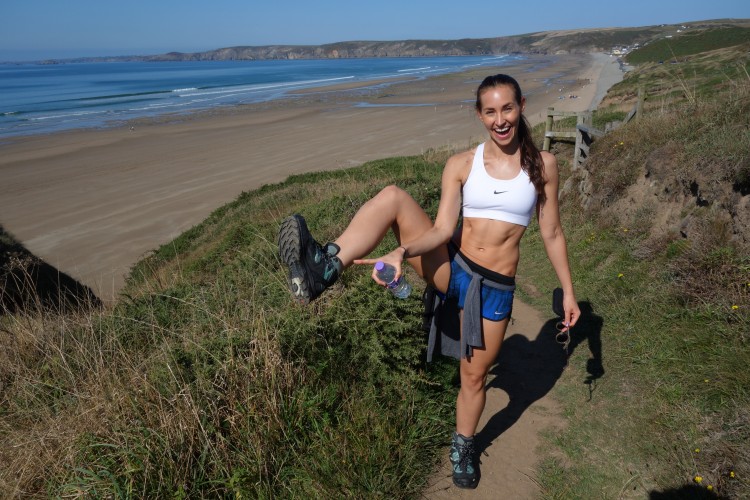 As you can see, I'm pretty chuffed with my new Salomon hiking boots!
My hiking outfit:
Salomon hiking boots – £140
Nike Pro sports bra – £22
Nike running shorts – £33
lululemon Athletica long sleeved top (tied around my waist) – £62
Don't you just want to run down that path and jump in the clear blue sea? I know I did! This was about half way through our hike and it was getting super hot & sweaty… in a good way. I like to feel like I'm working hard when hiking.
It was yoga and jumping all round when we made it to our final destination:
Waiting for us at the end of the hike was a delicious roast dinner at The Druidstone Hotel, home to one of the most beautiful views in Pembrokeshire…
The following day we ventured to The Blue Lagoon at Aberieddy Beach, with some towels and a homemade picnic. I used to go there a lot with my family when I was younger, but I never got as far as going into the water for a swim… I think I was scared of a little seaweed or something like that! Again, we were so lucky with the weather, which made the experience even more amazing.
The water was freezing, even though it was a warm day, but it got slightly better the longer I was in there for. Shame I didn't think to take a wetsuit! I had a great look going on in my make-shift bikini and walking boots, as I had to climb to get down to the water, so flip flops were a no go.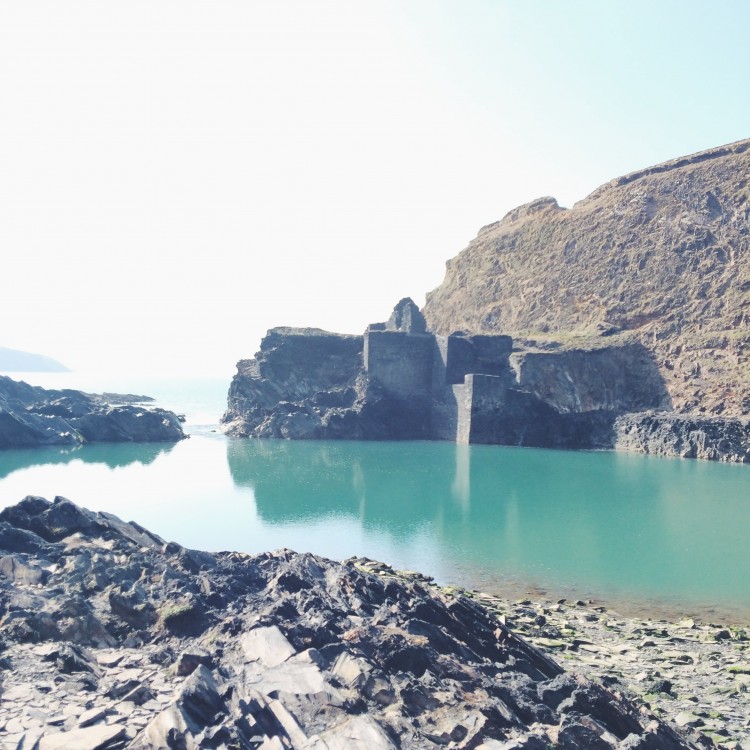 It would be easy to assume this is located in some far-off exotic land. I guess it is, seeing as the drive to Wales took us nearly 7 hours!
After a rest in the sunshine, we headed back to the flat and watched a film before tucking into a homemade fish dinner. I'm not a huge fish eater, but when on holiday one tends to branch out a bit! 😉 I made a really simple ground almond & lemon crusting for our fresh haddock to eat with sweet potato fries and a mix of green vegetables. YUM!
We didn't do it this time, but usually Rob and I do go trail running when we're in Wales, as the coastal path is such a short walk from the flat. There's also some great spaces for outdoor workouts on route.
Instead of trail running I took over the local playground on Monday evening to do a workout – we all need the monkey bars, not just children! Rob went for a run while I was busy sweating through an arm workout. Even when the colder weather gets here, I'll just layer up and push myself to take the weights outdoors, as I love feeling the fresh air when I'm working hard.
If you think fitness holidays might be for you, don't be put off thinking they cost thousands of pounds. With a bit of creative planning, you can organise your own one without having to leave the country… or rob a bank. All you need for a great activity break is motivation, dedication and an awesome workout partner.
I'd love to hear if any of you have ever been to Pembrokeshire or plan on going after seeing this blog post. Without getting all mushy on you, it really is a magical and beautiful place to be.
Fitness Holidays are the best! x