Camino de Santiago Tips: This blog post contains a paid for advertorial with G Adventures.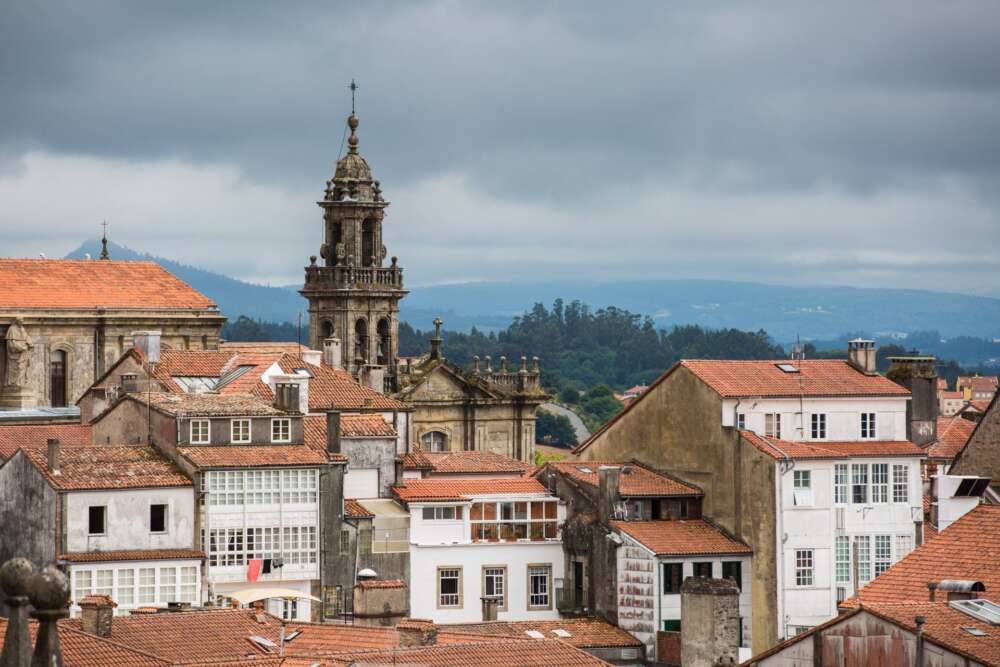 Before I get into my Camino de Santiago tips, I have an amazing competition currently running with G Adventures to win the exact trip that I just went on (for you and a friend), to hike the Camino de Santiago! Make sure that after reading this blog post, you enter here.
Now that that's been said, here's what you need to know about the hike, my Camino de Santiago tips…
FOOTWEAR
The 115km G Adventures Camino de Santiago trek is split up over 6 days, with the maximum hike length being 25km on any one day and the lowest at around 15km. I switched between my normal running trainers and then my latest hiking obsession, my Teva sandals – perfect for the hotter days. The paths are gravel based in some parts, so be prepared for a few stones in your shoes, but you'll get that even if you wear trainers. Of course if you have a pair of hiking boots that are super comfy then by all means, you can wear them, but in my opinion they aren't a necessity. Most people are hiking in trainers due to the path being pretty easy terrain.
LUGGAGE
No big backpack is required when you travel with G Adventures. I just took my wheely suitcase for them to transport from each hotel to the next and then used my Osprey 16L as a day pack. Perfect size for a jumper, camera, water and some snacks.
FEEDING TIME
The North of Spain (especially the towns/villages you'll stay in) is pretty traditional, serving a lot of meat, octopus and cheese. If you're vegan or vegetarian, then it would be worth doing a bit of research before you leave and finding a few restaurants that you can head to. Also bear in mind that this trip is all about the experience of being outdoors and meeting people, it's not a tour of luxury hotels, so breakfast can be a little sparse. We just popped to the local shop the night before to pick up avocados, which we could then put on toast. Perfect solution!
AM I FIT ENOUGH?
You do not need to be super fit to hike the Camino de Santiago with G Adventures. Just like anything, it's great if you can train a bit (see my hiking training tips here), but ultimately you are able to walk at your own pace and the path is mostly flat. My friend Hayley and I actually got excited there was an incline as it meant we could get a bit more of a workout from it and get a sweat on!
GOING IT ALONE
G Adventures is all about providing that safe space for people travelling alone. Some people will go with friends, but it's extremely normal to do a tour like this on your own. Lalo, our CEO (chief experience officer) and guide was amazing. Such a kind and lovely man, who made everyone feel so welcome. The Camino de Santiago trail is all about bringing people together from different parts of the world, so not only will you meet amazing people in your G Adventures group, but you'll meet many more people along the way.
A TYPICAL DAY
A day on the Camino de Santiago trail with G Adventures would start from around 7:30am where we'd head down to breakfast and then leave at around 8:30am (on the days that we hiked less, we had a little longer in bed!). G Adventures plan breaks for water, toilet and lunch into the day, so it's rarely necessary to pee in a bush! 😉 Along the way you have to collect stamps for your Pilgrims Passport – a minimum of two per day – so that you can collect your certificate for completing the path when you get to Santiago. Expect lots of fun along the way with your group and also expect to meet many like-minded people from all over the globe on the path. It's such a friendly place!
WHERE DOES IT END?
The path finishes in the city of Santiago, where the beautiful Cathedral (pictured above) is where all the hikers go to pay their respects to the apostle. One thing to note is that many people do this hike without having religious reasons, like myself, so it may be that the tradition of hugging the statue of the Apostle Saint James in the cathedral isn't for you. I decided not to and that's totally ok.
If you're looking for a good meal when you arrive in Santiago I hugely recommend Oliviera. We ate some of the best hummus I've ever had! Oh and ladies, don't forget about a quick trip to Zara, it's cheaper there!
—
To see exactly what we got up to and to see parts of the path, so you know what to expect, watch my Camino de Santiago vlog, where you'll see my Camino de Santiago tips in action.
If you have any other questions about Camino de Santiago tips, of course just comment below and if you've made your mind up, then enter the competition, or just book yourself a space on the tour using the 15% discount that G Adventures have kindly given us. Details below:
G Adventures are offering you 15% of all G Adventures Active trips when booked by September 30, for travel before July 31 2018. Quote promo code: 18TS015ACT01 when booking. Ts&Cs Apply.
Promo Code: 18TS015ACT01
Sales Dates: 1 AUG 2017 – 30 SEPT 2017
Travel to Depart Before : 31 JULY 2018
HAPPY HIKING!
Love, Cat x