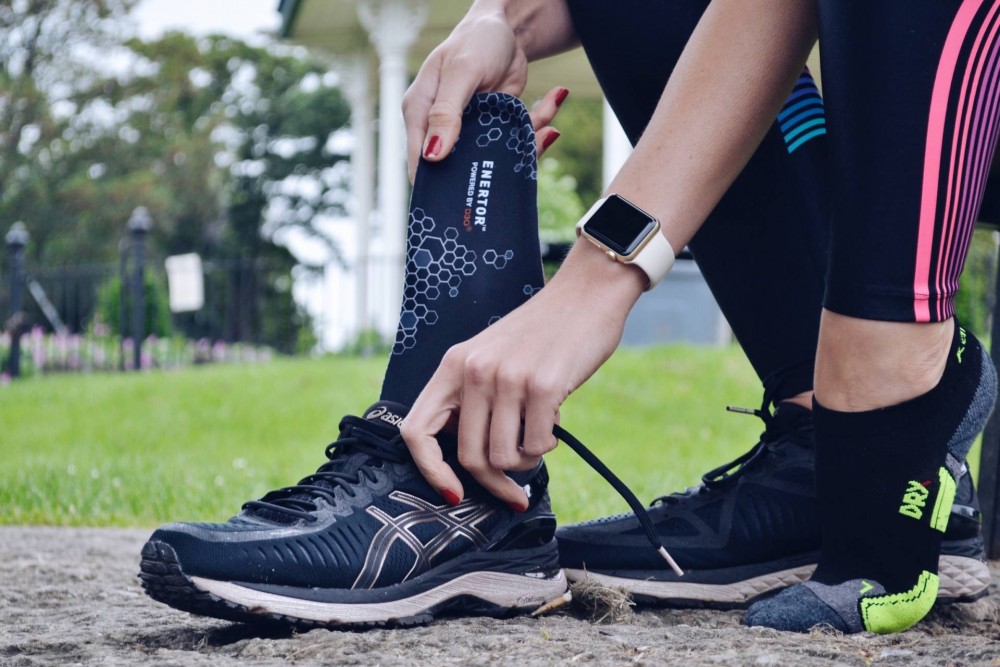 Regular readers of the blog will know that I recently ran my first ever 10k and even though it was tough, like really tough, it hasn't put me off running. Quite the opposite actually. Running a 10k, reading so many beginner running tips and having some analysis completed on my feet just spurred me on even more to keep at it. Rather than just pound the road, not really knowing what I need to change and why, I've gone back to the drawing board and am running two 5k's a week in order to work on my technique.
With the help of ENERTOR™, the sponsors of this blog post, I've outlined some little beginner running tips that I've found useful whilst getting to grips with running. ENERTOR™ are the creators of the insoles worn and endorsed by Usain Bolt, yes THE Usain Bolt, six-time Olympic Games Gold Medallist and 11-time World Champion. You can imagine the thoughts going through my head when I knew a pair were on their way to me in the post – I'm going to be the fastest woman on Earth! Ok, so maybe not, but being the only insole to use patented D3O® technology, it's going to help with my running a lot. D3O® technology is said to reduce shock by 44%, improve comfort and decrease risk of injury – sounds pretty awesome, right!
So here are my beginner running tips for you:
TAKE IT SLOW
So you want to be a runner and that's great, but is it worth risking injury by pushing yourself too hard too soon? Definitely not. Take your time getting used to how your body reacts to the ground and slowly build up your distance and pace. There are so many apps out there with free training guides for running, so you won't have to look too far to find one. Remember, everyone has to start somewhere. I know it can be scary going out on the road as a new runner, but I can assure you that the people driving past in their cars are only thinking things like "Go her!" and "I should probably get my bum out for a run".
TRACK YOUR PROGRESS
Running is one of the sports I see the most progress in very quickly. If you dedicate some time and focus to it, going out a couple of times a week, you'll feel a difference so quickly. I remember the first time I ran 1k… it was horrendous! But by the end of two weeks, I was running 3k and feeling awesome. Maybe because I'm a bit of a geek, but I have a little spreadsheet printed off that I fill in with my distance and time each time I go out. Even though I'm not working on getting quicker right now, I think it's really good to keep a record, so you can look back and see how far you've come.
CROSS TRAINING
To improve your running, you also need to challenge your body in other areas of fitness too. Yoga is brilliant for mobility and stretching out after a long run and resistance sessions in the gym are perfect to strengthen the leg muscles and core. I've just filmed a yoga tutorial for runners, which will be live on my YouTube channel this weekend, so come and stretch along with me.
—
Hopefully these few beginner running tips have opened your mind slightly to the thought of becoming a 'runner'. Give it a go, breathe in the fresh air as you run and enjoy the experience.
ENERTOR™ insoles are available exclusively at Superdrug and Superdrug.com from 29th June. Starting from £19.99, in UK sizes 3 – 12 as full insoles, 3/4 length and heel cups. Please note, the insoles I'm using in these images cost £39.99.
Love, Cat x
FEATURED IN THIS POST: Leggings | Sports Bra | Vest | Trainers | ENERTOR™ insoles