It's taken me a little longer than planned to write this Bali travel guide blog post, but I wanted to find time to sit down and share some amazing places with you, so here goes. Sure, there are no doubt many more awesome places in Bali, but during our short trip, these are the places we stayed, ate in and flowed at, making up my very own wellness and yoga Bali travel guide.
WHERE TO STAY
Svarga Loka Resort – This place has a little slice of my heart and I cannot wait to go back. Read my full review here, but for this post just know that Svarga Loka is a hidden haven of tranquility and wellness, sure to rejuvenate anyone who stays. Even if you don't stay for one of the wellness programmes, all are welcome and I'm pretty sure you'll walk out calmer and happier than when you walked in… although I was actually sadder as I didn't want to leave! 😉
Karma Kandara – Located on the south of the island, Karma Kandara gave us a treat in the form of a white sandy beach and stunning turquoise sea, something I wasn't expecting as we drove through the greenery of mainland Bali. Be aware that the hotel is very much tucked away on its own, so you will probably only eat in the restaurant or beach bar unless you venture further afield. Having such a spacious room and a beach to relax on (albeit in the rain!) the day after a very long journey was just what we needed. Read more here.
Villa Beach Sunset (Gili T) – I'm going to throw it out there right now, I wish we'd gone to Gili Air. Don't get me wrong, Rosie & I had an amazing time on Gili Trawangan, but we were just very lucky that we'd found the most beautiful beach villa on the quiet side of the island. If you get it wrong on Gili T and end up in the crazy busy area I can imagine it wouldn't be very relaxing. If you go to Gili T I cannot recommend this villa enough – Yoga, the owner (yes, that's his name), is also in the middle of developing yoga space up high in a decked out studio overlooking the sea, so it's a must to stay with him! Book here.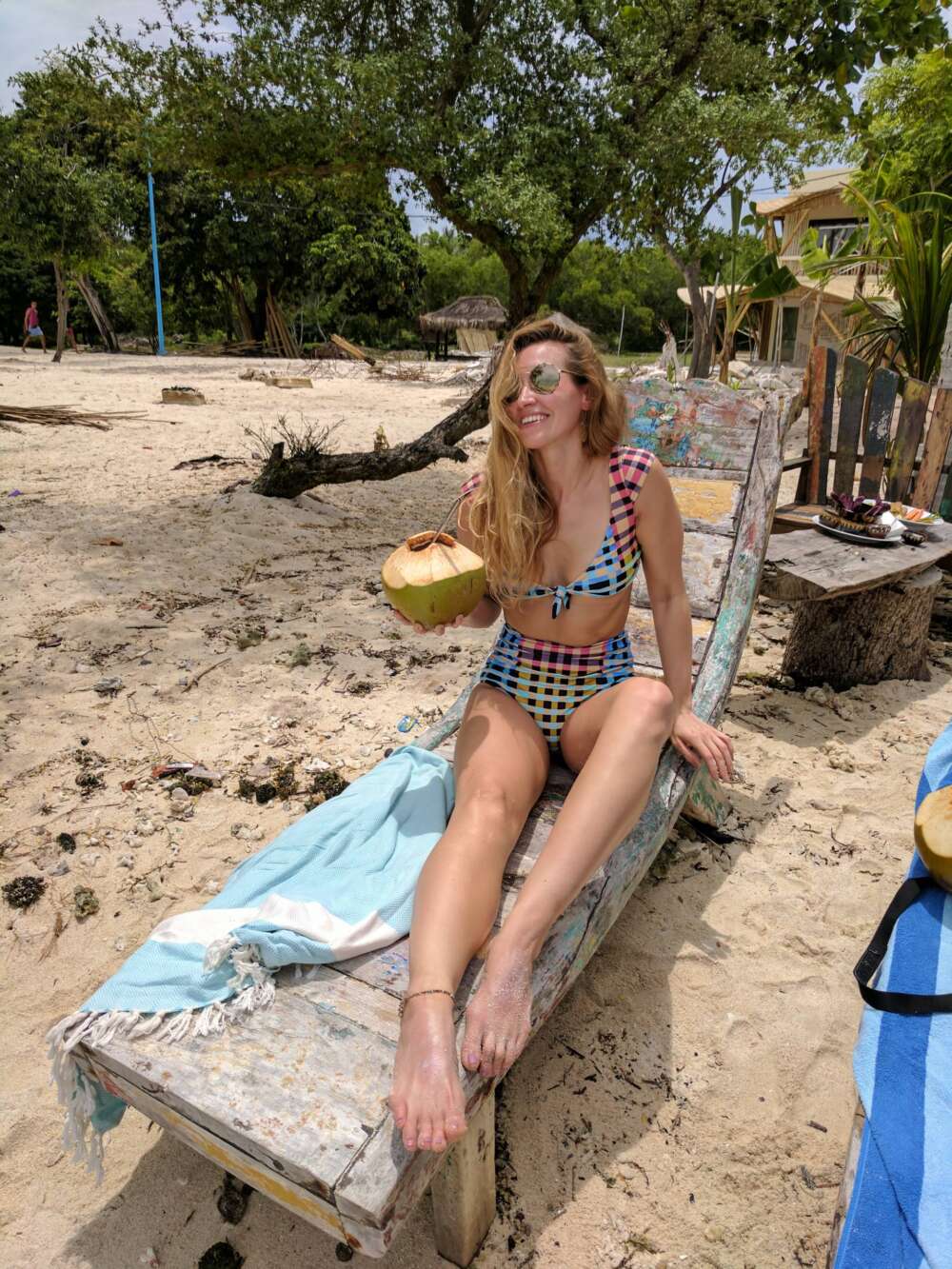 Wearing: Bikini from Beach Flamingo
WHERE TO EAT
Yellow Flower Cafe – Just writing the name of it is bringing back SO many wonderful memories, not to mention a rumbling tummy thinking of all the food. I don't even know where to start… just try as much of the food as possible! Every smoothie bowl is delicious, as is the avocado, feta and tomato toast. What makes Yellow Flower cafe special though isn't just the food, it's the family that run it and the amazing women who work there. Oh and the stunning view over the countryside helps too! Find out more here.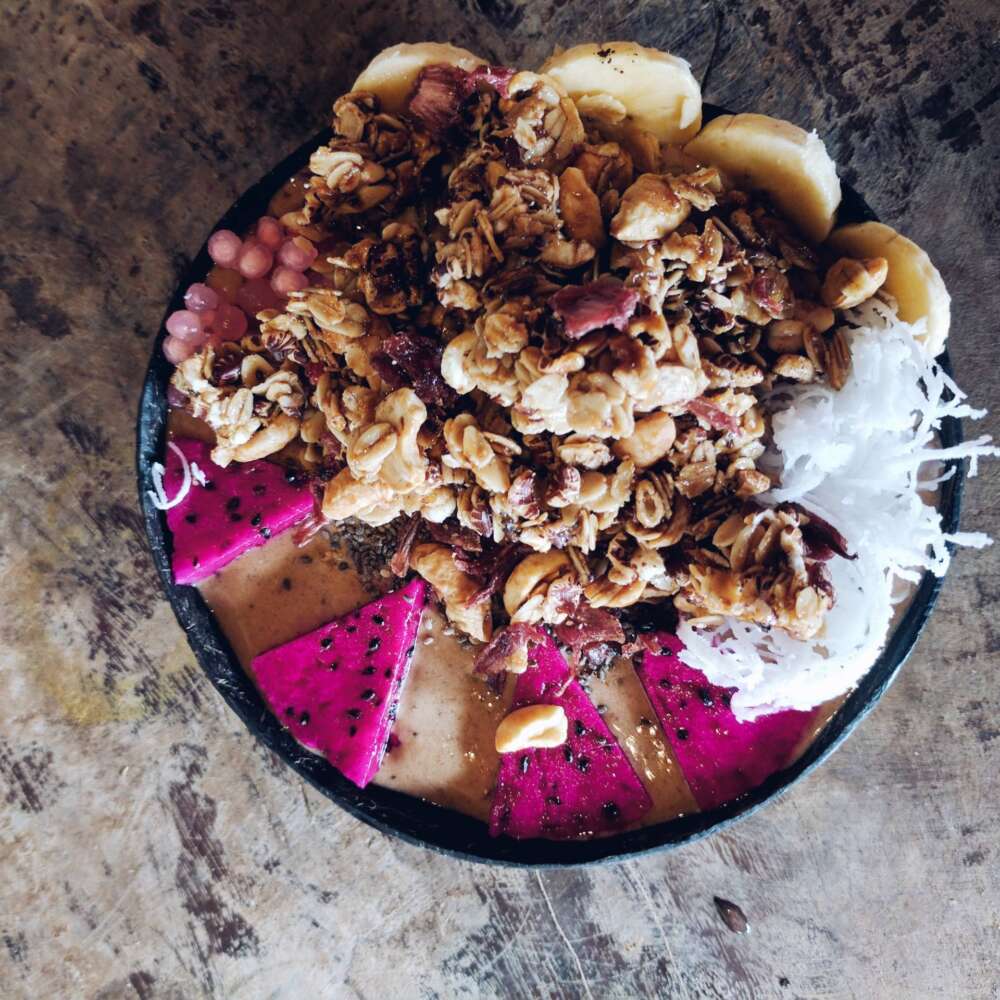 Clear Cafe – Located on the cool street of Jl. Hanoman, Clear Cafe is pretty swanky in comparison to many restaurants you'll go to in Bali. People are drawn to it through word of the 'fireman's pole' that you can slide down from the 1st floor to ground, but the food looked pretty tasty too. Sadly we didn't have time to eat there, but I have it on good authority that the food is just as great as the atmosphere. Find out more here.
Alchemy – This restaurant instantly struck me as the place to be 'seen', think coffees and laptop in a white bright setting with raw vegan cakes sitting pretty ready to be devoured. I'll be honest (why wouldn't I!?) it wasn't quite on par with Yellow Flower in my eyes, but our food was yummy and I didn't want my mango, honey and bee pollen smoothie to end. Slightly more expensive that Yellow Flower too. Find out more here.
Warung Mendez – This was just next door to our hotel so a perfect little dinner stop before we headed into the centre of Ubud. Go for the avocado salad to start, it's magic! Find out more here.
Dayu's Warung – We ventured here with our new friend Ryan, who introduced us to his tradition of eating pudding before the main meal. I'm never one to argue with a sweet treat, so a raw carrot cake was served and we demolished it pretty quickly! I went for the quinoa and black beam burrito for main, which I'd hugely recommend. Dayu's is off the main road so a little bit of a hidden gem. Make the most of it! Find out more here.
Tukies Coconut Shop – I'm not usually a fan of things are overly 'coconutty', so with this vegan coconut ice cream being topped with coconut skin, coconut sugar and dried coconut flakes, I was expecting to hate it. I did not. It was so refreshing and light, I was just sad that we hadn't discovered it sooner. Find out more here.
Kokolato – A litle shout out for the best vegan ice cream I've ever had! We first had it at The Bali Spirit Festival and then just wanted it continuously after. If only Kokolato was in the UK! Find out more here.
Casa Vintage (Gili T) – Ah the best sweet potato wedges I've ever had! After making a bit of a fail with our restaurant choice on night one, we went for both lunch and dinner at Casa Vintage, as lunch had been so good. Dinner was even better though. I had the vegan Jamaican pot, basically a veggie stew, and could have eaten it all over again… not because the portion size was small, just because it tasted so damn good and I'm a little piggy sometimes! Find out more here.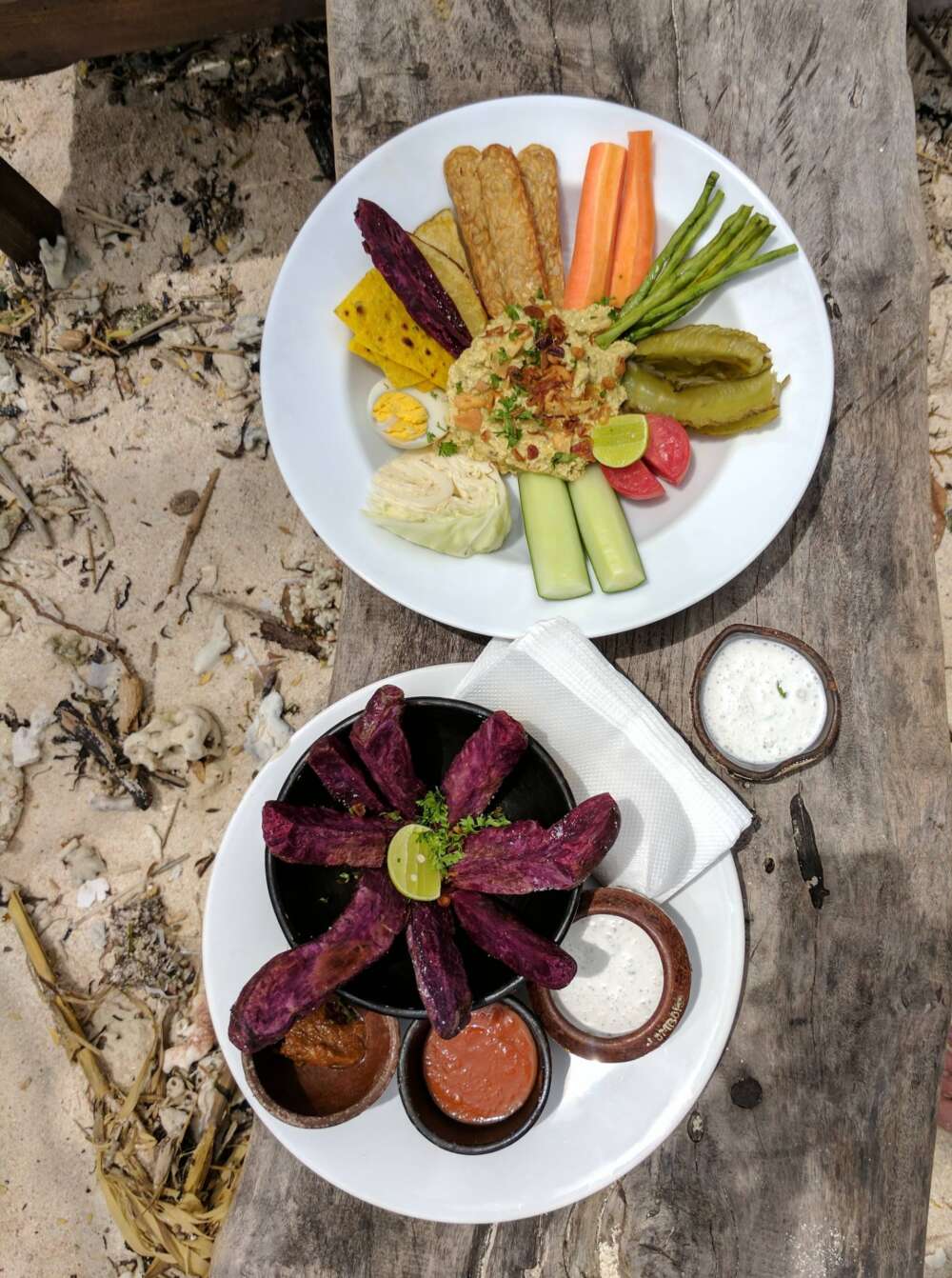 YOGA IN BALI
Bali Spirit Festival – The Bali Spirit Festival was the main reason for arranging this trip to Bali, but as soon as I started researching the island I knew I couldn't just spend all my time in one place. The festival is on for 6 days, but most people just dip in and out or just do a couple of days. We did just that. Two incredible days and a party one night, all part of the festival. The two workshops that really stood out for me were the Embodied Movement session with Daniel Rojas, something that I just want to relive over and over again. If you can ever get to one of his workshops, GO and take me with you! The second was Afro Flow Yoga Dance… so much fun and energy in one space, another one you should go to if you can. Some say that the Bali Spirit Festival has become too 'commercial', whatever that means… I guess they means it's too busy to be 'cool', but heck, I had an incredible time and would love to go again.
Yoga Barn – As we spent most of our time in Ubud at the festival or at Svarga Loka we sadly didn't get to any other studios to try the classes, but Yoga Barn is one of the most popular ones and for good reason I'm told. The teachers are awesome, the atmosphere is super friendly and the food from the cafe is great. This is what I'm told and I don't doubt it.
Bali was such a magical trip for me, as you can probably tell from me raving about everywhere in this Bali travel guide. I ate some of the best food I've ever had, met some friends I'll have for life, did awesome yoga worksops and worked with some wonderful therapists. I'll be back again I know it.
If you have any other questions about my Bali travel guide, just pop a comment below. 
Love, Cat x