In all honesty I don't really know where to start with this blog post, which is probably why it's taken a little while for me to write it. The six weeks of my life recently spent with All Yoga Thailand have been a whirlwind experience full of many highs and many lows! Those of you who have been following my journey on Instagram and Snapchat may have already read some of my emotional little captions, but I can safely say that they were just the tip of the iceberg compared to what my mind was going through.
The 300hr advanced teacher training course with All Yoga Thailand and The Yoga People was what I had told myself I was expecting, but I'm not sure I was fully ready for the ups and downs. I'm quite an emotional person anyway, so tears come easily to me, but there were many more than I had expected… starting before I even arrived when I cried at Heathrow airport as I left Rob!
The All Yoga Thailand course was based at Vikasa Yoga Retreat in Koh Samui, a retreat that guests can go to on a weekly basis, eat delicious food from the Vikasa cafe (we only had buffet food every day, but on occasion we branched out to the cafe menu and it was so good!). My ocean view room, although basic, was the perfect nest for me to call home for 36 days. It had a big double bed, an outdoor shower, enough space to lay my yoga mat down and a great little balcony for me to work on. In fairness nothing more than that was needed and the other room options (The Cave rooms and Bungalow rooms) would have been equally as perfect, as we barely spent anytime in our rooms.
The course was intense. 100 hours of rocket yoga, 100 hours of yin, both with Jamie from The Yoga People, followed by 50 hours of Tripsichore with Nikki Durrant and 50 hours of Yogic Arts with the crazy amazing ninja warrior, Duncan Wong. Even though The Yoga People were very much the yoga school in charge of teaching, the schedule and different modules, it was great having All Yoga Thailand as the organisers, as it felt like there were lots of people to talk to if you needed any questions answering. Both David and Vanda from All Yoga Thailand were always at Vikasa on the first day of a new module to welcome any new students. For the most part the group stayed the same throughout the whole 300 hours, we just had a few people come and go throughout the process.
ROCKET MAN
I knew I was going to love the Rocket module and that I did! The energy that comes with Larry Schultz's sequences is pure magic and leaves you feeling every emotion under the sun… even tears of frustration when your shoulder is sore and all you want to do is practice (I hold my hand up to that!). What I wasn't expecting was the seriously deep self study work we did alongside it, something that I'm so grateful for. Yes in many ways it made the course a hundred times harder, but working through our patterns and trying to understand who we really are, our real authentic self just gave the practice even more energy and feeling. Being back in the real world and trying to apply what we learned isn't quite as easy as I thought it would be. I thought I'd come back this changed woman, but it's so easy to slip back into old habits. I'm deeply trying to keep all of the things I learned about myself alive in my mind and soul, so that over the years I can slowly but surely make small changes to who I am, all for the better, becoming an even more real version of me.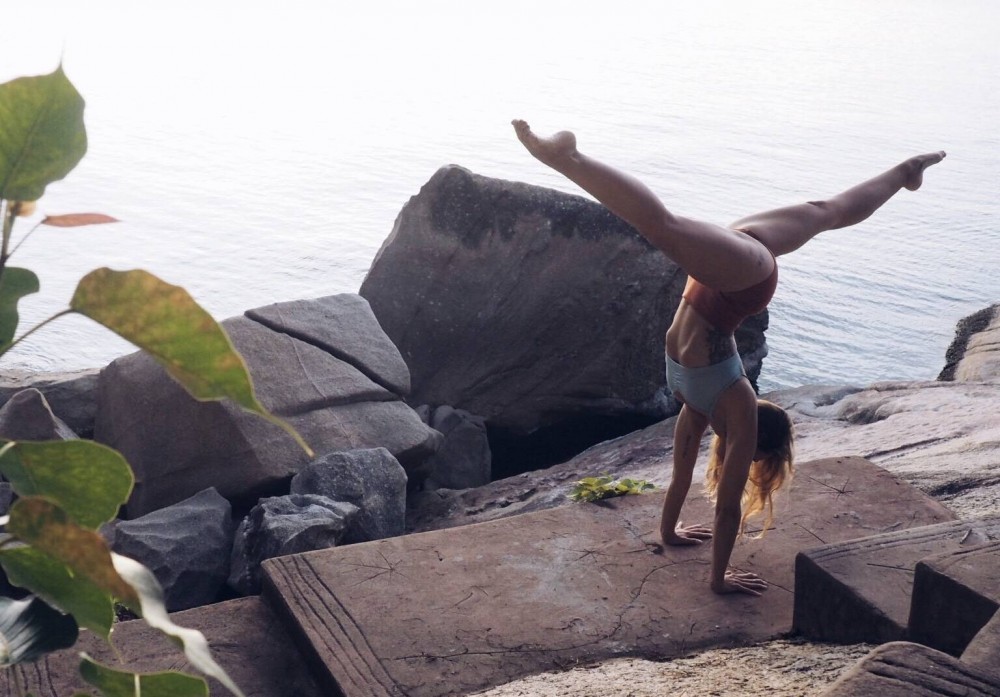 YIN WITHOUT YANG
I was anxious about the yin 100 hour module, as I knew I'd find it hard to stay still and when I was told no yang practice or ANY exercise was allowed for 10 days, I nearly had a breakdown! Well, maybe not quite a breakdown, but it stressed me out a lot. It was a huge test of my mental strength to not give into temptation. It was hot, I was feeling very puffy and bloated, still eating the same amount of food and not doing anything to get the endorphins flowing. My body changed a lot in those 10 days. I put on a bit of weight, which I seem to have continued to roll with (oops!), but more importantly I noticed a big change in myself. I actually LOVE yin and couldn't wait to practice it when I got home. Since being back I now practice yin once or twice a week and even though it's pure agony, I know it's doing my body and mind a world of good. It was incredible to learn about our own bodies and others from an anatomical point of view, something that is going to be so valuable in my teaching going forwards. I can't wait to share some yin teaching with you all.
TIME TO EXPRESS
Tripsichore was an interesting one. Even though I didn't love the Tripsichore technique (it's VERY different to the yoga I'm used to, with alien alignment), what I did love were the afternoon sessions where Nikki, our teacher, taught us a 'yoga dance' she'd choreographed and we had to perform individually to the group. Stage fright has always been a huge issue for me, even as a gymnast and dancer. You might ask why then I chose to take P.E., music and drama for A-level – all peforming subjects?! It's like a love/hate thing. I have a near-on panic attack before having to do a solo performance, but I always know deep down I can do it. My body shakes like a leaf and my heart pounds, but I always manage to get through it. Thank you to Nikki for putting us up there to face our fears.
Yogic Arts was again very interesting. Duncan Wong is an incredible master with so much knowledge and passion for his work. At times it was hard to take everything in as he'd go from one thing to the next so quickly and we'd be like "but we didn't even understand the first part?!", but having said that I've definitely come away from those five days with some little pearls of wisdom and some new techniques that I'll be using in my practice and teaching going forwards. I wish there had be slightly more structure in the Yogic Arts five day module, with a set 2- hour practice like we'd been doing before, but hey, you can't have everything you want and I guess sometimes it's just good to go with the flow! Pardon the pun.
Duncan is also trained in Thai massage and let's not beat around the bush, he's incredbile at it. This skill makes his adjustments so damn good! If he's ever doing a class or workshop near you, I urge you to go, get adjusted by him and you'll be like WOOAAAHHHHH.
WOULD I RECOMMEND IT?
YES! Absolutely. With any course there are always going to be bits you love and bits you don't and when you're doing such deep spiritual work there will always be things that get you down or irritate you. It's all about learning that these feelings, reactions and emotions are only coming from inside of you and you have the power to change them. Jamie, Maz and Charles were such inspiring teachers and Jamie was a brilliant leader, even without Dulce (his partner) by his side.
All Yoga Thailand are extremely helpful and accommodating always either there in person to help with any queries or at the other end of an email. All Yoga Thailand have their own base over in Koh Phangan, Thailand and in Bali where they run 200-hour trainings. I met a few people while I was out there who did their training and hugely recommend it, so it's worth checking them out, as I know a lot of you are thinking about going away to do your 200-hour yoga teacher training course. All Yoga Thailand all runs smaller workshops all year round, for example in February they have a handstand course with Yuval Avalon that I really want to go to! Details here.
All Yoga Thailand and The Yoga People will be running the same course that I did again next year, so if this blog post has got you feeling a little inspired to find out more, then contact All Yoga Thailand for details or head to the 300hr advanced teacher training webpage.
The Yoga People also run lots of other course which you can check out here.
Thank you to the awesome staff at the beautiful Vikasa retreat, to The Yoga People for all of your energy, love and knowledge and to All Yoga Thailand for organising such brilliant courses.
Love, Cat x